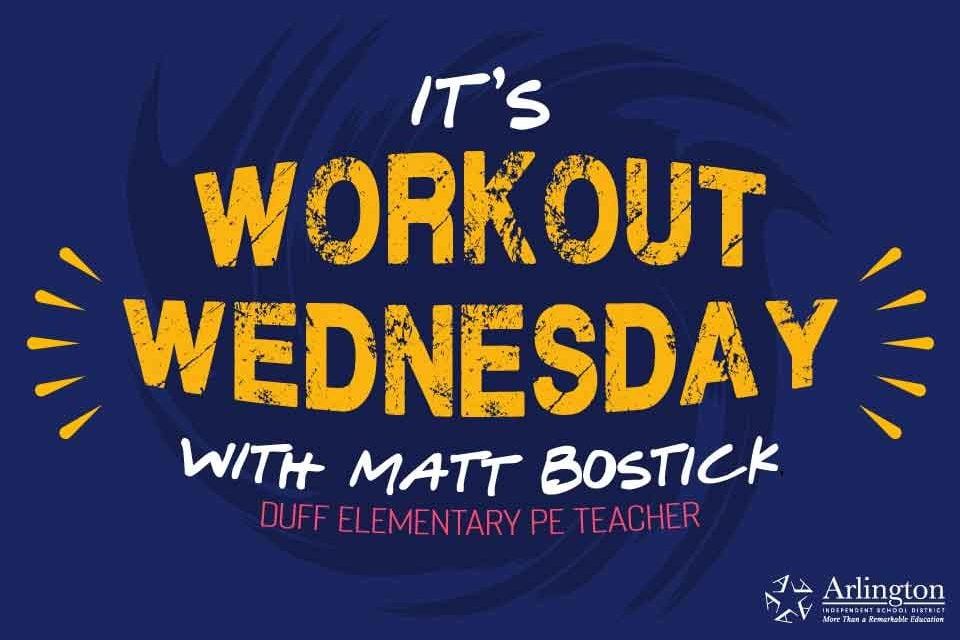 Workout Wednesday Returns With Another Body-Moving Episode During COVID-19 Shutdown
Workout Wednesdays began with Duff Elementary teacher Matt Bostick moving you around with four all-body exercises. In Week 2, Bostick introduced you to the burpee, an exercise some of you may not want to see again.
In this episode of Workout Wednesday, Bostick is focusing on holding your position. Whether it's a plank, a Superman or the painful-to-watch side plank, the key is holding good form for the proper time.
And the good news is Bostick said there are always ways to modify the exercise if you're not a flexible Arlington ISD student.
So, here's the Week 3 workout (three sets each)
Plank – Hold for 20 seconds

Superman – Hold for 20 

Split Squat – Hold for 15 seconds per leg

Side Plank – Hold for 15 seconds per side
In case you missed either of the first two episodes of Workout Wednesday, here are the exercise routines Bostick did.
Week 2
Five minutes of burpees every minute on the minute
burpees then rest until minute is up.
Week 1 (three sets each)
20 Jumping Jacks

20 Air Squats 

30 seconds – Plank (high or low)

30 Mountain Climbers
Arlington ISD is committed to growing whole and well-rounded young adults who are prepared to excel in college, career and beyond. The district's mission is that every one of its more than 57,000 students will graduate exceptionally prepared for college, career and citizenship. With top educators, an outstanding core curriculum, a growing number of specialized programs and state-of-the-art facilities, the opportunities for all students from pre-K through high school are endless.