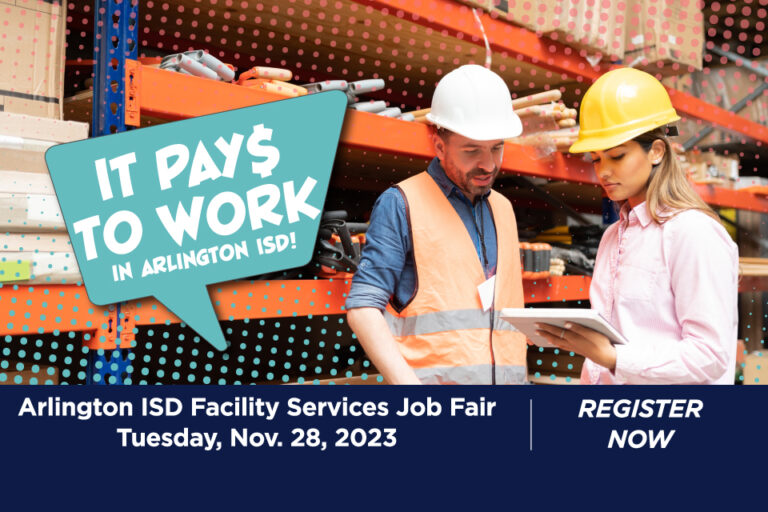 Are you looking for a new career path with competitive pay, flexible schedules and endless opportunities for growth? Well, look no further. Arlington ISD is hosting a Facility Services Job Fair on Nov. 28, and we need you!
Facility services team plays key role in educating students
Working in Arlington ISD allows you to play an important role in the education of our students.
"The Arlington ISD facility services team is searching for individuals who believe that taking care of the needs of students, and those who support student learning, is key to our students' success," said Kelly Horne, Arlington ISD assistant superintendent of facility services.
"We are looking to add team members who want the experience of a family environment with opportunities to grow and advance," he said. "Our team members enjoy support for professional learning, performing their appointed tasks in safe work environments and working with the safest and best equipment available to them."
For a full list of facility services job openings and pay rates, scroll to the bottom of this story. But first, read what some of our team members love most about working in Arlington ISD.
Aldo Perez, Lead grounds foreman
"My favorite part about working for Arlington ISD is the job opportunities that are created within each department. There are supervisor, foreman and lead positions that create room for improvement and growth. I also like the fact that employees are supported and provided with certified training courses to obtain certain certifications or licenses which improve their skills and better their job opportunities within the district."
Maribel Uribe-Lopez, Head custodian
"I love my job. It is very gratifying when people thank me for the work I do. It makes me feel appreciated and a part of a team. The district is very supportive of me and my family."
Jeffrey O'Shields, Building maintenance crew lead
"I love Arlington ISD because I am given the freedom to assess, plan and execute solutions to problems. I am backed by appreciative administrators, all while being able to be home with my family every night!"
If you're ready for a career that offers flexible scheduling, consistent (full-time and part-time) hours and good benefits, register here. The Arlington ISD is excited for you to join our team!
Available positions include:
Ground Maintenance
· Groundskeeper Minimum $16.00 an hour
· Groundskeeper Minimum $17.00 an hour
· Groundskeeper Lead Minimum $18.00 an hour
· Irrigation Minimum $19.62 an hour
Plant Operations
· Custodian Minimum $16.00 an hour
Warehouse
· Warehouse Worker Minimum $17.00 an hour
· Warehouse Driver Minimum $18.00 an hour
Building Maintenance
· Skilled Building Maintenance (concrete, roofing, fencing, carpentry) Minimum $21.63 an hour
· Paint Minimum $21.63 an hour
· Lead Locksmith Minimum $24.06 an hour
Heating A/C & Refrigeration
· HVAC Minimum $24.06 an hour
Electrical Department
· Fire Alarm Tech Minimum $24.06 an hour