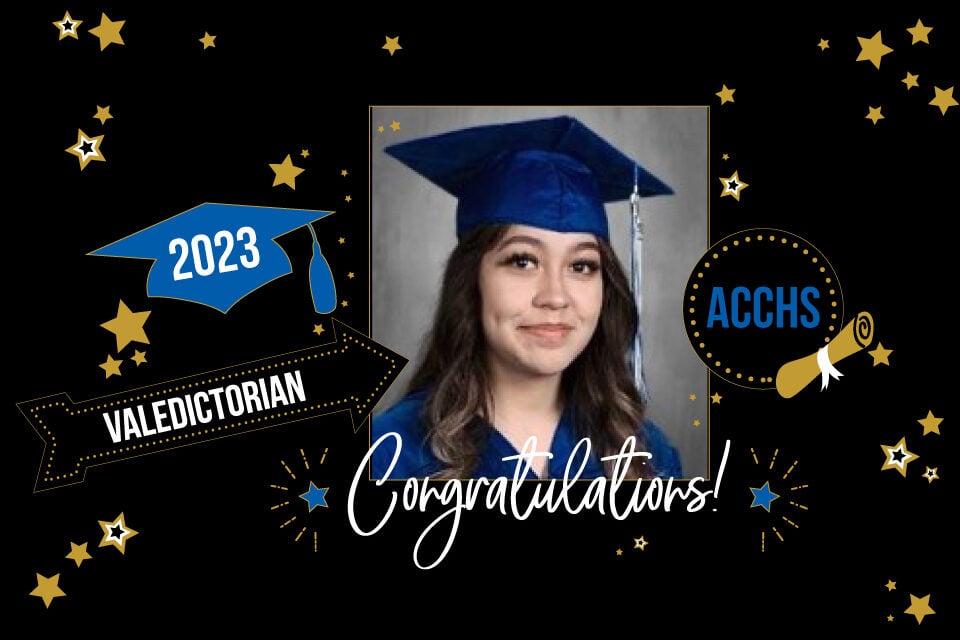 ACCHS Valedictorian Larissa Jimenez
It's graduation season and we are celebrating the Class of 2023 valedictorian and salutatorian for all eight Arlington ISD high schools. Meet Arlington College and Career High School's 2023 valedictorian Larissa Jimenez.
 NAME: Larissa Jimenez
SCHOOL: Arlington College and Career High School
COLLEGE: University of Texas at Austin
INTENDED MAJOR: Medical laboratory science
What is your dream and how do you plan to make it come true after graduation?
For now, I really want to work in a lab and help however I can. I've taken college classes at TCC, and I've worked in the labs there in my classes. That's where I figured out that's the type of work I want to do in the future.
Who inspires you the most?
My Path teacher Ms. [Constance] Cooper. She's who I brought for the STAR [for top 2% of graduating seniors] awards. She's been with us for four years now, and we were in the inaugural class. Just the way she's handled the first of everything, she's been amazing. I don't know how she does it. She's always on top of things, always prepared and always problem solves on the go. I really admire her.
What is one piece of advice you would give an incoming freshman?
Try to meet as many people as you can. Try to make as many friends as you can and just don't be too scared to try new things. If you want to join a new club, meet new people, go for it even if your friends are too shy to go with you to the clubs, you should go and try new things.
What's been your favorite high school memory?
It was senior sunset. It was a conclusion to our high school experience and just seeing everyone there was crazy. I was reminiscing on how much everyone has grown. It was really fun.
How do you plan to make an impact on society in the future? 
In any real small or big way I can, I want to work in a lab somewhere. If I can help people with diagnoses and things that affect their health, that would be enough for me.
What her teacher said:
Larissa Jimenez has shown persistence, dedication and grit throughout her high school career. Larissa dreams of pursuing an exciting career in scientific research after she earns her bachelor's degree in neuroscience or biochemistry. She has always had a passion for math and science but also enjoys playing the violin or guitar in her free time. She values having many interests, including volunteering and supporting her many communities to promote awareness.
– Constance Cooper, Larissa's Path teacher