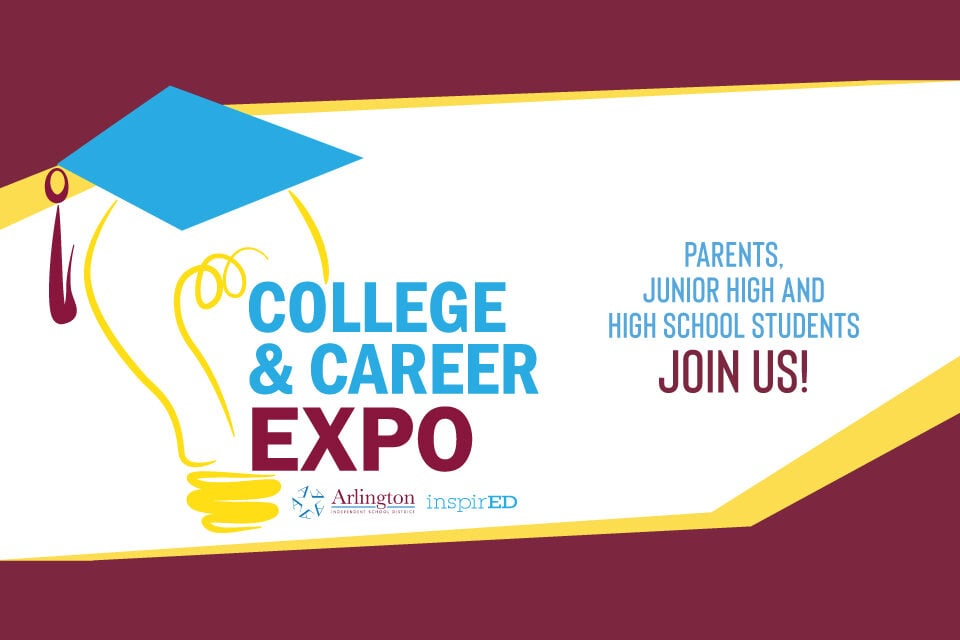 Sign up today for the College & Career Expo
Do you know what you're going to do after high school? Or this summer? It's time to start planning, and we're here to help with the Arlington ISD's annual College and Career Expo.
Parents, students and community members, register today to attend. The expo will be held at the Dan Dipert Career and Technical Center (CTC) Tuesday, March 28, from 5:30 to 8 p.m.
Who will be there?
Representatives from more than 80 colleges like the University of Texas at Arlington, Stephen F. Austin State University, Texas Tech University, Dallas Baptist University, Grambling State, Penn State and the University of Oklahoma will be on hand. And more are still committing to come.
Plus, local businesses like Prince Lebanese Grill, LBL Architects, Gaylord Texan Resort and Convention Center, TDIndustries, IDTC Career Center, Tarrant County Sheriff's Office, Kamans Art and many more will be there, too. And some will conduct on-site interviews for summer and post-high school graduation opportunities.
It's a good idea for students to wear business casual attire and brings several copies of their resume. Translation services for Spanish-speaking parents and students will be available to help throughout the expo.
Workshops and Businesses
Parents and students are encouraged to not only speak with colleges and businesses but also attend 45-minute information sessions that will cover topics like college prep, paying for college and college athletic recruiting and scholarships.
 Where do I sign up?
To sign up for the College and Career Expo, click here. Feel free to secure multiple tickets and bring a friend, even if they aren't currently a student in Arlington ISD. All are welcome.
See you there!