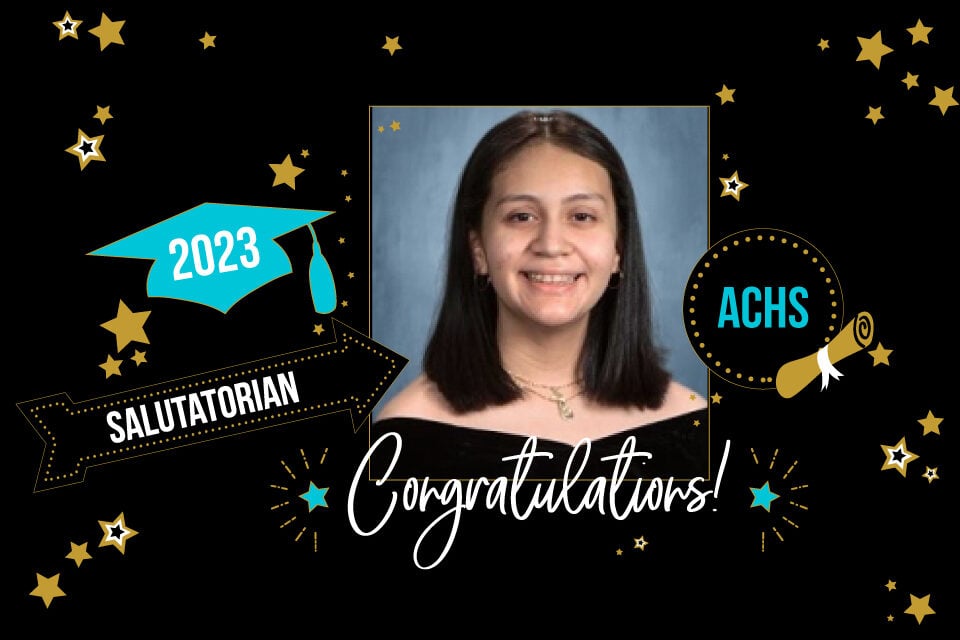 ACHS salutatorian Maria Ortega
It's graduation season and we are celebrating the Class of 2023 valedictorian and salutatorian for all eight Arlington ISD high schools. Meet Arlington Collegiate High School's salutatorian Maria Ortega.
NAME: Maria Ortega
SCHOOL: Arlington Collegiate High School
COLLEGE: University of North Texas
INTENDED MAJOR: Psychology
What is your dream and how do you plan to make it come true after graduation?
My biggest dream would be, because I'm planning to major in psychology, to be a therapist or counselor. I want to be there for people to speak out about mental health issues. I want younger generations to be able to have a steady foundation and move forward on their life paths and feel like they can do what they want to do.
Who inspires you the most?
My mom and dad. They have sacrificed so much for me. My dad works in construction day and night. My mom is always there and is an amazing support system who takes care of my sisters and me. They show me despite many obstacles in life, one can accomplish many great things if they have the right support system. I know I can do amazing things.
What is one piece of advice you would give an incoming freshman?
To embrace the uncertainty. Coming in as a freshman is really scary. It's the start of a new adventure. There are always going to be new opportunities like community service or a school event. It's good to not be scared. Take the leap forward. It's going to lead to meeting new people and expanding as a person.
What's been your favorite high school memory?
At ACHS we had our spring carnival that was hosted by student council and the National Honor Society. It was nice to be able to interact with little kids. We had pie-a-senior. It was fun to raise money and go to the big event for the last time.
How do you plan to make an impact on society in the future? 
I would like to and plan to strive to be open-minded to where anyone can feel comfortable to come to me. I want people to be comfortable enough to come to me with their struggles. I want to help, even in a tiny way, have a positive impact on their lives that will have a positive impact on their future.
What her teacher said:
Maria is thoughtful, kind and empathetic. She genuinely cares about others and desires to lift them up. I taught her in seventh grade Texas history and distinctly remember her checking in with her table group to make sure they understood the assignment and had no misconceptions. Maria is also a natural leader. Her leadership style is atypical, however. Where others feel the need to lead from the front, Maria tends to stay in the background quietly encouraging her team to succeed and offering suggestions and critiques. In eighth grade, I was her student council sponsor and saw her leadership qualities daily. Maria was our video editor for the school announcements. She would coordinate with our members and officers to get them where they needed to be so she could edit the videos and prepare them for the next day. When they would get off-track, Maria would bring them all back together and everyone listened. It was a joy to watch! It's funny because Maria does not want to be in the spotlight, yet everything she does is seen by many. Maria is a light that keeps shining. The best thing about light is you cannot keep it hidden; you will eventually see it. I am so happy that I got to be Maria's teacher. I am so proud of the leader she has become. It has been an honor to know her. I look forward to seeing what her future has in store."
– Daniel Simpson, Maria's seventh grade Texas history teacher and student council sponsor