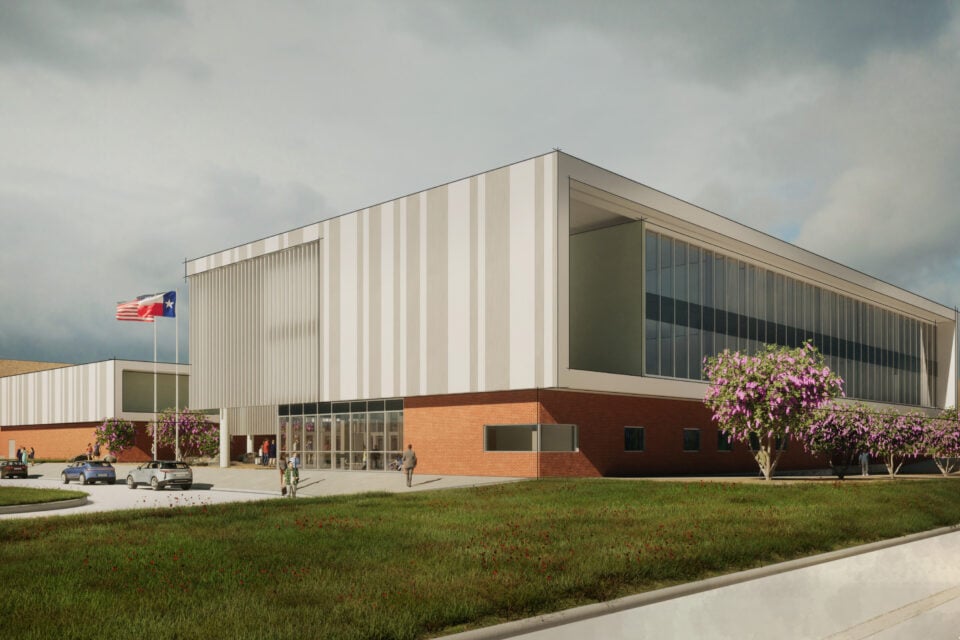 Phase one includes demolition and site work
Remember that gas station that was in Arlington High School's front yard at the corner of Park Row and Cooper? It's gone. Arlington ISD bought the Shell station and tore it down to make way for some major improvements and an expansion at the school. All that's left right now is a grassy field.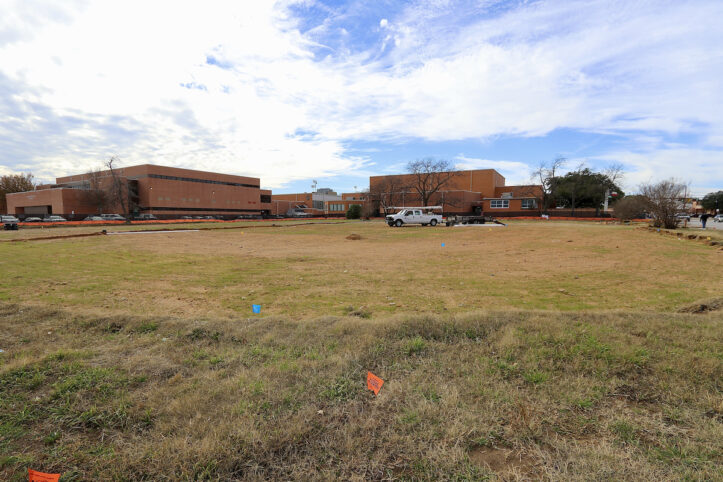 But that's about to change.
After years of planning and design, it's time for the Bond 2019 project at Arlington High to start. The whole project will include an addition with new classrooms, a new library, a new band hall and more, and it will help provide the space needed for the future fine arts and dual language high school academy.
"It'll be a huge and beautiful three-story wing that I refer to as 'The Cube,'" said Arlington High Principal Stacie Humbles.
Phases
The project has been designed in two phases: first, a demolition and site development phase, and second, a renovation and construction phase. The first phase's budget was approved by the Arlington ISD Board of Trustees at its meeting on Aug. 4, and work will begin this fall. Phase one will include demolition, site grading and utility improvements to prepare for the renovations and new addition.
The areas slated for demolition are on the east end of the main building and include the band hall, choir room and administration offices. The band, choir and admin are all relocating to other areas of the campus until the new spaces are ready.
"To say this group is flexible is an understatement," Humbles said. "We've moved our choir into the auditorium, band to a gym, wrestlers to the old dance hall and dance to a shared space. Main offices will be moved to central classrooms, and those classes are moving to portables. We're using pods for storage and parking in the band practice field."
Construction on the new addition – phase two of the project – will start in early 2023. Renovations for the existing building's mechanical, electrical and plumbing systems and athletic fields are also a part of phase two, but those projects likely won't start until next summer.
The entire project is scheduled for completion in the fall of 2024.
"It's been a challenge, but we are certainly excited to get things underway," Humbles said. "I am so honored to work with a staff that truly embraces the idea of being a family. We all know the outcome is going to be worth it in the end and we are all doing our part."
FINE ARTS DUAL LANGUAGE
One of the main reasons for the project is to add space for the district's new fine arts and dual language high school academy, opening in the fall of 2024. The new academy will welcome the students who attended Corey and Jones fine arts dual language elementary academies and then Gunn Junior High and Fine Arts and Dual Language Academy. The first group of academy students are currently in seventh grade at Gunn.
"Our goal has been to provide Arlington ISD students with innovative programming that encourages exploration, fosters creativity, promotes rigorous learning and builds skills for students' successful entry into an international workforce," said Dr. Steven Wurtz, Arlington ISD's chief academic officer and one of the architects of the district's fine arts and dual language model. "The fine arts and dual language program has provided students with these unique opportunities and the program at Arlington High School is the capstone of that experience." 
Academy students will continue the fine arts and dual language programming they've had since kindergarten at the high school level, but they will also get to take advantage of all the other opportunities at AHS, including sports and extracurriculars.
FOR ALL
While some of the new facilities have been purposefully designed for the future academy, they are also intended to add value for the entire student population at Arlington High.
Like the new library.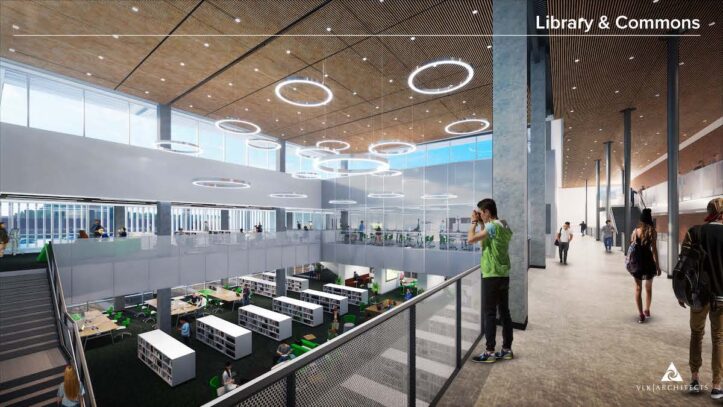 "Our goal is to use the new library space to continue to build and improve our AHS community," said Maryjane O'Halloran-Beane, who has been the Arlington High librarian since 1994 and plans to keep doing what she loves in the new space. "Use of library space relates positively to student learning and success. The AHS library wants to continue to be a warm and welcoming space for our students. The open, airy and sunny space plan will offer a positive place to gather, read and work. Expanding our space will give more opportunities for student and staff use. There will be meeting rooms and niche areas where students can collaborate on projects, have discussions and share ideas."
The new fine arts spaces will also give every Arlington High student access to state-of-the-art music facilities. Plus, the addition will offer a huge improvement over the old, cramped spaces they've had for years.
"For decades, the old band hall has housed 13 classes over a two-day period," said band director Nathan Burum. "The percussion department was having classes in hallways, the auditorium, outside and sometimes not at all. The new band hall will allow multiple classes to occur during a single class period. It will allow sufficient storage for equipment and the acoustics of the room will provide our bands a great atmosphere."
It's going to take some patience, though, while the new band and fine arts facilities are built. Arlington High's band has been relocated to two different areas. Gym C is housing the concert bands, jazz band, storage and inventory, and a temporary classroom is housing the percussion department.
But Burum is unfazed.
 "This arrangement is a bump in the road while the district builds a state-of-the-art band hall and fine arts wing," Burum said. "We are excited to have this new addition at AHS.
"We are so thankful to be in a district that focuses on excellence in the fine arts and supports us by providing the facilities needed to foster that excellence. All the AHS fine arts will benefit from this project, and we can't wait to see the new wing and band hall."
See more renderings of the expansion of Arlington High on the school's bond webpage. And learn more about all 2019 Bond projects at aisd.net/bond2019.