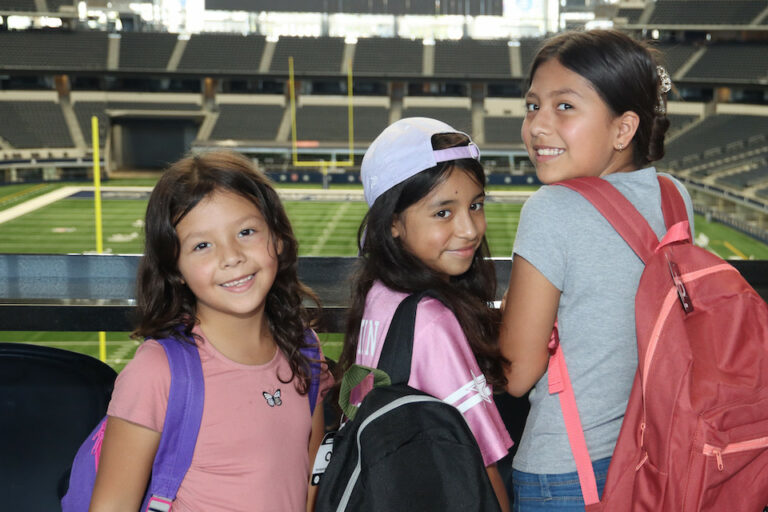 Kickoff prepares kids for start of school
Arlington ISD's annual Back to School Kickoff has grown considerably over the years.
How much? When the doors opened at 8 a.m. on Aug. 5, many families waiting to snag backpacks, get haircuts and learn about other school-related necessities were already lined up and stretching around a corner outside AT&T Stadium.
By 11 a.m., they were still arriving.
It's a good thing the event was held in one of the largest football stadiums in America.
"We want our kids coming in confident and happy on day one," said Arlington ISD Interim Superintendent Dr. Steven Wurtz. "You load up those backpacks, get them some nice haircuts, make sure their teeth and eyes are in good shape, and they are ready for next week."
This is the ninth time Arlington ISD has hosted the kickoff, which may very well be the district's most eagerly anticipated event of the year. That's because families can acquire the supplies needed for the upcoming school year at no cost, not just pencils and pens, tape and rulers, but also a backpack to put it all in.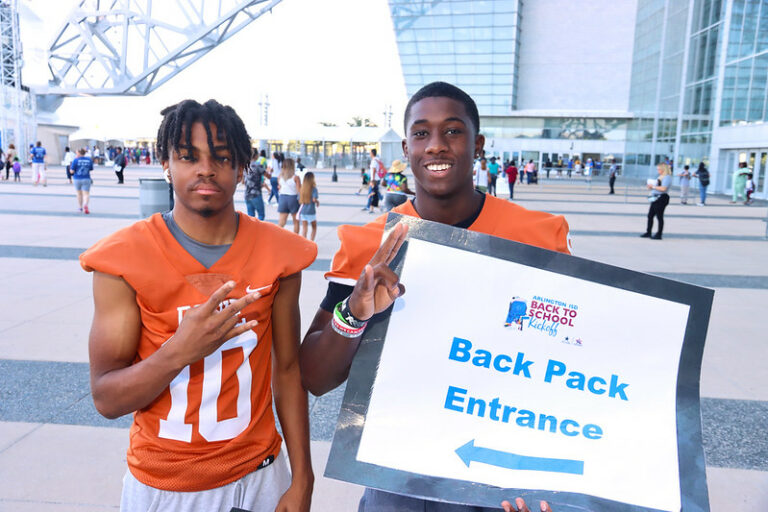 Parents are just as eager to take advantage of the free dental and vision screenings to locate any potential problems that need to be addressed. Nonprofit Dental Health Arlington provides dental health checks, while the vision screenings are performed by Walmart Vision Center, which has been an Arlington ISD partner since the beginning.
"I can't tell you what a difference this makes for me," said Shalonda Gray, who has a child in elementary and junior high school. "You're talking about getting appointments – and paying for those appointments – to see if they are seeing okay and if they need any dental work. To just come here, it's just a God-send."
On the stadium's grounds for the kickoff, there were over 100 vendors handing out information to help the children during the school year.
After all that, they could slide to the mini football field where Cowboys camp coaches entertained several students – and adults – with football drills showing their speed, endurance and skills.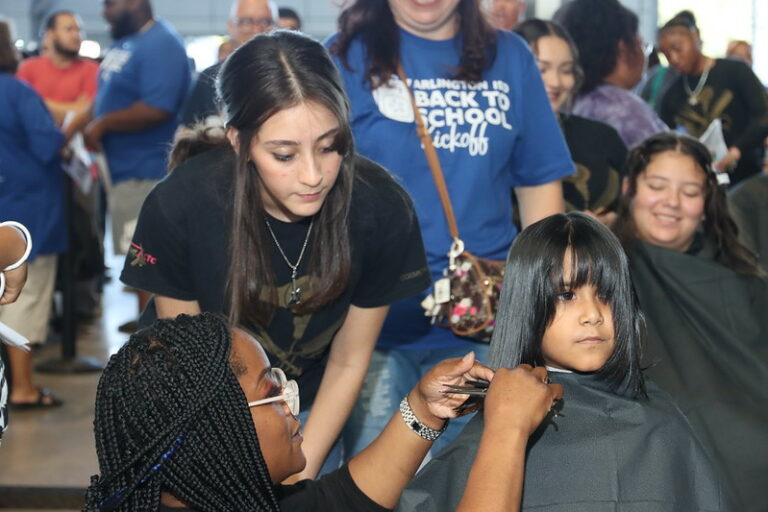 Aside from the 10,000 backpacks up for grabs, the most extended lines for the kickoff might have been for the free haircuts. Dozens of high school seniors enrolled in the district's cosmetology program, which prepares them to become licensed cosmetologists, cut and styled hair. It was like heads going through an assembly line of stylists.
"It's work, and you don't want to mess up anybody's head, but it's so much fun to do," said Nahomi Ruiz, a senior from Sam Houston High School.
Nahomi and her student colleagues were supplied with numbered pictures of general haircuts. All the participants had to do was point, sit and relax.
"I'm pretty chill in doing this," said Nahomi. "Plus, we've got a team that backs us up. So, they are in good hands."
Career and Technical Center principal Ginger Polster calls the haircut setup a "win-win" because it allows the students to practice while offering haircuts to those who might otherwise pay over $15.
"This allows us to serve our community and give back while at the same time allowing our students to improve the skills they have been learning in school," she said. "How can you beat that?"
Arlington ISD's Back to School Kickoff is a huge undertaking, said Aaron Perales, Arlington ISD's executive director of engagement, equity and access.
Perales recalls working with Dallas Cowboys' Community Outreach division several years ago to collaborate and create this massive event under the roof of the AT&T Stadium.
"It continues to grow," said Perales, who recruited more than 800 volunteers to help with everything from crowd control and registration to handing out the backpacks.
One of those volunteers, Jennifer Cummings, who works as a teacher training specialist in the professional learning department, returns yearly because "It's fulfilling."
"Initially, I got involved through the Junior League," Cummings said. "I know how important it is for kids to have supplies to start the school year, and doing it this way provides equity when everyone can have the same stuff starting school. It just really helps them start strong."
Pamela Floyd agrees. She arrived with a checklist – dental, vision, backpack, haircut – and made sure her son, Sterling, a fourth grader at Corey Academy, took advantage of everything offered.
"The kickoff was a great event, very organized," Floyd said as she rubbed her son's crisp new haircut. "The haircut was wonderful. His teeth are good. Now we are going to check on the vision. He wanted a white backpack but had to get another color. But it's free and will hold all the stuff he needs to take. I can't think of one complaint about any of this."