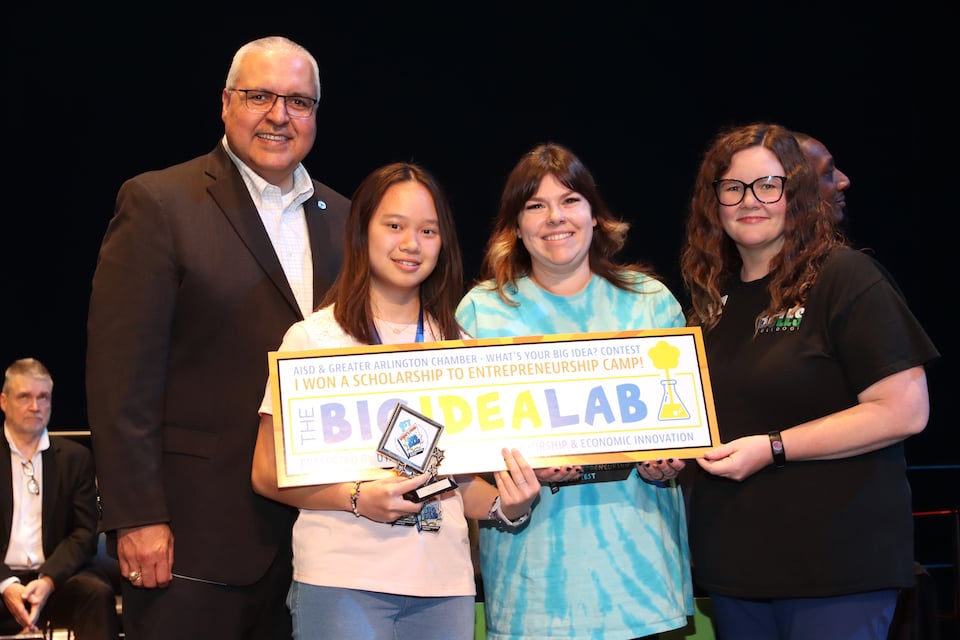 It starts with an idea
Cohen Dempsey was joking around with his dad one day about how cool it would be to catch fish while lounging in a comfy chair in his backyard.
Suddenly, "I got this idea," said the Bailey Junior High seventh grader.
Why not attach one of those underwater radar gadgets to a drone which allows you to see exactly where the fish are without actually being in a boat and on the water?
"And you can see the fish wherever you are," Cohen said excitedly, referring to a comfy chair in his backyard. "I thought it was one of those, you know, big ideas."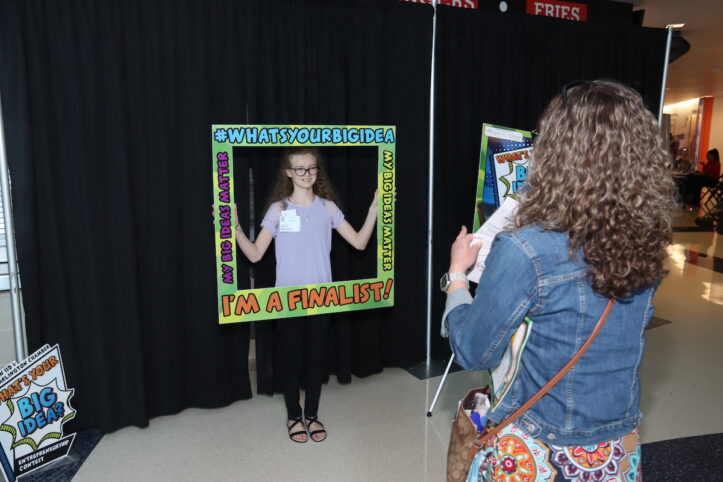 It was. This is why Cohen entered his invention, Fish Finder, in the What's Your Big Idea Entrepreneurship Contest – sponsored by the Greater Arlington Chamber of Commerce and Arlington ISD – held on April 22 at UTA's College Park Center. During a two-hour ceremony, Arlington ISD students strutted their entrepreneurial stuff with ideas that ranged from the simple (making air travel better by lowering prices) to the complex (fixing global warming in Arlington).
"This is pretty much their first step in entrepreneurship," said Chamber of Commerce president and CEO Michael Jacobson. "Our hope in partnering with AISD by having this contest every year is that it gives our young people the desire to learn more and eventually become entrepreneurs. Who knows?"
Who knows if Kendel McCoy's invention that proposes to make paper without shredding trees won't be the next big thing?
"I think it can be," Kendel, a Moore Elementary sixth grader, said confidently. "I researched it. I looked up what was in the trees that made the paper and figured out how we could make that without the trees. This way, we don't have to cut them down."
17th Annual Entrepreneurship Contest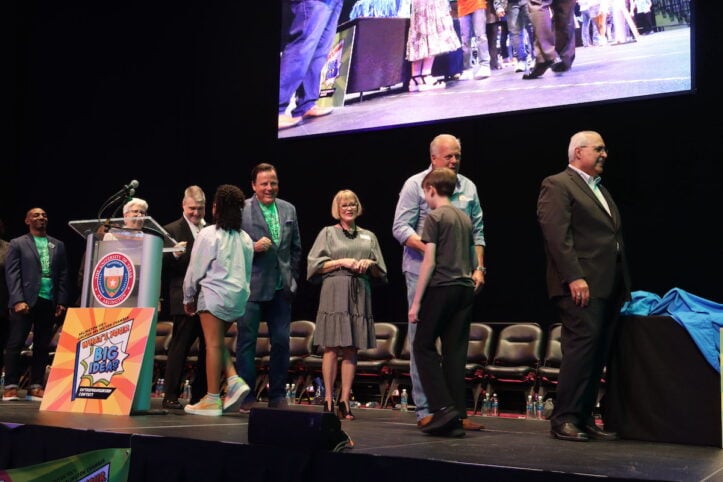 This year the contest attracted 2,600 entries from third through eighth grades from about 45 schools. Students could enter in different ways: answer the essay prompt, "What's your creative idea for a product you could sell or a business you could create and operate in Arlington?" Or, in an art form, create an advertisement for a product you could sell or a business you could own and operate.
The contest participants had to keep several questions in mind: What do you sell, who is the customer, why is the idea unique, and how would it be marketed and managed?
The finalists for each grade and category were revealed during the award ceremony. As their names were called, the finalists strolled gleefully across the stage to shake hands – or give high fives – to dignitaries like Arlington ISD Superintendent Dr. Marcelo Cavazos, district trustees and Jacobson.
Then the top three winners from each grade and category were called back on stage to receive a prize package.
First-place winners earned a scholarship to attend the exclusive one-week "The BIG Idea Lab" Summer Camp, where students will learn what it means to be an entrepreneur. They also expand upon their winning idea in front of local entrepreneurs.
The awards ceremony was co-sponsored by the UTA Colleges of Business and Engineering and UTA alum and entrepreneur Chloe Lewis, who welcomed participants and their parents and delivered a contest overview.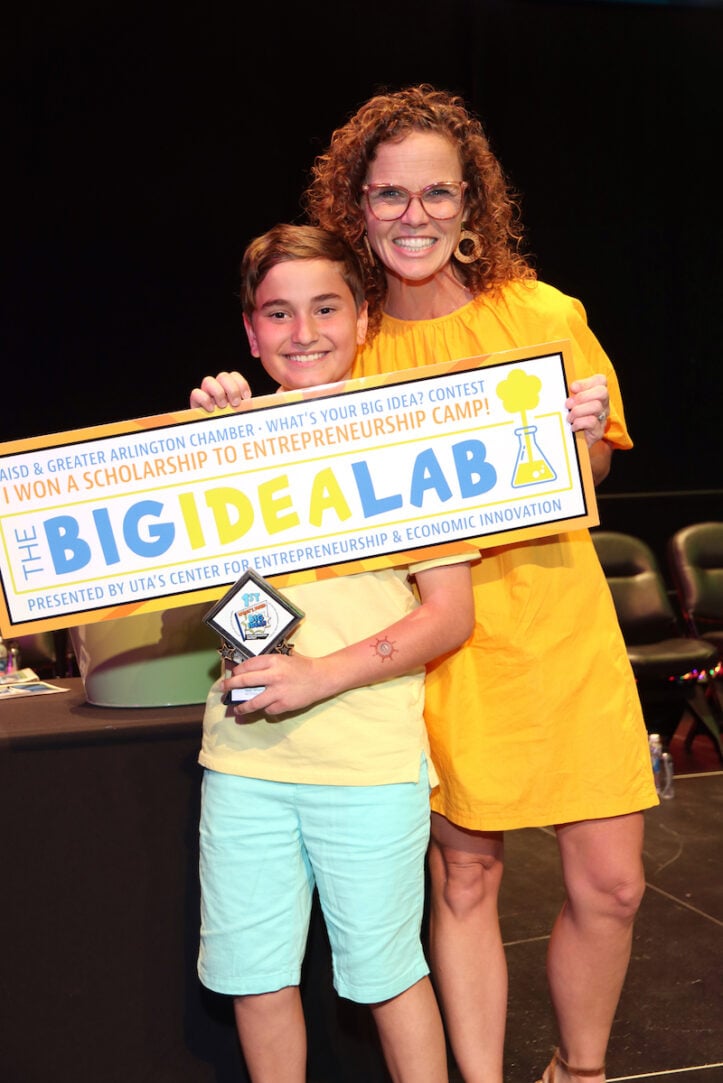 "This is great because these are kids who are thinking in a way that is innovative and gives them a chance to really have some freedom to explore the possibilities," Cavazos said. "They get to tap into that as a young person and dream."
Cavazos said the contest is fundamentally how the students see themselves improving not just their lives (inventions often start with what someone wants to see changed) but the lives of others.
"It's a validation to have someone hear their idea," Cavazos said. "And many times, they are at a point in life where those dreams are still ideals, and they get to explore that. And that skill will take them throughout their lives."
Teresa Johnson, mom to Kendel McCoy, the paper-without-trees maker, was pumped to escort her son to the ceremony and see the number of students who came up with ideas on their own.
"This actually opens their creativity, this desire to be unique," Johnson said. "I'm a firm believer in students being able to express themselves. Whether their idea stops here is not the issue; this is a great way to do that.