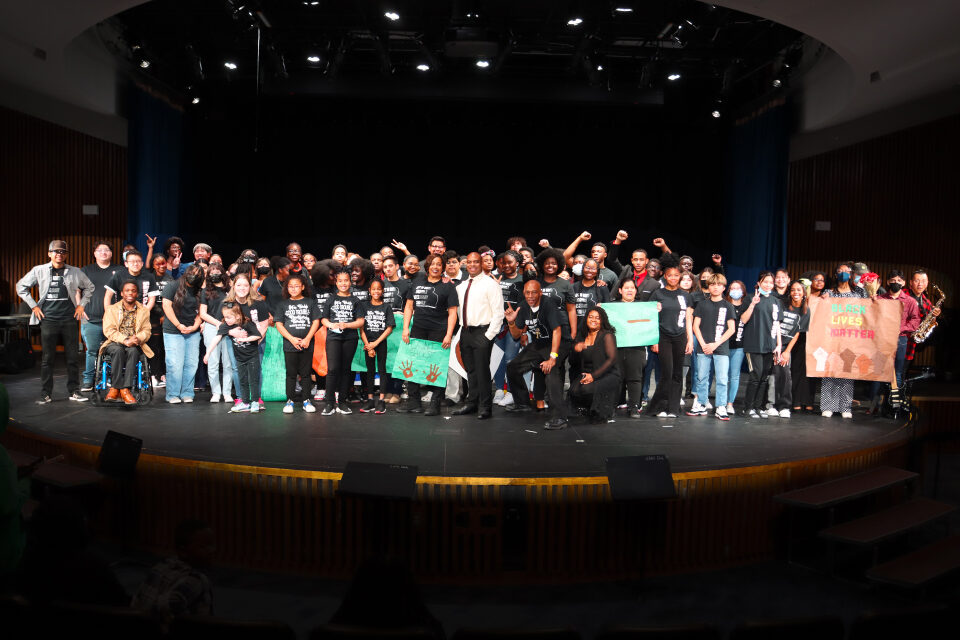 But, as she put it during a brief speech, "It was good trouble."
Sam Houston High School's annual Black History Month Program wrapped its entire salute around the idea of that kind of "good" trouble: doing what's right even when you will be persecuted for it. Event organizers Marissa Wright-Williams and Graylon Roberson, both longtime Sam Houston history teachers, used the life and legacy of John Lewis to craft the event held Friday evening in the school auditorium.
"Lewis is the one who said that if you are getting in trouble for the right reasons, that it's good trouble," Roberson said of the civil rights activist and congressman who died in 2020 at the age of 80. "It was fitting to use his life and legacy to put together this program."
On the front lines
The son of sharecroppers who grew up in rural Alabama, Lewis will long be remembered for being on the front lines to combat Jim Crow laws, particularly as one of about 600 people who tried to march across the Edmund Pettus Bridge in Selma, Ala., only to be met with tear gas, bullwhips and rubber tubing wrapped in barbed wire. A trooper cracked Lewis' skull with a billy club, nearly killing him.
Sam Houston's program showed some of the Freedom March footage on a video screen along with an older Lewis explaining to late-night talk show host Stephen Colbert that it was Rosa Parks who inspired him and the phrase "good trouble" when she was arrested for sitting in a whites-only section of a Montgomery, Ala., bus.
"She inspired me, at age 17," Lewis told Colbert, "to get in good trouble, necessary trouble."
Sam Houston student Isaiah Martin, in a white shirt and black tie, read the speech Lewis delivered during the March on Washington (he was the last surviving speaker from that march) and a video showed a handful of Sam Houston students giving their take on what "good trouble" means.
"To me," said one, "it means to stand up for what you believe despite other people's ideology." Said another: "It means to get in trouble for a good cause. The kind of trouble we are looking for is to stand up for what we truly believe and when you see something that is not right, not fair, we have to do something to get into good trouble. Necessary trouble."
Black History in Art
The Black History Month Program offered up all sorts of entertainment, all laced with a tinge of seriousness. There were dance performances from the African Student Organization, the #SamFam Elementary Dancers (kids as young as four), and the Texan Next Generation. The Sam Houston Community Gospel Choir performed traditional gospel and Black spirituals, and the Sam Houston orchestra played a touching rendition of "Motherless Child."
Roberson was instrumental in the staging of one of the more poignant performances of the evening, that of Young People of Color, who performed poetry, all the while moving about the stage, as if in a stage play. Roberson, who grew up playing piano in his grandmother's church, also directed the Sam Houston Community Jazz Band (current and former students and staff) who wowed the audience with a medley of Black music appreciation, including songs from Chuck Berry, Fats Domino, James Brown and Whitney Houston. Everyone was bopping their heads and clapping to the beats.
"Our jazz band, most of the songs we do they have never heard those songs before," Roberson said. "So through this process, they learn the story of where those songs come from and the artists behind them."
Dr. Cavazos and the Board
Superintendent Dr. Marcelo Cavazos was on hand, as were Arlington ISD Board Members Justin Chapa, Sarah McMurrough and David Wilbanks.
"It's important that you take the life experiences that you have and make a difference. Don't be afraid," said Councilwoman Woolridge. "If I was afraid the moment we walked in that theater, it would not have happened. But I walked in bold. So don't just sit and watch wrong things happen and do nothing."
Roberson had a chance to share with the audience the time he met John Lewis in 2011 when he took his history students to Washington, D.C.
Lewis, Roberson recalled, invited the whole group into his Congressional office and showed them photos of many of the things he had been involved in over his illustrious career of activism and politics. It was clear, Roberson said, that it wasn't about Lewis and his accomplishments but his contributions to a larger movement.
"We were appreciative to get a chance to meet him," Roberson said. "One thing was talked about is sharing the understanding that African American history is American history. And to know that it is relevant in every aspect of our lives."