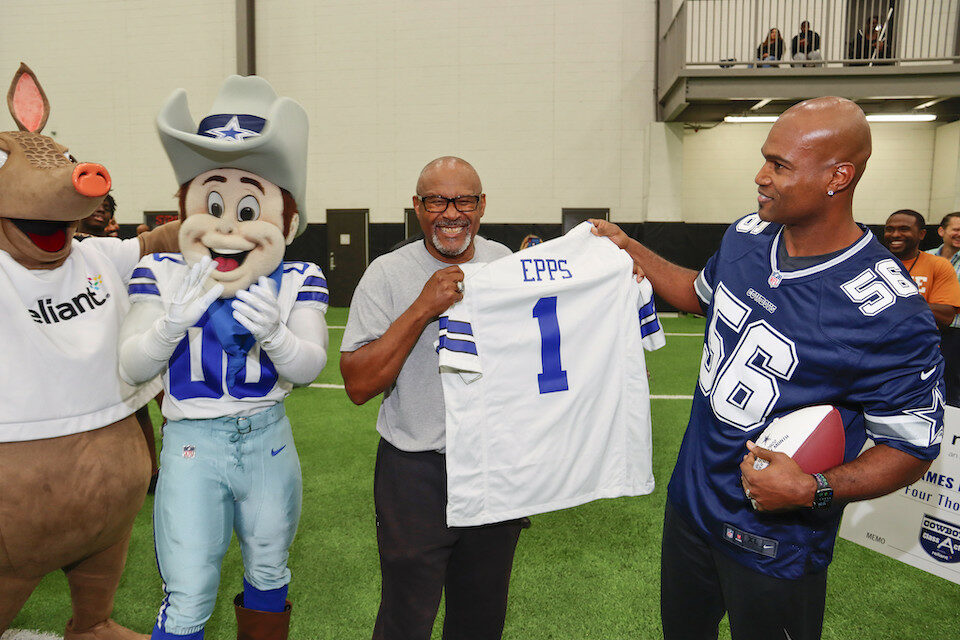 Sixth Arlington ISD teacher named Cowboys Class Act
Last Monday might have been rainy, but the weather couldn't stop the joy at Bowie High School. Students and staff were all smiles when the Dallas Cowboys and Reliant Energy surprised Sammy Epps with the Cowboys Class Acts honor for October.
Epps is a health teacher and coaches football, track and cross country. Even with a full plate, he does whatever he can to be there for his students, peers and family.
It was evident as students and coaches surrounded him and showered him with hugs as he was honored. In excitement, the football team even broke out a few dance moves with the Cowboys mascot, Rowdy.
"[Head football] Coach [Joseph] Sam really got me with this one," said Epps. "I thought I was coming in here for a meeting."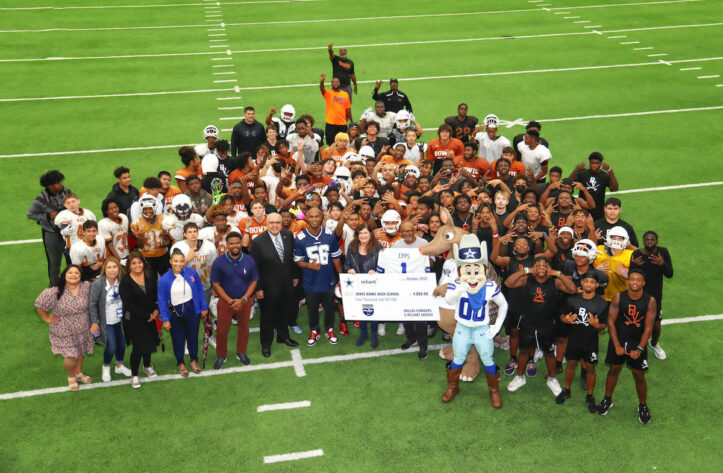 It was probably the most celebratory and unconventional meeting he's ever been in. Epps received a personalized jersey from former Cowboys linebacker Bradie James, an autographed game ball and a $4,000 grant.
Epps was speechless.
"Without him and coaches like him, I wouldn't be here today," said James. "Just being here and celebrating Coach Epps is another way of giving back."
Epps is now the sixth teacher in Arlington ISD to receive the Cowboys Class Acts distinction. The Cowboys and Reliant started the program to honor teachers that exemplify excellence in and out of the classroom and a commitment to their community.
"I'm extremely proud our coach was honored," said David Morrow, Bowie assistant principal. "Coach Epps is dedicated to the service of teaching all of his students and being a great coach as well."
His dedication to students spans 30 years as a teacher and coach in the district. The honor may have been shocking for him, but it was no surprise to everyone who knows him.
"I thank the Dallas Cowboys and Reliant because it's important for us to recognize teachers but it's also important for our partners," said Dr. Marcelo Cavazos, Arlington ISD superintendent. "Our teachers and coaches love our students, they love the community, and Coach Epps, you demonstrate that exceptionally well. Thanks for being a role model in our district."
There is no doubt Epps is a class act because of his daily service to the community with love, care and kindness.
"It's always about giving back," said Epps. "I serve and give back every single day. I always knew I wanted to do something to educate our youth, and I love helping them find their way into adulthood."