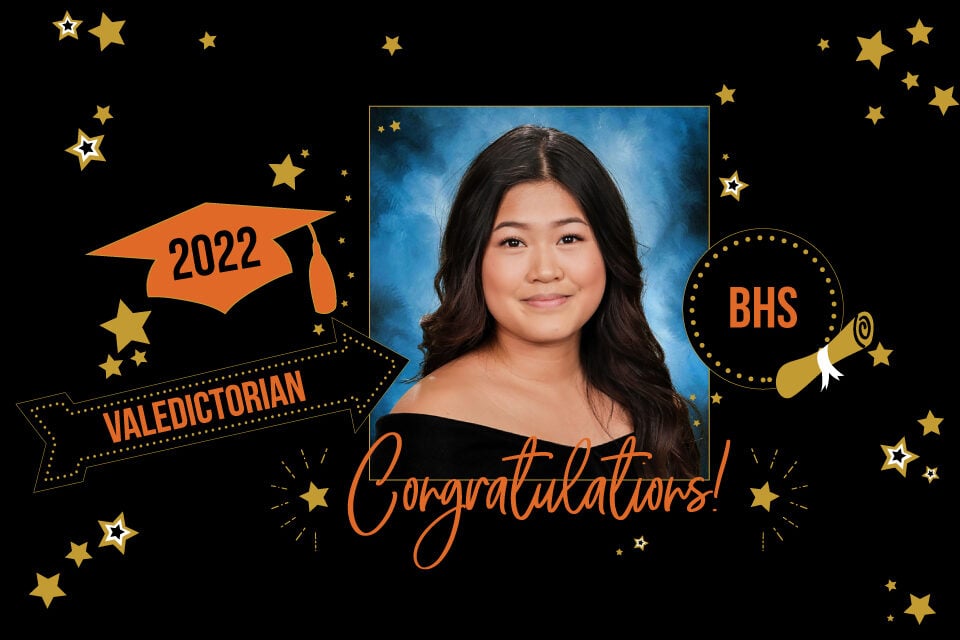 In the week leading up to Arlington ISD graduations June 7 and 8, we are celebrating the Class of 2022 valedictorian and salutatorian for all seven Arlington ISD high schools.
Name: Angelina Nguyen, Valedictorian
School: Bowie High School
College: University of Texas at Dallas
Intended Major: Computer Science
What is your dream, and how do you plan to make it come true after graduation?
My dream is to achieve financial freedom and begin living my life the way that I've always dreamed of, but I've never had the finances to make it happen. I plan to study over the summer and take classes early to prepare myself for the next school year.
Who inspires you the most?
My two best friends, my sisters, and my anchors, Kim and Quyen, inspire me the most because they live a life where they believe that you work for what you want in life. They are determined, strong-willed and resilient. My sisters are good at what they do, and no matter what obstacles they face and the hardship they come across, they will never let it hold them back.
What is one piece of advice you would give an incoming freshman?
Chase life with the same passion and excitement that you do with the small moments that brings you joy. These next four years of your life will come by very fast, so never wished for tomorrow to come and truly live in the present.
What's been your favorite high school memory?
Seeing all of my friends after COVID-19 was the most exciting feeling. That odd feeling and curiosity of how your classmates are since you've last seen them as sophomores was a remarkable memory. It truly made me reflect and value how important it is to live in the present.
How do you plan to make an impact on society in the future?
I believe that my life will be fulfilled when I can give back to communities that needs it the most. When I am older, I will accomplish this by taking an international mission trip to empower local communities and give them the support they need to build a better future.
What her teacher said…
"I call Angelina Nguyen 'the beacon of light.' She is an inspiration to many. She loves to learn and share her knowledge with others. I could remember as far back as 4th grade how she was always willing to be the team captain in her group of five. She wanted to lead, not because she felt she was better than everyone else, but because she possessed the maturity at the young age of nine to bring people with mixed abilities together. That tenacity always garnered her and her classmates recognition week after week. I am not surprised that she ended up top 2% of her graduating class!" – Fatiyat Amoda, 4th grade teacher
Can't make it to graduation but you still want to be a part of the special day? If you'd like to watch Bowie High School's graduation, visit aisd.net/graduation to livestream the ceremony. Be sure to tag @JamesBowieHS (Facebook) and @JamesBowieHS (Twitter) and use #ArlingtonISD when capturing special moments of your graduate for a chance to be featured on Arlington ISD official social media pages.