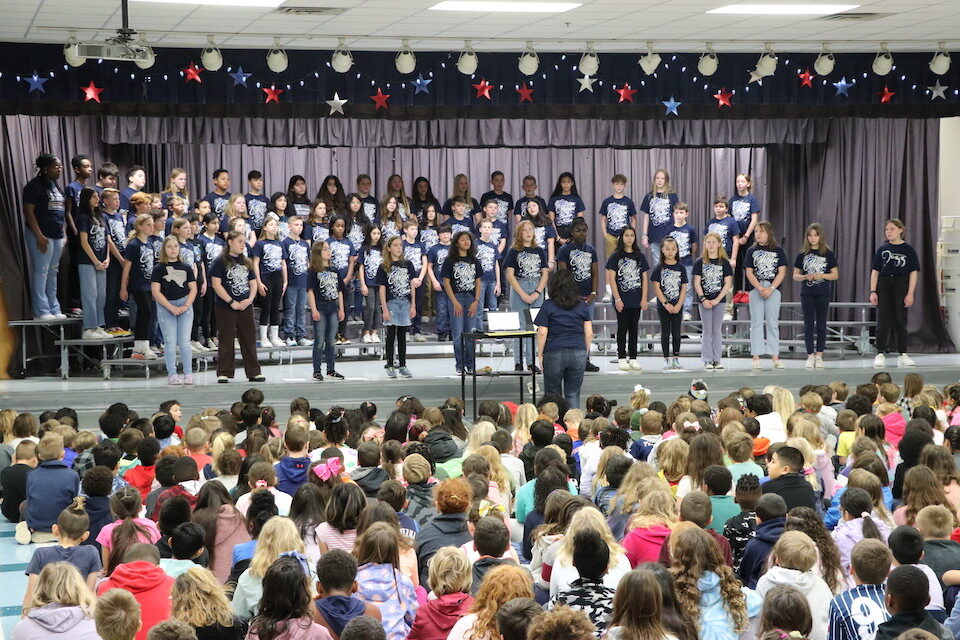 Butler choir shares legacy of Black music
It's not easy fitting the whole school into Butler Elementary's small cafeteria. It took a while to get every class in last Thursday morning. But this assembly was worth it.
Once the students were all squeezed in, Butler's Star Choir presented its annual Black History Month Program for fellow students and teachers.
The student singers offered a musical celebration of Black history that demonstrated the impact of Black music on all forms of American music and culture. The song list included a medley of spirituals, a song celebrating Martin Luther King's legacy, a bluesy jazz number and a solo of Alicia Key's "Girl on Fire," among others.
"The annual Black History Program at Butler Elementary reminds students that we are a culturally rich nation with a tragic past and a glorious future," Butler music teacher and choir director Teresa Francis said. "In the words of our finale 'Ujima' (words and music by Stan Spottswood):
'Oh, let us work together.
Oh, let us help each other. 
Ujima let us work together
To make better our community. 
We can solve, solve our problems 
With collective work and responsibility.'"
But it was sixth grader Jaime Grant's own words that perfectly wrapped up the concert. In closing, he said, "Throughout history, Black people have used music as a way to express themselves and to share their stories. The music genres of jazz, blues, gospel, country, rock, rap, hip-hop and pop music have all benefited from this great love of music and storytelling. We are glad you came to hear only but a fraction of the songs that are a part of our history, Black History."
Though Butler does a Black History program every year, this was the first one for new principal Mark Basham to see.
"Seeing our students' talents and passions through a celebration of music for Black History was incredible," Basham said. "I'm especially impressed by Jaime's closing words. It was a great reminder that we can learn so much from our students by creating opportunities for them to share their talents and voice."
Patrick program encourages students to go to college
Patrick Elementary took their annual Black History Celebration event in a new direction this year. They used their show to encourage Patrick's elementary students to start thinking about college, particularly historically Black colleges and universities.
"Many of our students do not have college at the forefront, and many do not know what HBCUs have to offer," said Patrick principal Katina Martinez.
Watch Patrick's Black History Celebration.
So, Patrick's planning team, led by librarian Erin Johnson, used the show to spotlight several HBCUs and included key information about each college. 
"The kids were amazing!" Martinez said about the many student performers. "But most importantly, our students and some audience members walked away with the possibility of attending one of the amazing HBCUs that were highlighted on our most special Black History Celebration night. Patrick Elementary can't wait to host another outstanding show next year!"
Atherton goes on educational journey
Students at Atherton Elementary celebrated Black History Month with an educational adventure to Ghana.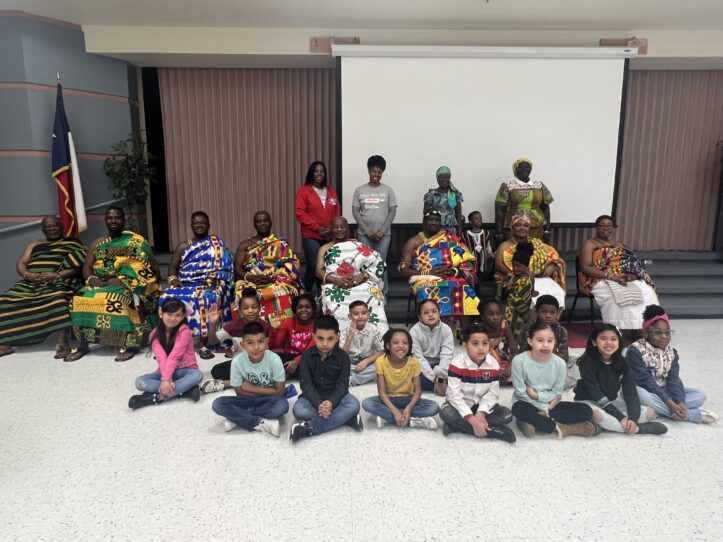 But they didn't have to leave campus. The Asante Tribe of Ghana visited the school to teach students about the second largest tribe in Africa. As the Asante Chief, Sub-Chiefs and Queen Mothers entered into the room, their colorful attire and traditional dance moves captured the  students' attention. Students learned about the cultural diversity the country offers and Ghanaian versions of their names.