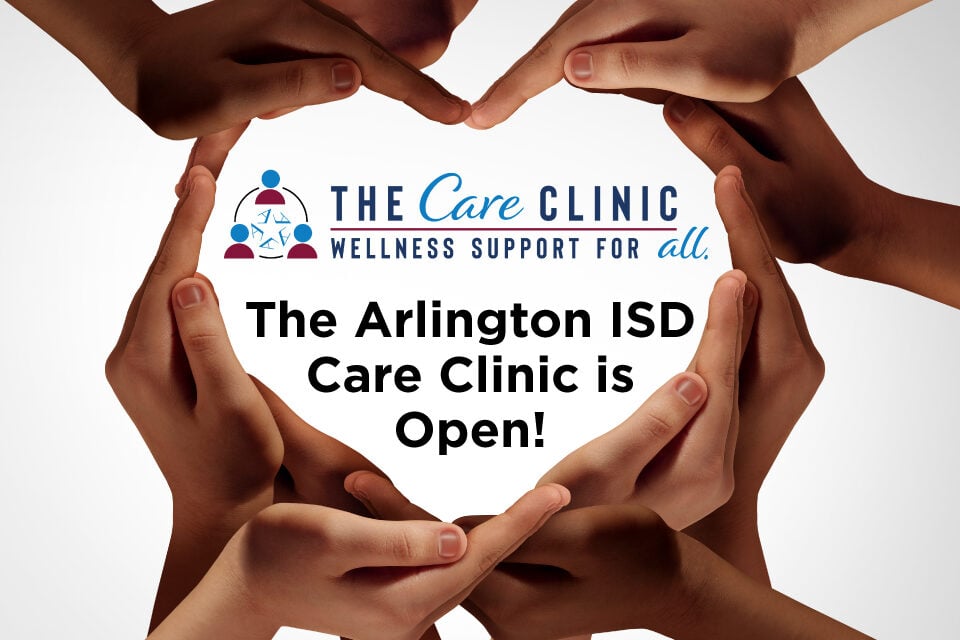 Students have a lot to deal with, and everyone's experience is different. That's why the Arlington ISD's commitment to mental health is as strong as ever. That's also why the district's Care Clinic, established during the COVID-19 pandemic to help students cope with the unprecedented challenges of mental health, remains open and continues to serve student wellness.
The Care Clinic provides wellness support for students through counseling sessions from state-licensed therapists. Most of the therapists work in Arlington ISD as school counselors, school social workers, school psychologists, parent facilitators and teachers.
Who is the Care Clinic for? And what's wellness support?
Many students are going to ask, "Should I go to the Care Clinic? Is it for me?"
If you ask that question, the answer is yes. The clinic is open to every Arlington ISD student because every person faces challenges and issues in life that can be overwhelming.
If you're dealing with loneliness or feeling overwhelmed by school – or something outside of school – the Care Clinic is for you. If you're struggling with depression, wrestling with lots of unanswered questions or having trouble with friends, the clinic is for you. If you're just feeling confused, exhausted, scared or anxious, it's for you. Or perhaps you're dealing with something else entirely. Then the Care Clinic is for you, too.
The clinic is designed to help students achieve better wellness – to be able to manage their lives so they can be healthy in every area.
"Wellness support for students through the Care Clinic is teaching and guiding students to have overall balance of their social, emotional, behavioral and mental well-being to have the skills when they face challenges," said Stephanie Arceneaux, Arlington ISD guidance and counseling specialist.
How does it work?
It starts with a referral. Parents/guardians and students can contact their school counselor who will submit the referral to begin services.
Through six, 45-minute sessions, the therapists listen and provide tools and hope for each of their student clients in a safe, professional and judgement-free environment.
The therapists handle almost everything. They receive the referrals, contact parents/guardians, schedule appointments and then, most importantly, provide counseling services to students.
"We help them develop a toolbox of things they can use to help them cope and better handle the challenges in life," said Kijuana Carter, LPC, the assistant principal at Pearcy STEM Academy and a Care Clinic therapist.
The toolboxes – and the Care Clinic – are making a real difference.
"You can see the impact on students," Carter said. "The therapists are excited because their clients are making progress."
Committed to students
The Care Clinic is making a difference because the therapists not only care deeply about students, but they also know what they're doing.
"A lot of the therapists have been doing this for years," Carter said. "They are professionals who know their craft."
"Our therapists understand Arlington ISD because they work here. They understand what our students are going through," said Electra Kitchin, LPC-S, a retired Arlington ISD counselor and now a private consultant helping the district manage the Care Clinic.
Gary Grossman, LMSW, one of the clinic's therapists has 30-plus years with Arlington ISD and is thrilled to be a part of the clinic.
"I love that the district has embraced the resources we have in-house," he said. "I feel privileged to be a part of this because it's so positive, professional and appreciated."
Get started
If you have a student interested in going to the Care Clinic, please contact their school counselor for a referral.
The Care Clinic is at 600 New York Ave. and operates Tuesdays, Wednesdays and Thursdays from 4 p.m. – 8 p.m., and select Saturdays from 9 a.m. – 12 p.m.  Both in-person and virtual appointments are available to clients.