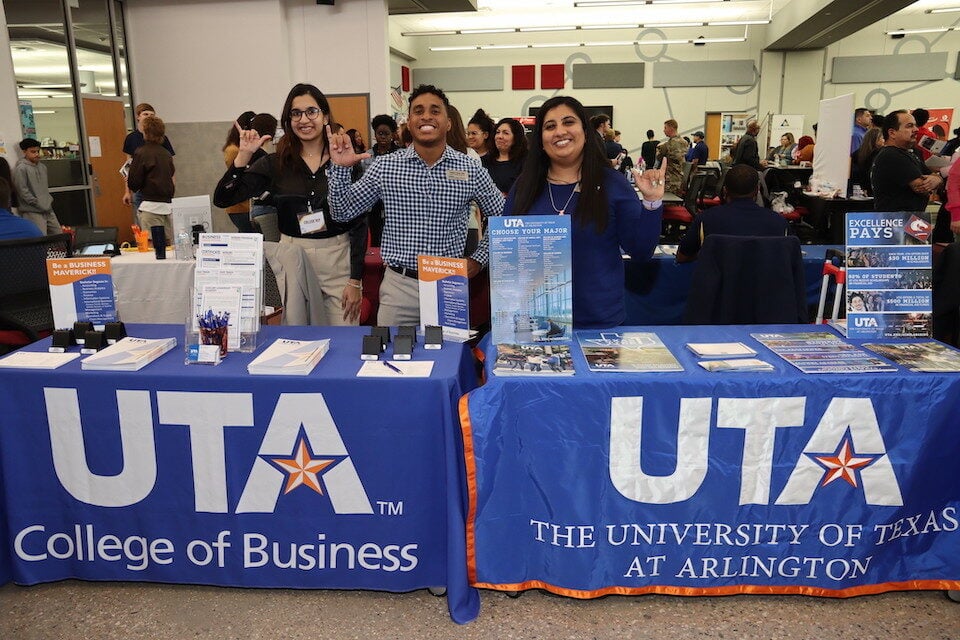 College and Career Expo helps students prepare for what comes next
With fewer than 40 days remaining in this school year, countless high school seniors across the Arlington ISD are facing some crucial decisions.
"Which college or university should I attend?" 
"Should I get a job to save money for higher education?" 
"Do I need to research trade schools to see if that route best fits me?" 
Those questions, and many more, were answered for hundreds of teenagers and their parents at last week's annual College and Career Expo. There, representatives from 70 colleges and 40 businesses were thrilled to share invaluable information with the 700-plus students and parents who flocked to the event at the Dan Dipert Career and Technical Center.
It was the first time that Natalie Garcia Jaramillo had ever attended a college and career fair. Prior to her visit to the expo, the Sam Houston High School senior's plans only included enrolling at Tarrant Community College to obtain a 1-year "certificate of completion," before transferring to the University of Texas at Arlington. However, her teachers suggested that she attend the event due to her interest in the healthcare profession.  
"I'm looking forward to networking with all of the companies that are here and hoping to even find a job after high school," Garcia Jaramillo said shortly after the expo kicked off.  "Because I'm looking to go into the medical field, our teachers really talked about how they have Medical City Arlington (present at the event)." 
An array of opportunities 
The expo transformed the CTC into something like a carnival, full of employers, business owners, organizations and universities manning booths with posters, giveaway materials and trinkets.
Donning business casual attire and bringing their resumes to the jam-packed event, students got a chance to discuss jobs and even conduct on-site interviews for part-time, full-time or post-graduation work. Representatives from Texas Tech, Oklahoma State, Kansas State and many more universities were there to recruit students. The expo also included three HBCUs (Historically Black Colleges and Universities), Mississippi's Tougaloo College, Paul Quinn College in Dallas and Louisiana's Grambling State University.
Parents sat in on presentations about athletic recruiting and the scholarship process for high school athletes as well as detailed guidance on admissions, testing, academic scholarships and financial aid. Translation services for Spanish-speaking parents and students were available to help throughout the expo. 
Leslie Birdow, director of community affairs for inspirED, a higher education servicing corporation that helped sponsor the event, said the expo was designed to help students get information from colleges and find schools that they may not have ever heard of before. She said it also assists them if they just want to begin working, learn what a school's admissions department requires or what an employer wants.  
"It is really where the rubber hits the road," Birdow said.
Edwanna Smoot attended the event for the first time with her son Eden Brown – a junior at Arlington High School who wants to study fine arts, theater or animation at an out-of-state institution. Smoot was impressed by the event's variety of assistance offered to the attendees.
"I think it's awesome!" Smoot said.
Growing by leaps and bounds 
The first Career Expo was at Sam Houston High School six years ago, before growing into the large, district-wide event that it is today. This year, there were about 100 volunteers to help run the event, which has been "life-changing" for students and their siblings, CTC counselor Tammie Newsome said.       
She said the expo has also been beneficial for local businesses.
"They are looking for a lot of this workforce that has just disappeared over the years," Newsome said. But now, she said, area companies can spend more time training and investing in students who are already interested in their fields. 
Amanda Nolen, admissions counselor for Texas Woman's University, was also excited to participate at the expo for her first time. While waiting for attendees to stop by her booth, Nolen danced to music – played by an Arlington ISD family engagement team member – particularly Carl Carlton's 1981 funk women's anthem, "She's a Bad Mama Jama."  
A former teacher who paid her way through college, Nolen stressed to high school students that TWU is much cheaper than the average state public school and has a 96 percent acceptance rate.
"Public education is for the public, so we're not trying to make it difficult," Nolan said, "It's about how can we help people at the end of the day."
Dr. Marcelo Cavazos, the district's superintendent, said the expo is crucial because it provides students a chance to get "hands-on and direct information, face-to-face," with many different universities, colleges and careers.   
"We love hosting this event because its benefits students in Arlington so much," he said. Marveling at the size of the crowd, Cavazos said he believes the attendance "continues to grow because of the demand."  
"It tells us that our students are taking advantage of this … our students are demanding this," Cavazos said. "We aim to serve and that's what these opportunities are for."