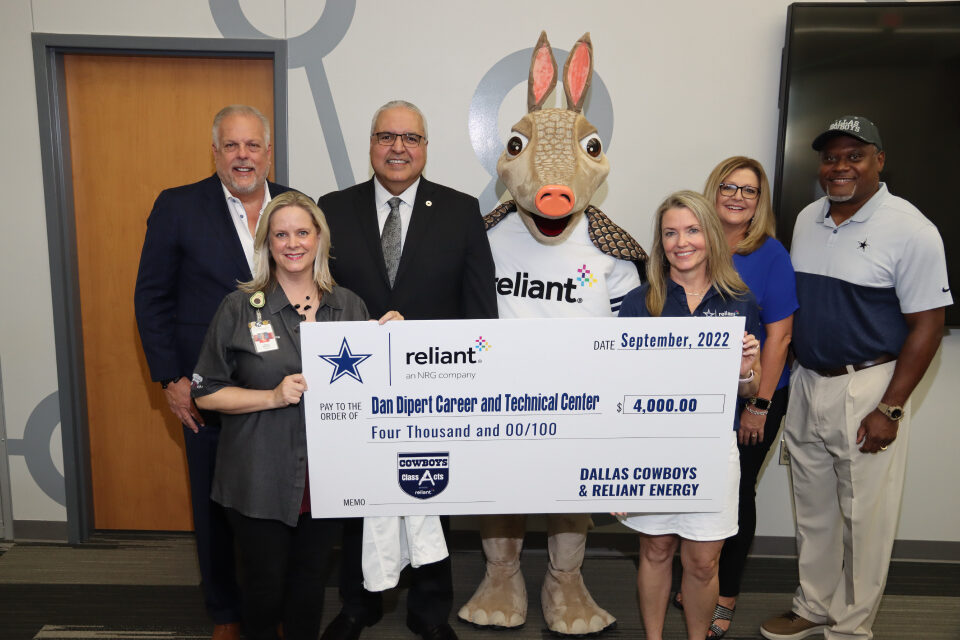 Name one person that's been in education for 30 years, switched from special education to culinary arts and continues to find ways to creatively connect with students.
You may not be able to, and that's why Alyce Monroe at the Dan Dipert Career and Technical Center is in a class of her own.
Reliant and Dallas Cowboys honor Monroe
Reliant and the Dallas Cowboys agree. Monroe was in for a sweet surprise when Reliant and the Cowboys recognized her with the Cowboys Class Acts award and a $4,000 grant for her positive impact in the classroom.
"I love what I do, and I have a great team to help make it happen," said Monroe. "I'm a lifetime Cowboys fan, so I'm overwhelmed. I'm excited about our new programs that we're starting to help the next generation learn how to be teachers, and I have to give a huge 'thank you' to my team."
Cowboys Class Acts honors educators who constantly encourage, lead and strive for excellence in the classroom. Monroe is one of six teachers across the Dallas-Fort Worth area that will be recognized during the 2022-23 school year for their phenomenal work empowering youth.
To put the icing on the cake, Cowboys legend George Teague handed her a custom Cowboys jersey to rock this season.
"What I like most about Mrs. Monroe is her ability to move and adjust to find her niche in the culinary industry," said Teague, who is now the athletic director at John Paul II High School in Plano. "When they called me and asked me to be a part of the surprise, I didn't have to think about it because we're recognizing teachers. Any time I can do something like this with the Cowboys and Reliant, I'm there. When your name gets to the Cowboys and Reliant to be recognized, you have to be doing some great things."
After 20 years of serving in Arlington ISD, the veteran continues to spice things up in her class. She's led the Smoking Ferrets district barbecue team to state the past two years and often brings cultures from around the world into her state-of-the-art kitchen. Last year, Monroe even cooked an alligator for a Louisiana-style Mardi Gras dinner.
"Mrs. Monroe is full of ideas and super innovative all the time," said CTC principal Ginger Polster. "Her reaching impact is not just on our campus but city-wide. We get really creative while staying in the lines to figure out what we need to do to provide the best experience we can for our students."
If you want to check out the surprise for Monroe, click here to watch it on Facebook.