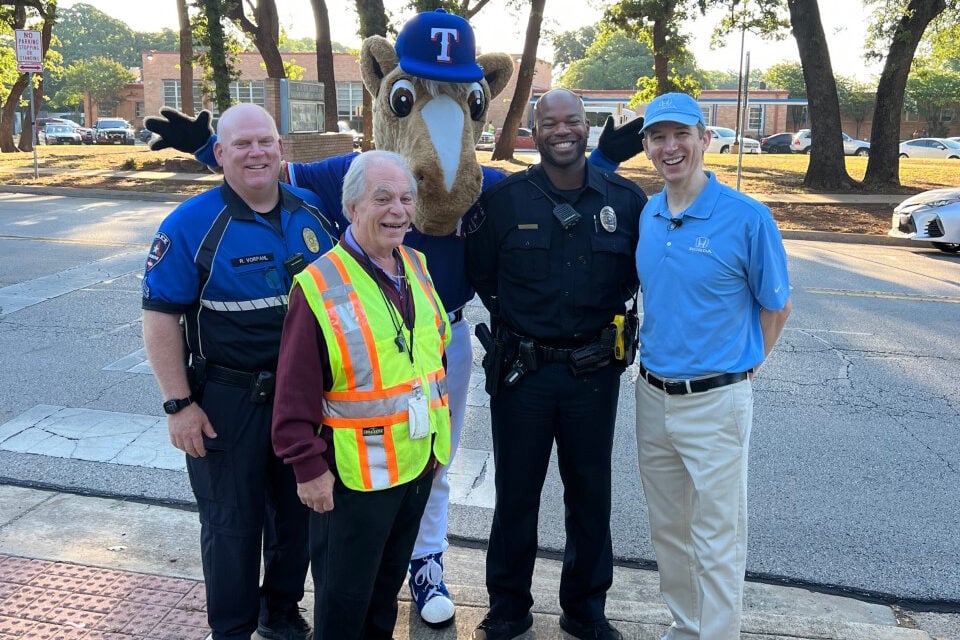 The last day of school is usually filled with big smiles and bright faces as students and teachers count down the hours to summer break. Thanks to North Texas Honda Dealers Random Acts of Helpfulness, the last day of school at South Davis Elementary was a joyous occasion for a neighborhood friend – Chris Geisel, the school's crossing guard.
While Geisel helped kids cross the street, he was pleasantly surprised to see Texas Rangers mascot Captain, a representative from North Texas Honda Dealers and a host of South Davis staff members celebrating as they approached him. Along with the crew was Bradlee Geisel, son of Chris Geisel. Bradlee Geisel asked North Texas Honda Dealers to surprise Chris Geisel, a hardcore Rangers fan, with a special Rangers VIP experience.
Ask and it shall be given, because the Geisel family is headed to a Rangers game in August!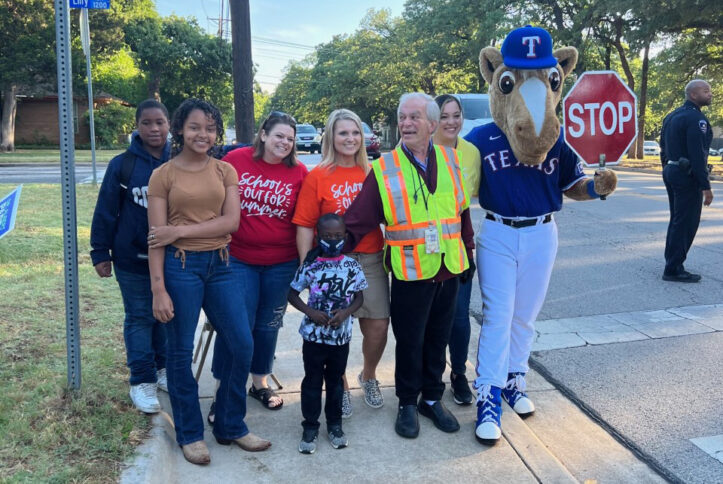 "I can't even put into words what this means," said Chris Geisel. "Excited. I'm so excited."
Geisel the crossing guard
Geisel's commitment to students' safety and serving the community are a few of the reasons why the students and staff at South Davis love him.
"He's such a special addition to our school, and I don't know what we would do without him," said Debra Wall, the former South Davis Elementary principal. "The kids adore him and can't wait to see him every morning. That tells you the kind of impact he has on everyone's day."
Although his role may seem like a small part of the school day, Geisel is making a big impression on the ones he comes into contact with, and it isn't going unnoticed. The South Davis community appreciates his big heart and warm smile.
Each month, North Texas Honda Dealers surprise community members with Random Acts of Helpfulness. The acts include everything from complimentary manicures and massages to paying for tanks of gas at local gas stations. If you need a helping hand, they are here to help.
If you want to request a Random Acts of Helpfulness for someone you know, visit their website at www.ntxhondadealers.com/help/.