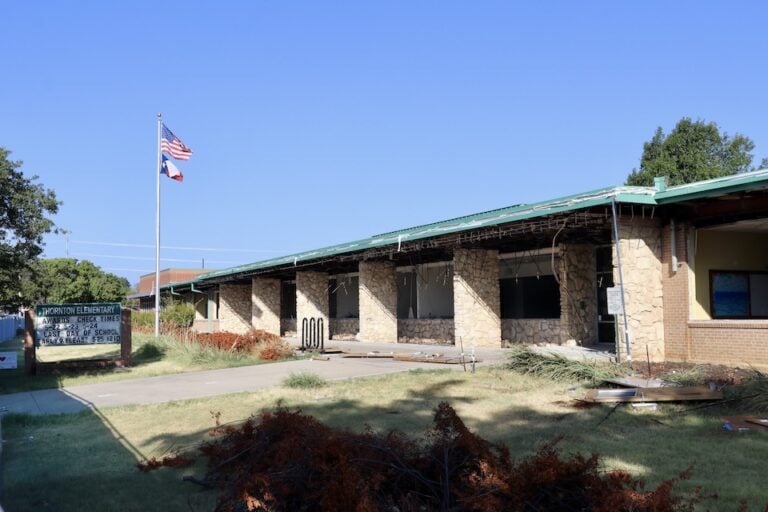 Old Knox building opened in 1958
It's demo day.
Actually, it's demo days at the Arlington ISD's old Knox Elementary School. It takes more than a day to tear down an old school.
The building that also served as a temporary Thornton Elementary for the last two years is now officially being torn down to make way for what's next.
A new junior high school to replace the old Carter Junior High.
The new school is a 2019 Bond project needed because of Carter's age. Opened it 1958, Carter wasn't built for modern technology, HVAC, lighting or today's education models. In addition, the original Carter site is undersized, and erosion in the adjacent creek impedes site use. There is no room for a track around the football field or ample parking.
That will all change with the new state-of-the-art junior high facility. Plus, the new site is more centrally located to the Carter student population and large enough to accommodate all program offerings.
It's large enough thanks to a trade with the City of Arlington. Arlington ISD acquired Wessler Park, adjacent to Knox, and is adding it to the new junior high property. In return, Arlington ISD is giving the city its nearby and now-closed Roark Elementary site. Arlington ISD will demolish the Roark building soon, too, and then build a new splash pad in the school's place to replace the one that was at Wessler Park.
Once demolition of the old Knox building is complete, construction on the new junior high will begin. Look for the early stages of construction – moving dirt around – to begin next month.
The new junior high school, designed by Corgan Architects, will be built by Lee Lewis Construction Inc. and is scheduled to open in the fall of 2025. It is the last of four aging schools to be replaced by the 2019 Bond. The other three – now all open – are Webb, Berry and Thornton elementary schools.