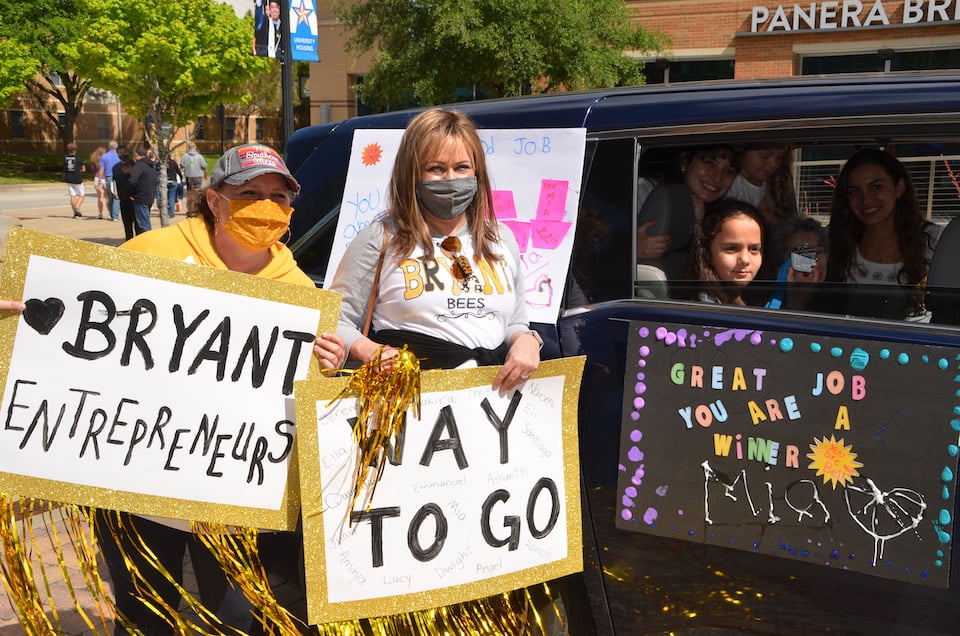 Even in a Pandemic, students' Big Ideas Keep Coming
Normally when Arlington ISD and the Greater Arlington Chamber of Commerce hold their annual What's Your Big Idea? contest, hundreds of winners and their families pack UT Arlington's College Park Center to celebrate the deserving students. This year, they still went to UTA, but they never got out of their cars. They drove down the street in decorated cars honking horns and smiling from car windows. What didn't change: the number of medals handed out to students in grades three through eight for their ingenuity and creativity of products they could sell or businesses they could actually create.
Of the 2,500 essay or art entries, 722 students received finalist honors and 34 captured grand prizes for landing in the top three spots among their grades. Staffers and volunteers from Arlington ISD and the Chamber of Commerce lined the street in front of College Park where vehicles paraded down the street and made pit stops to pick up their awards and receive well-deserved shout outs.
The top winners drove away with not only medals for their efforts but goodie bags that included an iPad, tickets to Six Flags Over Texas and a Texas Rangers baseball game, gift cards to Arlington Highlands eateries, baseball caps, and even Texas Rangers bobbleheads.
COVID might have shifted the celebration outdoors and winners had to remain in their cars, but Chamber of Commerce President Michael Jacobson said the overall objective of the contest was not lost.
"The future of our community is brightest when we unleash the innovation and creativity that exist in the minds of the next generation of entrepreneurs, our students," Jacobson said. "The 'What's Your Big Idea?' contest integrates entrepreneurship directly into the classroom as the country's largest curriculum-based entrepreneurship contest. With more than 24,000 ideas submitted over the past 15 years, we're engaging students at a young age to believe in their big ideas and help bring them to life."
Essays were judged by the Chamber and the Chamber's Partners in Education Advisory Council on the basis of grade-appropriate focus and coherence, organization, development of ideas, voice and conventions such as grammar, spelling and punctuation. Art is judged on basic principles of art and advertisement effectiveness.
"We had a lot of logistical challenges but were able to overcome them because people worked really hard to make that happen," said Scott Parsinen, a Chamber volunteer. "Everything sent in was online so we did a lot of sitting and looking at screens. But it was worth it. The ideas were great. They weren't lacking because of the pandemic, that's for sure."
One idea from a student winner from Bryant Elementary was a "Bully Bot," a robot device that snaps to a backpack. It records conversations during bullying scenarios. Another idea, also from a Bryant student, was an app that won't allow you to log into your Chromebook until you've answered questions about what you learned that day.
"It was called the Doublecheck App," said the student's third-grade teacher, Tippi Ellis. "Also, if you didn't pass your doublecheck it would send you to a tutoring link. How clever is that?"
Ellis and her fellow third-grade teacher at Bryant, Allie Schulman, were part of the welcoming committee who lined the sidewalk shouting out encouragement to students who normally would have strolled across the big stage inside a 7,000-seat arena. The teachers held up signs that read, "Way to Go" and "Bryant Entrepreneurs."
Butler principal Jennifer Bohannon was also there to congratulate her students, many of whom walked away (or drove away) with medals.
"It is a traditional thing at Butler, something we try to promote with the kids by just generating what ideas are in your head?" she said of the contest. "Put those on paper or draw them. We love it because this contest allows for all these different avenues, whether writing or drawing. I think they just have a lot of fun because it's an experience where they are allowed to think completely out of the box."
Board of Trustees member Polly Walton was one of the sidewalk cheerleaders, welcoming the students as they arrived.
"This is so important," she said. "These kids get a chance to think about things. Get creative. Really come up with good ideas that can help people."
That's the most fun for the students, Butler's Bohannon said.
"We tell them the world is your oyster," she said. "Whatever is in your head, make it come to life. Because the thing is, they think because they are little, their ideas won't be that impactful. So we have to tell them from the start that they can make a difference. It's just really cool to see them take that and run with it."