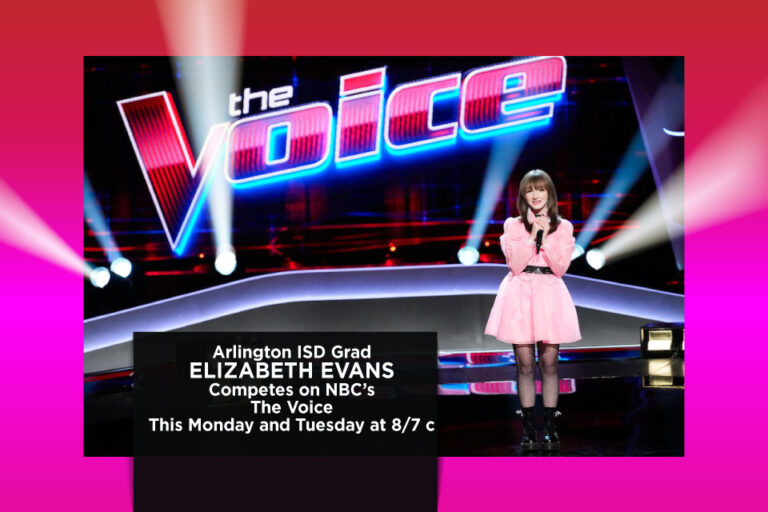 'The Voice' airs Mondays and Tuesdays on NBC
Have you ever wondered what it's like to perform on the stage of a national television show? 
"As soon as you step on that stage, it's like you've never sung a day in your life," said Arlington ISD 2019 Martin High School graduate Elizabeth Evans.  
As a contestant on season 24 of NBC's "The Voice", not only has Evans performed in front of big-time superstars, but she's also becoming one herself.  
With two chair turns from Grammy Award Winning artists Reba McEntire and John Legend in the blind auditions, Evans's life changed.  
But she will never forget where her career started and who influenced her love for singing and songwriting. 
"I think I was singing before I was even talking," Evans said.  
That's because it runs in the family. Evans was inspired to start singing after watching her mom perform at local shows and church services.  
"She's the one who made me want to sing," said Evans. "Just like she did."  
Growing up in Arlington, Evans attended Key Elementary, Boles Junior High and Martin High School and was heavily involved in her school orchestra and choir programs.  
"That period in my life made me who I am as an artist," Evans said. "Getting to be around music as much as I was every single day throughout high school and junior high changed how I write music and how much I love it." 
Evans says former Martin orchestra director Michael Stringer made a significant impact on where she is today. 
"He was so passionate about music, and it made me love music even more," she said. "He was such a big inspiration for me."  
Auditioning for "The Voice" recently was a dream come true for Evans, who grew up watching the show with her mom. 
"Little me used to dream about going on the show," she said.  
Inspired by artists like Christina Grimmie and Melanie Martinez – who were also contestants on previous seasons of the show – Evans found herself on the same stage where she watched them get their start. 
"It was wild," Evans said. "It was an adrenaline rush." 
And choosing her coach was the hardest part.   
"In that moment, I was so torn," Evans said. "I picked John because he said something about recognizing that I was a songwriter. I wanted somebody who could get me for the quirks and uniqueness that I bring to the table, and I felt like he got me for that."   
In the first round of "The Voice" Battles, Legend made an even harder decision to send Evan's battle partner, Kaylee Shimizu, into the knockout rounds instead of Evans.  
But Evan's "Voice" journey was not over yet. With a steal from McEntire, she's headed into the knockout rounds, too.  
"I still can't believe it," Evans said. "It was such an honor that she wanted me during the blind auditions, and she took the chance to have me on her team now."  
As she prepares for her next "Voice" performance, Evans will be traveling back and forth between Los Angeles and Nashville where she recently graduated from Belmont University and is launching her music career.  
And here in Arlington ISD, we'll be cheering her on all the way through.  
Keep up with "The Voice" on NBC.