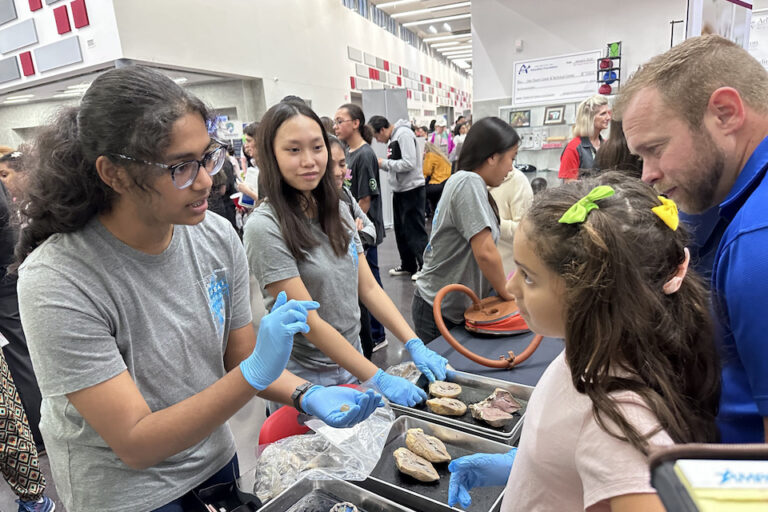 Explore Arlington ISD is hands-on
"Gross!" is all Audrey Duchateau could utter before shielding her face toward her mother Amanda's side.
But who could blame the 9-year-old's reaction? After all, there were cow eyes and sheep hearts atop a table where the Little Elementary fourth grader was standing. She also couldn't care less that her younger sister, Natalie, was so intrigued by it all.
A third grader at Little, Natalie had quickly donned a pair of blue latex gloves to safely hold the animals' organs. She simply couldn't pass an opportunity to touch, examine and hear information about the dissected parts.
"They were squishy," Natalie quipped.
This was one of many unique experiences offered to students and parents at last week's Explore Arlington ISD. Annually held at the Dan Dipert Career and Technical Center, the free, hour-long event showcased the district's application and non-application programs offered from pre-K-12.
Representatives from elementary and junior high academies, P-TECH programs and early college high schools helped moms and dads make decisions about where to place their children on the best path to academic and career readiness.
Whether their scholar's future is in STEM, leadership, fine arts or a different passion, families had plenty to choose to learn about. Natalie has expressed some interest in the medical field. And on that evening, she gained valuable insight from Martin High School seniors Gabriela Nguyen and Simran Pereira as they represented their school's HOSA (Health Occupations Student of America) program.
The teenagers sounded like seasoned physicians as they explained to Natalie that behind the retina of cow eyes, there is a tapetum, a layer of shiny, blue-green material that assists night vision by reflecting light back through the retina.
It was the first time that Amanda and Dave Duchateau took their daughters to the expo. The family moved into the district from North Richland Hills last year.
"I enjoyed learning about the STEM programs," Amanda said. "Not only for what they have for (her daughters') age group, but what to expect as they grow within Arlington School District."
Duchateau was most interested in learning about STEM activities at Martin, the high school into which Little Elementary students feed.
"I've heard great things about it. I've seen stories on their robotics program. I just wanted to see what was offered and how they can get into that program when they reach that point," she said.
Exposure to the arts
The Duchateaus were among countless families who attended the jam-packed event despite the rain. Once inside, they were treated to a variety of presentations within the arts.
A Dr. Marcelo Cavazos Center for Visual and Performing Arts instructor was throwing clay on a pottery wheel for visitors to view or partake in. There were also performances from Arlington ISD's academies of fine arts and dual language: Jones, Corey and Gunn.
A choir from Jones brought lush harmonies, and Corey students wowed the crowd with lively dance routines. Piano students from Gunn also garnered praise for their compositions that included "Für Elise" by Ludwig van Beethoven and the Malaguena-traditional Spanish "Musette" by Johann Sebastian Bach.
Gunn piano teacher Jose Cubela – who has taught piano at Texas Wesleyan and Texas Christian University in the past – said the performance opportunity was vital for his students.
"It helps build their confidence and improve their approach to practicing," he said.
While Cubela was "extremely proud" of his students as they performed, the 20-year instructor constantly thought about how he could enhance their abilities – a testament of the dedication of Arlington ISD's fine arts program teachers.
This year's event also showcased cybersecurity and automotive repair programs. Even public safety programs were highlighted. Attendees saw teenagers in their fire academy jumpsuits strut through the crowd. The littlest students were treated to a small STEM play area that somewhat mirrors classrooms of many pre-kindergarten students across the district.  
Lilly Hamner, coordinator of operations for Arlington ISD's early childhood learning department boasted about the STEM curriculum, which allows the little ones to visit STEM labs to explore and discover as they are provided new ways to learn letters, numbers, shapes and more.
"We're full STEM ahead," Hamner said, quoting a line from her department's promotional flyer that was there for the taking.
Never too early
Attending the expo for the second year in a row, Tuan Tran said he hoped "to see if there was anything here that is suitable" for his two sons: Raymond and Ethan, who attend West Elementary School. Like other parents, Tran expressed that it is never too early to plan the youths' futures. While there, his boys learned about different cultures while having some fun.
Raymond and Ethan enjoyed Wimbish World Language Academy's station that allowed them to play the French game Pétanque. One way that a player can score points in the game is by throwing boules (metallic spheres the size of an orange) closer to a small target ball called a jack ("cochonnet" in French) than an opponent does.
Throughout the siblings' contest, 8-year-old Ethan often rolled his ball the closest to the "jack." Whenever he won a round, he bounced and shook his legs, almost mimicking the "Billy Bounce," a Fortnite video game dance move. He then bragged, "I've never seen a third grader beat a fifth grader."
Lennox Murphy, an eighth grader at Young Junior High School, said he also "had a good time" during his first visit to the expo. The 14-year-old – joined by his mother and grandmother – walked from station to station, gathering a lot of information.
"I got to see what I want to do," said Murphy, who is striving to work in either the fashion industry or audio/visual field. It is his first year in the district.
His mother, Alanna, is optimistic about Lennox's future because of Arlington ISD's offerings. "I'm amazed at all of the different options … it was really informational; a lot to look at to figure out what we're going to do," she said.
Amanda Duchateau said the event is crucial, "especially because with today's kids, they don't know what they want to be. Kids are like, 'I don't know' or 'I want to be a doctor or police officer.' They are not saying I want to be a biomedical engineer or work in computer science or cyber security."
She marveled at Nguyen and Pereira's presentation on the health of animal organs, acknowledging Arlington ISD's dedication to offering STEM programs.
"You know what they're doing is one, interesting," Duchateau said. And two, it's educational because they're remembering all of it and giving you this information. And three, you know they are going to go on to stay in that career or field."   
Application window now open
Does a specialized program in the Arlington ISD sound right for your student? The application window is open now. You can apply today here.