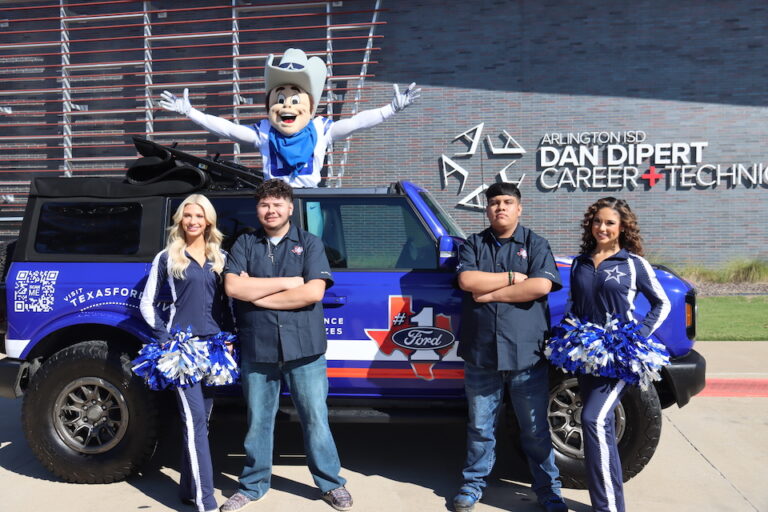 DeMarcus Lawrence visits with automotive students
Rowdy? Yep. Dallas Cowboy Cheerleaders? Check. Cowboys defensive end number 90 DeMarcus Lawrence? That's right.
It wasn't a Dallas Cowboys football game, but it was a big-time win for Arlington ISD.
Last week, the Dallas Cowboys and Ford launched their partnership to extend hands-on experience opportunities for Arlington ISD's automotive technology students at the Arlington ISD Dan Dipert Career and Technical Center (CTC).
Coming out of high school with real-world job experience isn't easy. But Ford is changing that with a partnership aimed to help students gain internships, scholarships and networking through Ford during and after high school.
To launch the partnership, representatives from the Cowboys and Ford came out to tour the CTC's automotive facility and talk with Arlington ISD's future service technicians.
"We need bright young people that are interested in growing their career," said Ford service performance manager Jonathan Cuff.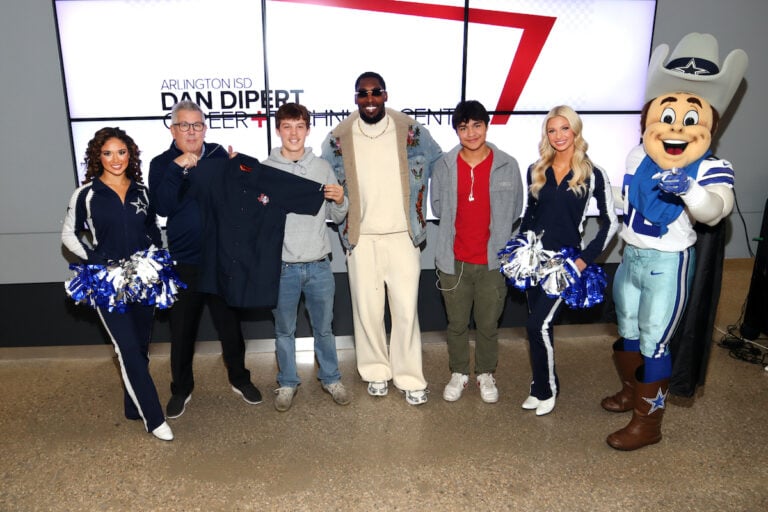 And there was no better way to introduce the partnership than by hearing from number 90 himself.
"I always wanted to be in the automotive program growing up," said Lawrence. "Being able to see the kids have the opportunity to live out their dreams at such a young age is truly inspiring."
During the school year, Ford experts and staff will visit with students during class hours, sharing their knowledge of the automotive industry as it aligns with the curriculum.
Students will also have the chance to shadow Ford personnel at local dealerships and be mentored through technical competitions.
"It's rewarding to get to see these kids starting a career," said automotive technology teacher Nicholas Comey. "With opportunities like this, we will be able to challenge the kids and watch them grow."
"I'm super excited," said Martin High School senior Michelle Buser. "Our first year we didn't have this, so for us to open it up and be a part of the first year is really exciting.
"It's going to bring a lot of opportunity for other people," said Buser. "Especially the younger ones."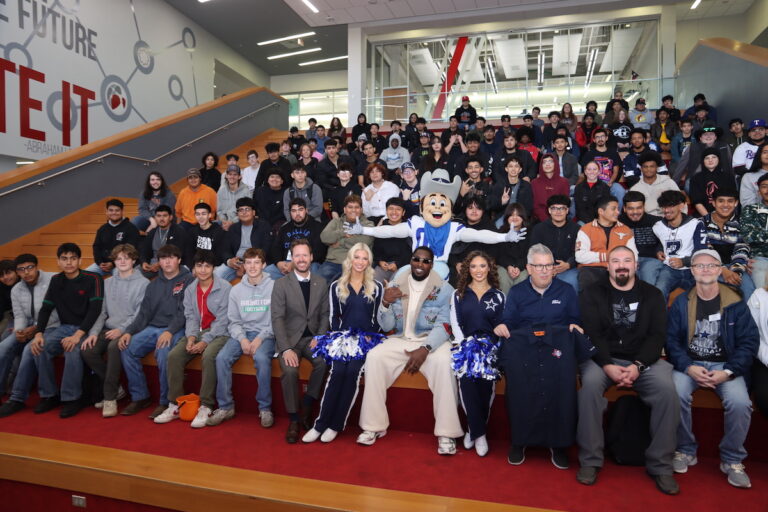 Ford and the Cowboys also gifted each student with a Ford and Cowboys co-branded shop shirt.
At the end of the year, Ford will also give each student their very own work tools.
"These kinds of opportunities don't happen for everybody," said interim superintendent Dr. Steven Wurtz. "Not everybody gets the chance to actually work with people who are in the field to mentor kids so that they can transition after high school into a job that pays well."
Arlington ISD is a district that aims to help all students pursue their passions, so new ways to gain hands-on experience in school are always worth celebrating.
"I'm here to show the kids love," said Lawrence. "If you believe it, if you see it, you can achieve it."