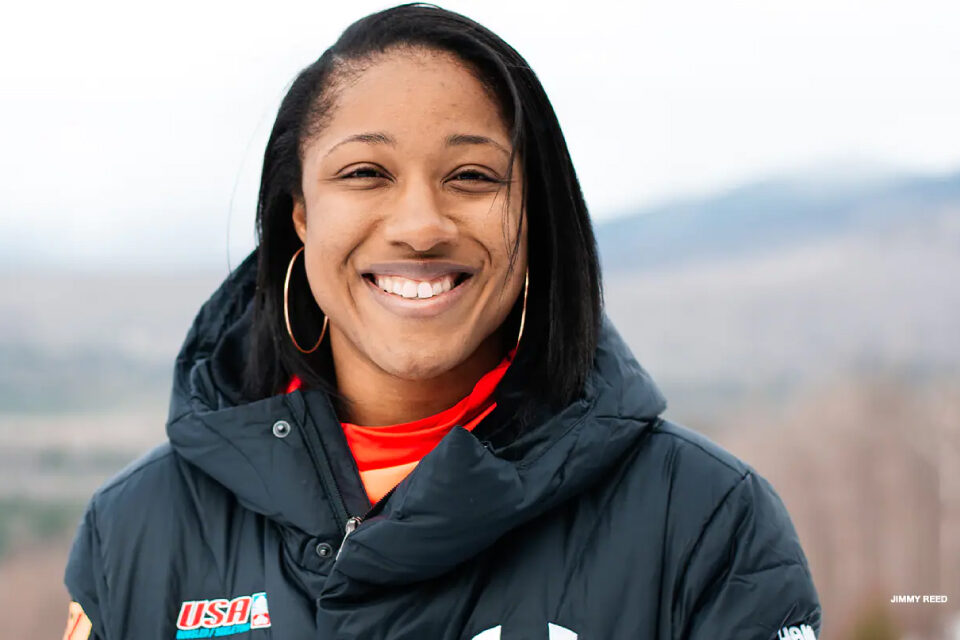 If you're watching the Winter Olympics and you hear a familiar name during the bobsledding competition, don't be surprised.
That's because Sylvia Hoffman, who played on Bowie High School's state basketball championship team in 2005 and graduated in 2007, is competing on the U.S. bobsled team in Beijing. Hoffman is part of a two-woman team that begins its Olympic journey Thursday.
A Winding Road
It's been a winding road to China for Hoffman, who went from basketball player to weightlifter to Olympian. And you can't forget about her time on a reality show or her job as a swim coach.
That road began at Bowie. While a sophomore at Bowie, Hoffman and her teammates brought the first and only women's basketball state championship title to Arlington. She then went on to play basketball at Louisiana State University Shreveport and eventually picked up weightlifting. After competing in the U.S. weightlifting national competition in 2018, Hoffman was recruited to bobsled at a scouting camp.
Four years later she is an Olympian.
"When it really set in that I made the U.S. Olympic team, I pulled out my phone to record a video of me dancing and celebrating," said Hoffman as she laughed and recalled the moment. "It's a huge accomplishment and I didn't want to try to rely on me remembering the feeling, so I just documented the moment, so I'd always have it and never forget how I felt.
"I enjoy the art of competition because I love seeing positive results after I set a goal and put my mind on accomplishing it. The Olympics is no different, so I'm looking forward to winning a gold medal."
It's not out of the question, either. During the most recent World Cup season, Hoffman and teammate Kaillie Humphries earned two bronze medals.
One-of-a-kind athlete
Since 2018, Hoffman has enjoyed learning the sport of bobsledding and applying principles from basketball and weightlifting to help her succeed. When asked how she excelled in bobsledding so quickly, she credited weightlifting for teaching her to mentally focus along with her ability to apply critical thinking skills to any sport.
Her basketball coach at Bowie, Wanda Talton, agreed that Hoffman's mental and physical aptitude helped her become a one-of-a-kind athlete.
"She had an unbelievable work ethic," said Talton. "In high school, she wasn't always the best athlete on the court, but she was driven to be great. That's what made her stand out.
"I saw her at a weightlifting competition and was amazed by her skill level. She's grown so much as an athlete, so it was one of those 'proud momma bear moments' when I found out she made the Olympic team."
Although it's been 15 years since Walton coached Hoffman at Bowie, the duo still keeps in touch. Talton gives advice and shares coaching tips with Hoffman who became a coach herself. Hoffman coached a swim team before starting to train for the Olympics.
"I knew I owed it to myself to teach someone else everything I've learned about sports, so that's how I started coaching," said Hoffman. "I always teach my kids to go all out and do their best at every meet, so I have to practice what I preach to them. It keeps me motivated to go hard when times get tough."
Give it all you got. Whether it's in sports, work or whatever you're pursuing, you can't be afraid to set big goals. When you can be yourself, not afraid to be different and pursue your dreams wholeheartedly, you'll always love what you do."
Bobsled
Women began competing in bobsledding at the Olympics in 2002, and the United States has one of the top teams. Hoffman and her teammates plan to continue the tradition in 2022. The star athlete has no plans of slowing down any time soon either and looks forward to becoming a bobsled pilot driver at the end of the season and competing again in the 2026 Olympics.
Hoffman currently lives in Colorado Springs, Colo., and enjoys spending time with her friends and family when she's not training.
Keep up with Hoffman and Team USA at NBCOlympics.com and visit the website for official updates.