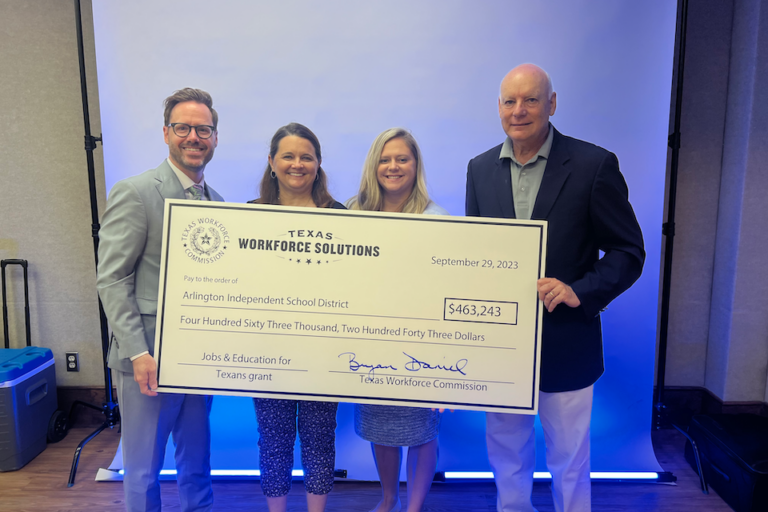 Grant is funding health science and automotive equipment
Last week the Arlington ISD got to celebrate the fact that the district received more than $450,000 from the Texas Workforce Commission as part of the Regional Jobs for Education for Texans (JET) Grant.
There was a check presentation with Arlington ISD interim superintendent Dr. Steven Wurtz in attendance for the big check. But the real celebration started last school year when the district received the money and immediately put it to good use helping Arlington ISD students pursue their futures in the medical and automotive fields.
"It takes a real partnership to ensure that all our students are exceptionally prepared," Wurtz said. "We ask ourselves that question in Arlington. We have one goal in that all our kids are exceptionally prepared. We've had to think about what it really means to be that and what are the experiences kids must have every day to achieve that. Our goal is that when kids cross the stage and graduate, they have all the tools they need to enter the workforce, have a viable income and give back to society. These dollars have a real viable impact on our kids."
The grant money directly impacts approximately 900 students in the Arlington ISD, with 650 at the six traditional high schools and 100 at the Dan Dipert Career + Technical Center (CTC) getting to use new equipment for health sciences. There are 150 students learning about careers as automotive service technicians and mechanics at the CTC that are benefiting from the new equipment funded by the $114,000 that was earmarked for the program.
Spearheading the grants from the career and technical education department were Sherrill Giddens and Jamiel Harris.
While the students are getting key skills now in high school, the big payoff will come once they graduate.
Approximately 56% of jobs in Texas require training after high school but not a college degree. These students get that training because of equipment funded by the grant.
"When we really zero in on these middle-skills kind of jobs, these middle-tier jobs, I think we get lost in the fact that they don't require a college degree so there can't be much to them," said Texas Workforce Commission commissioner Bryan Daniel. "That can't be further from the truth. A lot of these are six-figure jobs, a lot of times before ethe university people get to six-figure jobs. It's a lot of hard work. It requires an extreme amount of skill."