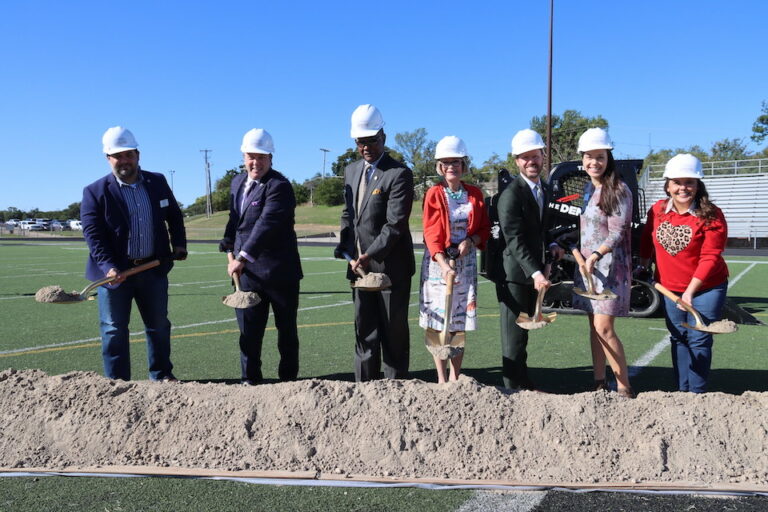 Glaspie Field will be district's third stadium
With cheerleaders, a drumline and a pep band, this groundbreaking ceremony felt more like a pep rally. But that was fitting considering the project Arlington ISD is about to start.
The district is kicking off construction to convert the athletic field at Martin High School into the district's third athletic competition venue. The facility will serve as the home field for Martin and Seguin High School.
Arlington ISD needs three competition venues for its six traditional high schools but only has two right now, Wilemon Field at Sam Houston High School and Cravens Field at Lamar High School. The district used to rent UT Arlington's football stadium until it became unavailable and currently plays many football games at Choctaw Stadium.
But as Arlington ISD athletic director Eric White pointed out at the ceremony, this new stadium is not just about football.
"Everybody thinks this is a football stadium," White said. "This is a football stadium, a soccer stadium, a track, a marching field, a place for cheer, a place for drill, a place for community events to come together. It serves everything."
And it can't come soon enough.
"This has actually been a long time coming," said Arlington ISD interim superintendent Dr. Steven Wurtz. "We've needed three competition venues in Arlington for quite some time."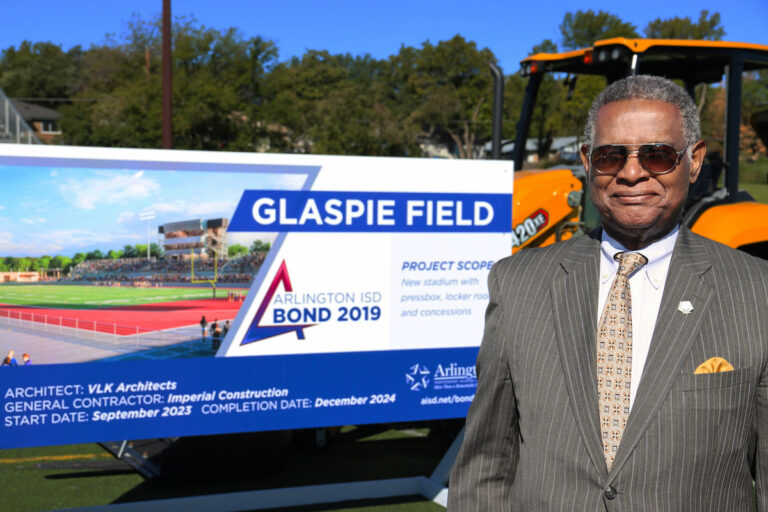 Even as far back as when the namesake for the future stadium – Michael Glaspie – served on the Arlington ISD Board of Trustees. Glaspie, the first African American elected to the Arlington ISD school board in 1991, was at the groundbreaking ceremony and recalled the need for a stadium even then.
"It's good to see Dr. Bernd [former Arlington ISD superintendent] here because while we were working together – he was superintendent and I was on the board – we had this idea that we needed to put something like this together," Glaspie said. "Amazingly, it's being done. But the last thing I expected was that my name would be on it."
The new Glaspie Field will include approximately 10,000 seats, a larger press box, locker rooms, restrooms and concessions. Architects were careful to consider the campus' existing layout, neighbors, traffic flow – cars, school buses and pedestrians – and parking in their design. They have included a landscape buffer and fencing between the stadium and neighboring homes and will utilize modern LED lighting. The LED lighting is significantly better than traditional lighting in that it can be directed into the stadium and onto the playing surface more efficiently, has considerably less spillage from the venue and can be turned on and off quickly.
See the Glaspie Field renderings.
The design also features the ability to transform the stadium according to which school is using it. With lighting, signage and technology, the stadium will shift to reflect the home team for that event, whether it's Seguin, Martin or any other Arlington ISD school.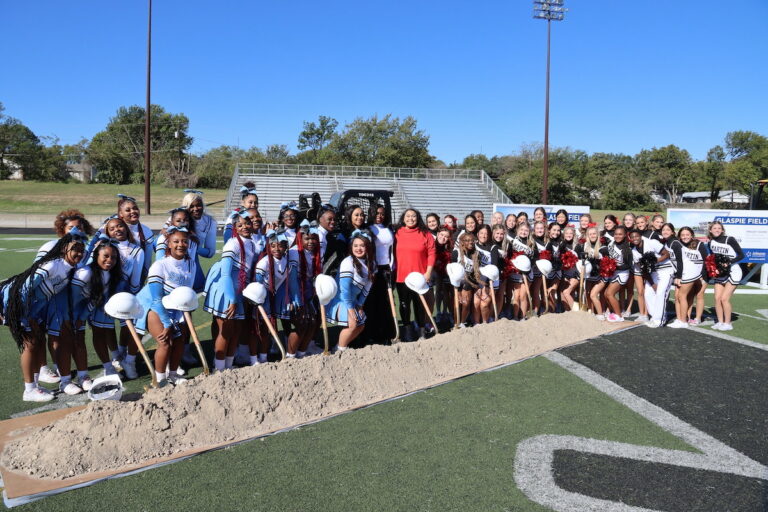 Funded by the 2019 Bond and designed by VLK Architects, the new stadium is only possible because of support from the community.
"I want to thank the Arlington community," said Arlington ISD board president Melody Fowler. "It's your support of the 2019 Bond that is building new schools, building new playgrounds, buying new musical instruments, purchasing new school buses and improving the district's technology. And now, it's building the new Glaspie Field. So, thank you for prioritizing our students."
Now that the groundbreaking ceremony is out of the way, Glaspie said it best.
"God bless you, and let's get on with it."