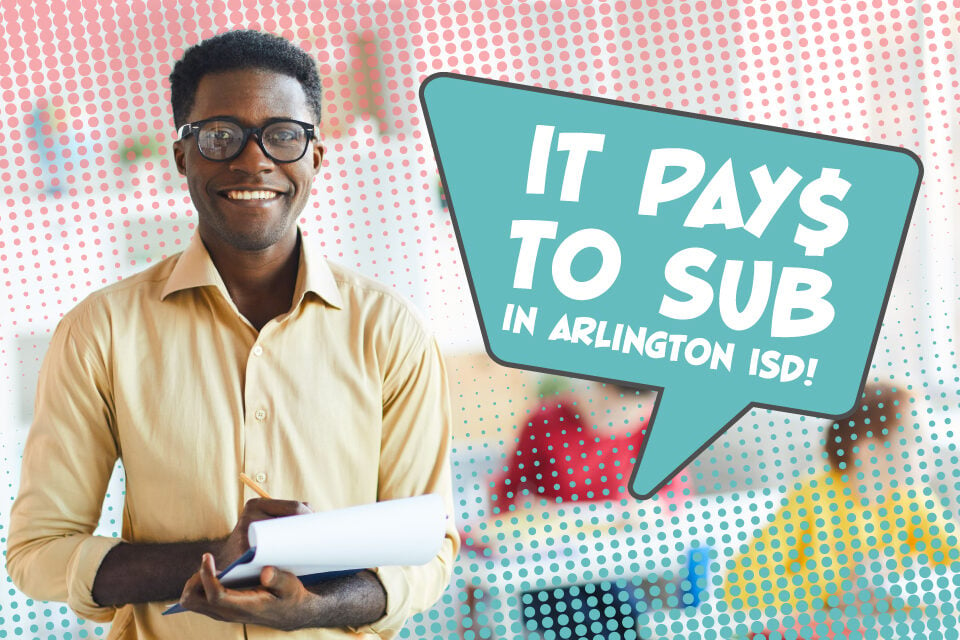 CALLING ALL SUBS
Alyssa Gilmore was born to be a teacher. "My bedroom was set up as a classroom starting in kindergarten," she said. "One side was a whiteboard, and one side was a chalkboard and my grandma gave me this old student desk. I had chalkboard paint on my wall, and I'd use that as a chalkboard. Teachers would give me their extra worksheets, and I'd go home and play with them. I've always loved it." 
Gilmore got her first chance to be in a real classroom in the spring of 2020 when she began substitute teaching in the Arlington ISD. It was the perfect fit for Gilmore, who is now a second-grade teacher in the Arlington ISD. It can be the perfect fit for you, too.  
IT PAYS TO SUB
The Arlington ISD is offering top pay for substitute teachers and non-teachers. Substitute teachers provide critical classroom support to ensure that students receive essential instruction every day. And, all that's needed to become a substitute teacher is 45 completed college credit hours. 
For non-teachers, substitute positions are also available to support administrators on each campus. A high school diploma or GED is all that's needed to apply for a non-teaching substitute position. 
ENDLESS BENEFITS
Becoming a substitute in the Arlington ISD has endless benefits. If you have kids, you'll be on the same schedule as them. That means you'll be able to enjoy spring break, the week of Thanksgiving and winter break together. And you'll likely be available to pick them up after school. 
You'll be surrounded by an outstanding team of professionals in a positive culture that promotes excellence and supports career growth. 
Arlington ISD is also one of the highest-paying districts in North Texas for teachers and substitutes. 
Substitute teaching is a perfect way to gain experience before entering the field. "I thought being a substitute would be a great experience in the classroom," said Gilmore, who graduated from Martin High School. "It would allow me to see what teachers do, what life is like and also give me excellent experience with all different grade levels to figure out where I feel comfortable."  
TAKE ACTION
The Arlington ISD is looking for substitute teachers and non-teachers. You can find out more information about Arlington ISD jobs here. You can also apply here where it pays to sub in the Arlington ISD.