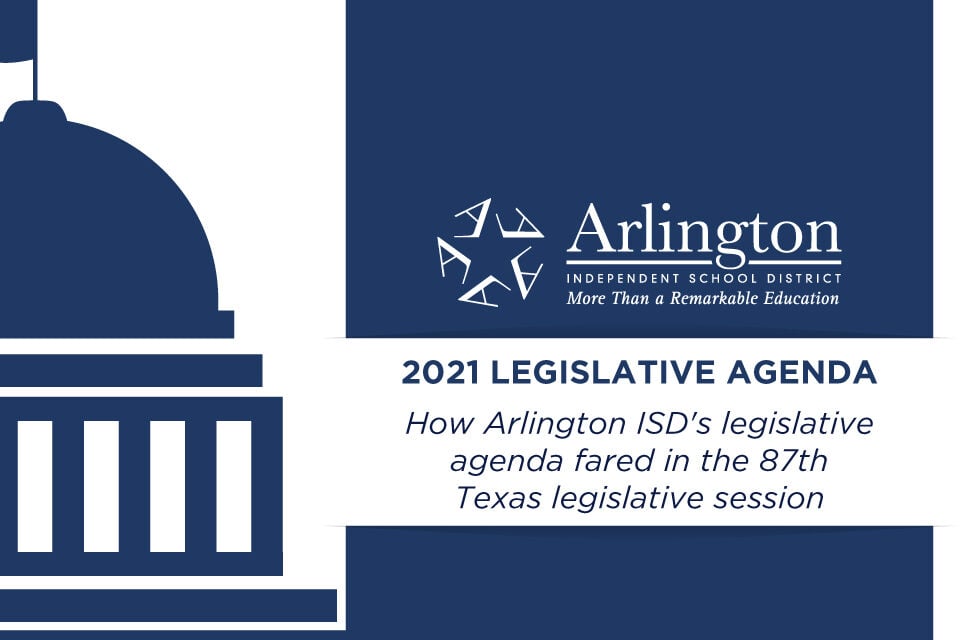 The 87th Session of the Texas Legislature lasted quite a bit longer than normal. The regular session concluded on May 31, 2021, but three special sessions called by Governor Greg Abbott kept the legislators in Austin well into the fall.
But it's over now, so it's time to assess the impact on school districts. Back in the spring, Arlington ISD shared its legislative priorities for the session with a series of articles that examined four of the most important items. Here is a recap of how those four priorities fared in the 87th legislative session. (Learn more about the Arlington ISD's legislative priorities.)
Arlington ISD Legislative Priority A
Allocate state funds to ensure that public education is not disrupted due to financial hardships created by the global health crisis
When COVID-19 hit the United States in early 2020, it brought school districts all kinds of uncertainty. Arlington ISD was faced with many unexpected expenses in technology, food service, personal protective equipment (PPE), cleaning supplies and much more. Most of these expenses had to be paid immediately with no guarantee of reimbursement. And uncertainty surrounding the State of Texas' tax revenue and budget, combined with an unforeseen reduction in enrollment in school districts across the state, fueled concern that districts would not receive the projected state aid they had budgeted for.
Arlington ISD's legislative priority A was written with these concerns in mind and asked the State of Texas to hold school districts harmless, meaning that the state should fund school districts at the levels planned for before the pandemic. 
"This priority fared well," said Arlington ISD's chief financial officer Darla Moss. "The state held us harmless through the entire year."
The state used the first two rounds of federal COVID-relief funds, known as ESSER (Elementary and Secondary School Emergency Relief), to hold school districts harmless, both in 2020 and 2021. Then, in the spring of 2021, districts received additional financial assistance from a third round of federal ESSER funds to specifically help students overcome the learning gap caused by the pandemic.
Arlington ISD Legislative Priority B
Identify state revenue sources to sustain the finance system authorized through HB 3 and to continue buying down school district M&O tax rates.
 The school funding system in Texas was overhauled in 2019 with House Bill 3. Designed to reduce property tax rates while increasing compensation for school district employees, the goals were positive and necessary. However, achieving those goals required additional funding from the state.
The system put in place with HB 3 in 2019 is beneficial for the community in reducing school tax rates for homeowners. Though lower tax rates generate less revenue for school districts, under HB 3, the state makes up the difference.
The Arlington ISD's priority B asked the state to maintain the system it created in 2019, so that local homeowners can continue to get property tax relief and school districts can continue to receive the same level of funding. The legislature did just that. It funded the basic allotment per student as set by HB 3 and left the property tax compression schedule in place.
While priority B fared well in 2021, it will remain important for future legislative sessions. To ensure school districts are adequately funded while simultaneously reducing property taxes, the state must identify revenue sources to sustain the finance system.
Arlington ISD Legislative Priority F
Identify effective solutions and appropriate ongoing funding for identifying and serving students with mental health needs.
Arlington ISD has made student mental health a priority and asked the state to provide resources and policies to support this effort both here and across Texas.
The district takes a two-pronged approach to assist students with mental health needs. First, through the social and emotional learning department, it seeks to proactively reach all students and teachers and equip them with the knowledge, curriculum and resources they need to support their mental wellbeing. Second, in the security department, a threat assessment team identifies students who might pose a threat to themselves or others and then works to provide these students with whatever resources they need to cope and recover.
While student mental health was addressed in some legislation in 2021, nothing the legislature passed has had a significant impact on the Arlington ISD's efforts. The district's commitment to mental health remains as steadfast as ever though, especially in the wake of COVID-19, and was even included in its new strategic plan.
Though the 87th legislative session did not positively impact the district's social and emotional learning department, SEL director Luis Valdespino and his team have been relentless in pursuing their vision that "all students will possess the social and emotional skills necessary to maintain self-worth and to thrive in their communities."
"During the pandemic, we've really escalated our counselors' availability," Valdespino said. "We've increased SEL resources for all grade levels to help our students grow in the competencies: 1) self-awareness, 2) self-management, 3) social awareness, 4) relationship skills and 5) responsible decision making."
While the SEL department hasn't missed a beat, Arlington ISD's security department has suffered from the state's failure to provide funding for the Multidisciplinary Threat Assessment Team (MTAT).
The main goal of the MTAT is to promote a safe school environment by identifying at-risk students who may present a public safety concern, assess their risk for engaging in violence or other harmful activities, and identify intervention strategies to assist them in being productive students. Even though the MTAT is mandated by the state, the state provides no funding for it.
Dr. Nkechi Madueke, Arlington ISD's coordinator of the Multidisciplinary Threat Assessment Team, considers the legislature's efforts in this area to be a failure.
"The increase in mental health needs for our students, families and staff has been incredible, most likely due to the impact of the pandemic, and the state has provided no relief," she said.
With no funding, the Arlington ISD's MTAT lost a valuable team member. A grant in 2018 got the program off the ground in Arlington ISD and provided the salaries for the MTAT members. However, the grant expired at the end of 2021. Arlington Police Department has absorbed the cost for its responsibilities and Arlington ISD is taking on the district's related salary and expenses, but the funding for a representative from MHMR (My Health My Resources of Tarrant County) ended and she has been lost from the team.
"This unfunded mandate really hampers what the state is wanting to accomplish," said David Stevens, Arlington ISD director or security. "It's a great idea, but by not having the money, you can't build the teams you need."
Arlington ISD Legislative Priority G
Ensure the clear direction about governance and authority for decisions in Texas public schools as established in the limitation on authority section in Texas Education Code § 7.003 that states "An educational function not specifically delegated to the agency [Texas Education Agency] or the board [State Board of Education] under this code is reserved to and shall be performed by school districts or open-enrollment charter schools" is respected in all proposed legislation
Legislative priority G reflects Arlington ISD's stance that school districts in Texas should be run and managed at the local level. Protecting local authority empowers school districts to find and implement policies and solutions that work best in their area.
This principle of local authority is widely recognized and even codified in Texas law. However, there are bills every legislative session, along with moves made by the Commissioner of Education – who heads the TEA – that aim to take some control away from districts and give it to the TEA.
 The 87th legislative session was no different and produced both positives and negatives for local authority.
"I think it was a mixed bag," said Arlington ISD Trustee Justin Chapa, "like most legislative sessions."
On the positive side, Chapa was pleased that legislation that would have restricted school districts from hiring legislative consultants did not pass. School board trustees are volunteers who must deal with a host of complicated topics, including school finance and accountability. Arlington ISD, like other districts, hire legislative consultants to help school boards navigate issues like these and communicate their needs and priorities with Austin.
"That would really weaken local authority by making it a lot harder for us to do our jobs in an informed way," Chapa said.
On the negative side, Chapa expressed concern over the vague language in new rules regarding curriculum. The state's new directives are not fully understood yet and have caused confusion and concern among some teachers and curriculum specialists over how they can write lessons and teach them. It's another example of the state restricting what the locally elected school boards and local teachers can do. 
Overall, this session continued the legislative trend of greater state control and expanded TEA authority for decisions that are better made at the district level. This issue will continue to be significant and topical in the 88th Session of the Texas Legislature.