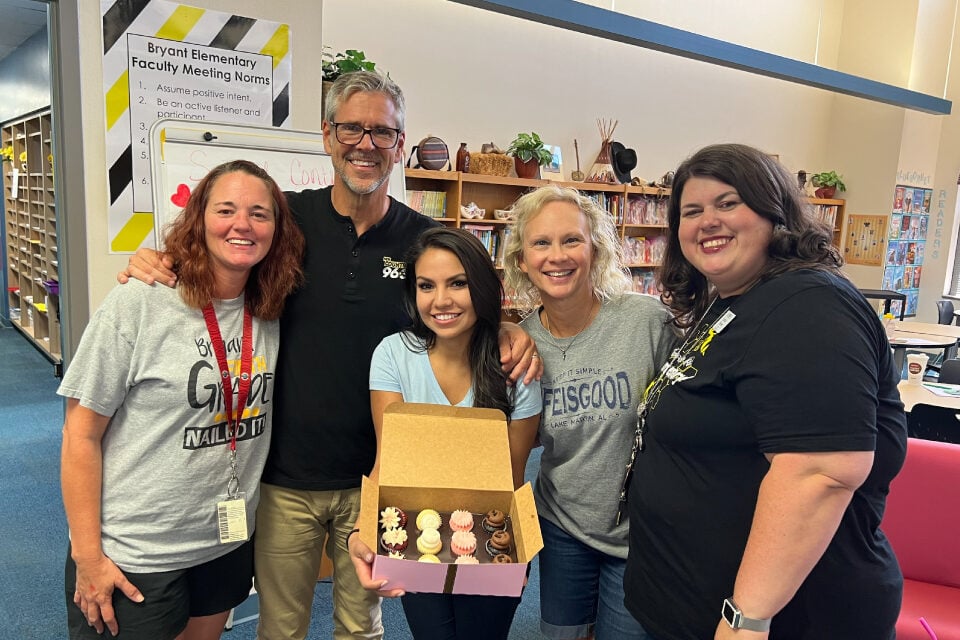 Radio DJs Hawkeye and Michelle Rodriguez visit Bryant
Teachers at Bryant Elementary School got a sweet treat during professional development Monday morning. Hawkeye and Michelle Rodriguez, radio personalities from KSCS 96.3 FM, surprised staff with dozens of Gigi's cupcakes as a part of their Teacher Appreciation Tour.
More than 300 schools submitted the online form to have Hawkeye and Rodriguez come out, but only a few were selected.
"We wanted you to know how much we support you, and we're very proud of you for what you do for our community," said Hawkeye. "We're firm believers of early education, and we know how much you make a difference in students' lives."
Bryant staff were more than grateful for the token of appreciation, and they were glad fifth-grade teacher Ann Cooper applied for the treat.
"I was listening to the radio one morning, and we happened to be in a training, so we just decided to submit the form on a whim," said Cooper, who has been listening to the show for nearly 30 years. "I'm glad we did because it got us excited for the new school year with a new group of kids."
This week, teachers are gearing up for classes with professional development, decorating classrooms and ensuring the school is ready for each student walking through the doors. The first day of school is Aug. 15, and Bryant staff is prepared to make this year memorable.
"I'm so appreciative of KSCS for recognizing how special teachers are to the community and all the hard work they put in every day," said Bryant principal Jessica Hoover. "It was the sweetest treat. Now, we're ready to hit the ground running next week."
If you haven't enrolled your child in school, head to www.aisd.net to register your child today.