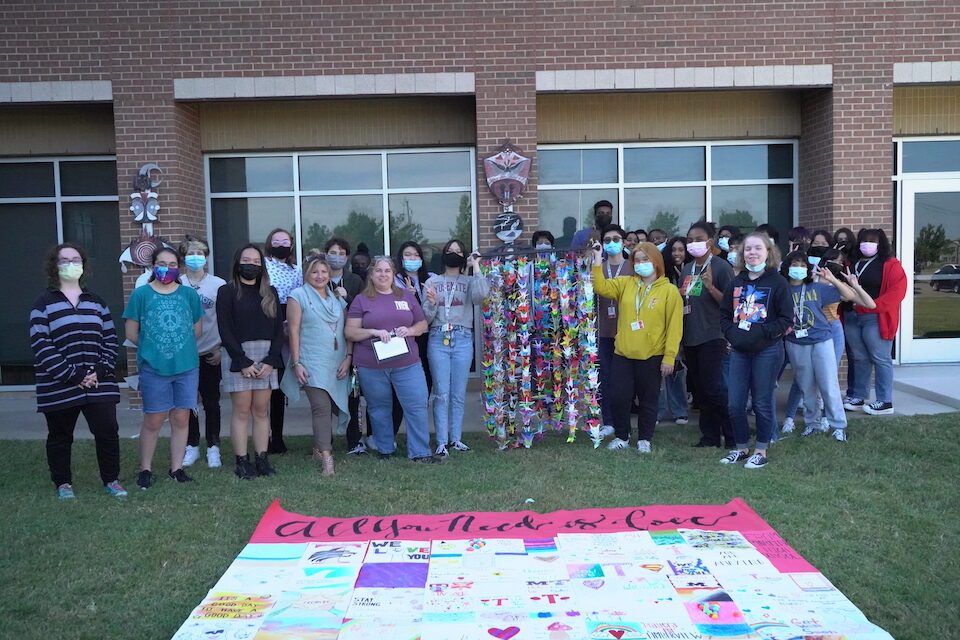 Martin High School students visited Mansfield Timberview High School last week to offer support and well wishes as students and teachers recover from the recent tragedy there. Martin's National Art Honor Society came up with a creative way to express love and encouragement and showed up at Timberview with 1,000 hand-folded cranes and a quilt of encouraging messages.
Legend suggests that if one folds 1,000 cranes, their wish will be granted. With that in mind, the art honor society decided to create the crane installation to wish peace for the Timberview community. Cranes of all colors and patterns were strung together and hung from a dowel as a symbolic gesture of hope. The piece was installed near the front entrance of the school, while the quilt was hung in the classroom.
"This has been a challenging time for our whole community, and we're honored and blessed to be able to receive such a heart-warming gift from Martin," said Dallas Williams, Timberview art teacher. "There's nothing more cathartic than getting your feelings out on paper, and the students have been learning to use art to release all of the emotions they were feeling from the experience."
Linh Nguyen, Arlington ISD's assistant director for visual arts, agreed art is a powerful tool for students to utilize throughout difficult times.
"The beautiful thing about art is you are able to decompress and even express love and encouragement through a variety of mediums," said Nguyen. "We have to support one another when we face difficult times like these, and we want you to know we're here for you while you're healing."
Many students had a hand in creating the art pieces for Timberview. The art project extended well beyond the National Art Honor Society and included students from the art department, Key Club, orchestra, honor society and others who simply wanted to show support.