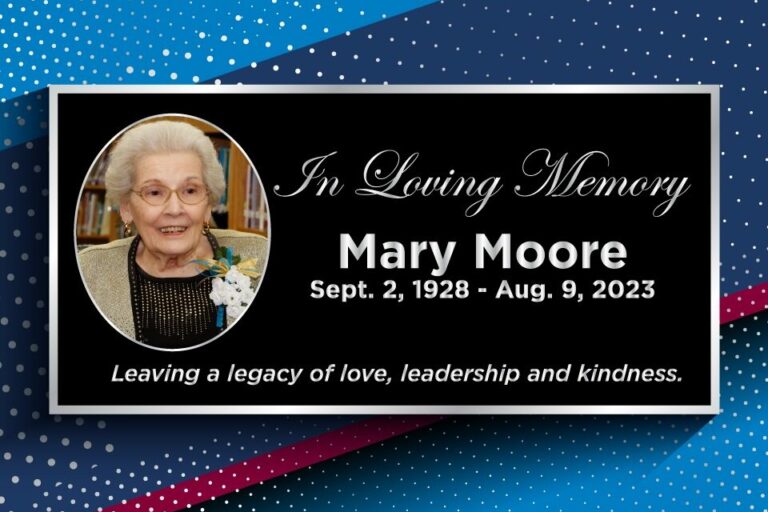 Moore began teaching career at Nichols Junior High     
Mary Moore was a trailblazing educator in the Arlington ISD.
The namesake of Moore Elementary made history by becoming the first female principal of a secondary school in the Arlington ISD when she took over at Bailey Junior High in 1985.
That "first" just added to a long list of accolades for Moore, who began her Arlington ISD career in 1962 as a math teacher at Nichols Junior High and ended it when she retired in 1988 as the district's director of personnel.
The history-making Moore died on Aug. 9 at 94. A memorial for Moore will be Saturday, Sept. 2, at 2 p.m. at Moore Funeral Home in Arlington.
"She was kind, loved Arlington ISD students and loved Moore Elementary," said Arlington ISD outgoing superintendent Dr. Marcelo Cavazos. "Her resume speaks to the mark she left on our district, but it can't speak to the love she had for education. She will always be special to the Arlington ISD."
Mary Mosley was born in West Virginia and married Guy Moore in 1953. The Moore family moved to Arlington in 1960, and Mary Moore graduated from Texas Women's College in 1962 before starting her career in the Arlington ISD.
She was twice named the teacher of the year at Nichols before moving on to Lamar High School, where she helped develop the English-Math-History team at the school. Moore became assistant principal at Shackelford Junior High in 1979 before heading to the new Martin High School as an assistant principal in 1982.
Moore was at Martin until she got the job at Bailey.
Moore's efforts in the district didn't go unnoticed as she was tabbed as the namesake at Moore Elementary when the school opened in 1990.
She was a fixture at her namesake school, showing up to speak with the students and read to them in the library.
"When she visited with the students, she would always ask and reply… 'Do you know how I became your school's namesake? Well, I don't know either, but I am very proud to be!'" said Moore librarian Carrie Boden.
She is survived by son Guy W. Moore, Jr., and wife Suzi of Arlington; son Greg Moore of San Francisco, Calif.; brother William "David" Mosley and wife Carol of Hamilton, Mont., and numerous other relatives.
In lieu of flowers, the family has asked that donations be made in her name to Mary Moore Elementary and Mission Arlington.