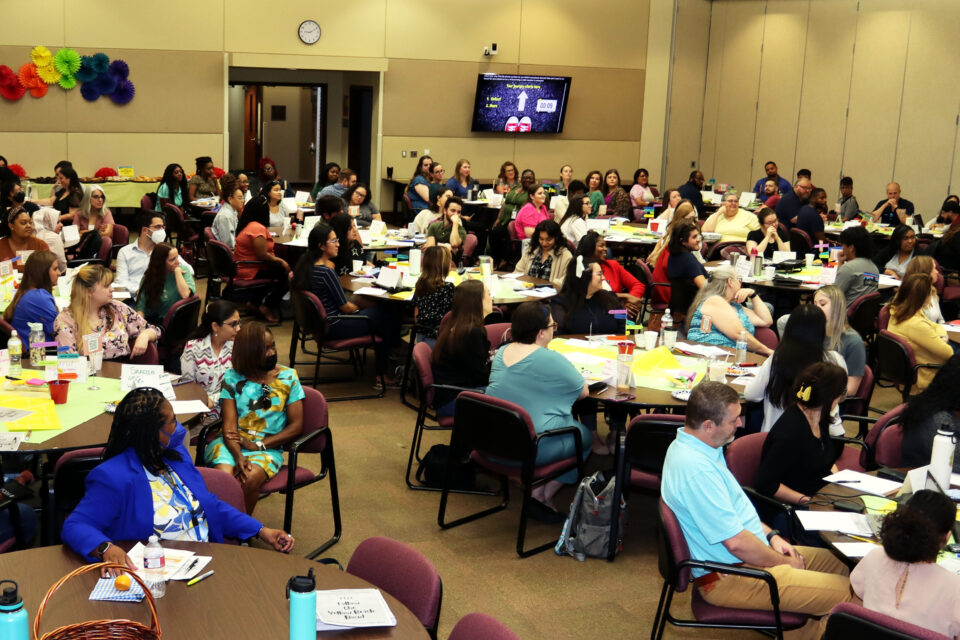 Welcome new teachers
It's that time of year again. The teachers are back!  
The Arlington ISD welcomed more than 75 new teachers last week to the district with a fun, interactive and informative orientation. The event was hosted by the professional learning department and gave the newcomers a chance to get acquainted with their fellow first-year teachers and hear valuable tips and advice from several district vets. 
What is your why? 
Professional development coordinator Renee Pope and specialist Hazel Byrd led the orientation and are dedicated to helping the new teachers find their rhythm in their new roles. They believe it's about helping the teachers identify their "why." Why did they want to become teachers in the first place? 
That's what drives Pope. Her "why" began at TCU. While doing research on drug and alcohol education, she realized by the time students get to college, they'd already made their decisions about alcohol and drugs. This created a spark in her to reach students earlier in their scholastic careers to incorporate preventative measures.  
The "why" can drive and sustain new and veteran teachers alike and help them make the impact they are capable of. 
First-year teacher Yssa Gilmore said the reason she wanted to become a teacher is the great teachers she had growing up. Her teachers were passionate about teaching and their students.  
"They were great listeners and always there for their students regarding academics and personal matters," Gilmore said. "They made learning fun and created a community that made every single student feel important."
Words of Wisdom from the Vets 
La'Nedra Alexander from Workman Junior High is a veteran teacher who understands her "why." She's been teaching in the district for more than 20 years and was named the 2020 outstanding PBIS teacher. She came to the new teacher orientation to tell her new coworkers to embrace the journey. 
"Understand it's your mindset," she said. "Commit to consistency and embrace the ever-changing journey." 
Jessica Wilmoth, a third-grade teacher at Dunn Elementary, encouraged the new teachers to give themselves grace. She knows that to make the biggest impact on others, you must take care of yourself, too. 
"Focus on building relationships with your students and build a community of support," Wilmoth said. "Give yourself grace and remember to go home. If you do need to work on the weekend, limit it to one weekend a month, so you won't get burned out. Your kids need you." 
Cultural tenets 
Students are different now. COVID-19 changed everything, including education. Pope and Byrd both spent time in classrooms teaching last year and saw how students were affected by the school interruptions and difficulties caused by the pandemic. They understand that some things in the classroom must shift. They offered the district's six cultural tenants to help new teachers with the adjustment. 
Responding positively to differences by valuing and understanding others by being open-minded and respectful.  
Get better every day by learning and growing from good and bad days. 
Put the students first by figuring out what the student needs and how they learn whether it's visual or auditory. 
Make every interaction count and incorporate "temperature checks" with students to check on each student's well-being. Is it a good day? Or a not-so-good day?  
Own your work and love what you do because your attitude is impressionable on your students.  
Promote risk-taking by trying something new and different in the classroom, whether a lesson plan or an experiment.  
Dr. Cavazos gives encouragement  
Arlington ISD's Superintendent Marcelo Cavazos also welcomed the new teachers to the district and emphasized how teachers set the tone for each day with their mindset.  
"The number one effect on a student's learning is an effective classroom," said Cavazos. "You create the environment, so take the time to build relationships with your students before you go into the curriculum. 
"Your leadership will influence your students. You are an example and demonstration of love in our world." 
Together 
Starting a new career can be challenging, but the Arlington ISD community is here to help along the way. To learn more about the professional learning department and its resources for new teachers, click here.