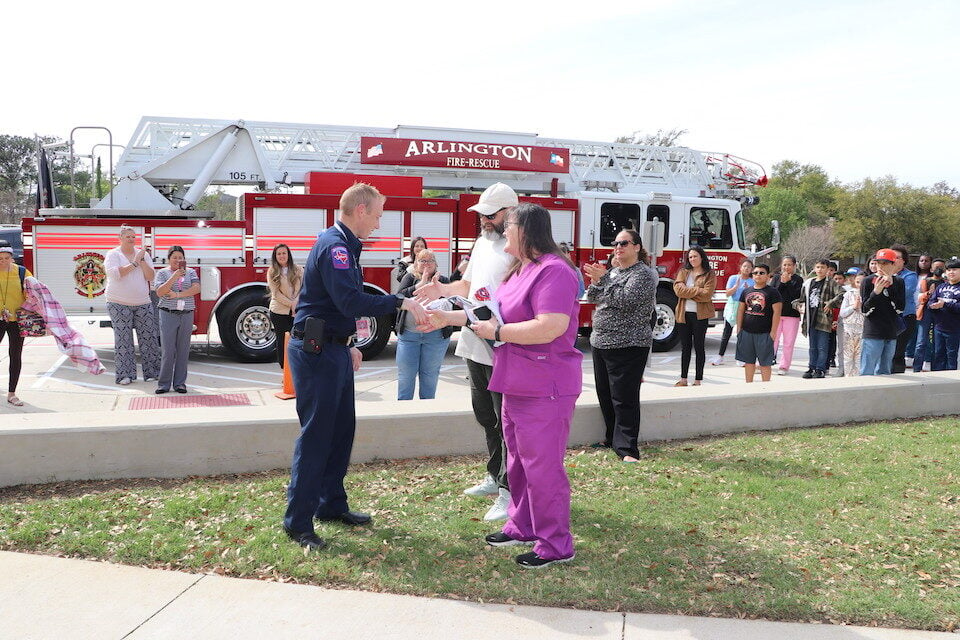 Fire trucks roll up to Jones
When two fire trucks rolled up in front of Jones Academy of Fine Arts and Dual Language last Wednesday, the crew didn't pull out any hoses or fire gear. Instead, they pulled out two certificates of commendation.
"This is among the first times that we've done this where we've reached out in the community and said, 'Hey, we need to recognize some behavior and some attributes and skill from members of our community'," said Arlington Fire Department deputy chief Michael Flaherty.
The firefighters had come to honor Jones nurse Sandra Juarez and first-grade teacher Carlos Matos-Martinez for their quick, decisive actions on field day, the day before spring break.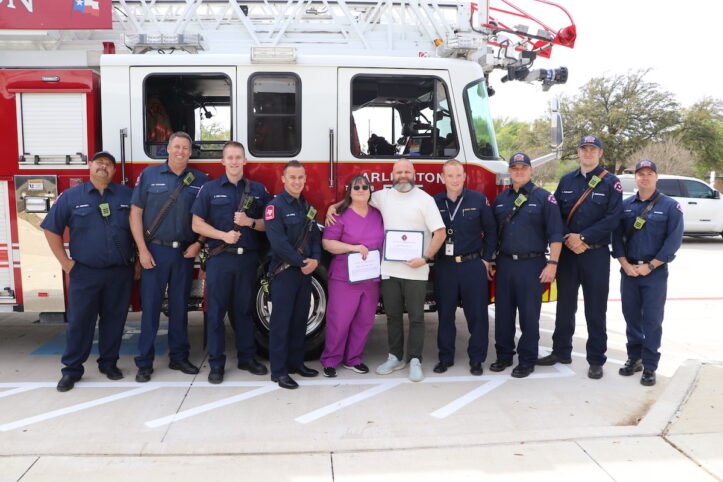 Field day is usually all fun and games at Jones, but it turned scary when a first grader started having a bad allergic reaction. When Matos-Martinez noticed something wasn't right with the student, he picked her up and rushed her into the building to the nurse's office. Nurse Juarez could tell the girl was suffering from a bad allergic reaction and administered an EpiPen.
"That's the absolute appropriate right treatment for that child," Flaherty said.
By the time paramedics from the Arlington Fire Department showed up, the student was doing better.
"If it wasn't for the nurse's action that administered the EpiPen, I feel like we'd have been playing catch up with the kid and behind the eight ball, so her actions made our treatment a lot easier on our end," said firefighter A.C. Harris, who responded to the 9-1-1 call from the school. "If it wasn't for her … that call could have gone completely different."
The student did go to the hospital but recovered quickly and is back at school.
"These commendations are basically a testament to your professionalism and a testament to your response on that day, so thank you very much," Flaherty said as he and Harris presented the certificates.
Posing for pictures with the firefighters, Nurse Jaurez said she was just thankful they were prepared to handle the emergency.
"It was a school pen," she said. "I was happy we had school pens available."
In fact, every Arlington ISD school has EpiPens in case of an emergency like the one at Jones.
"Everyone has to be trained on how to administer," said Jones principal Katiuska Herrador. "She (Nurse Juarez) makes sure everybody is trained."