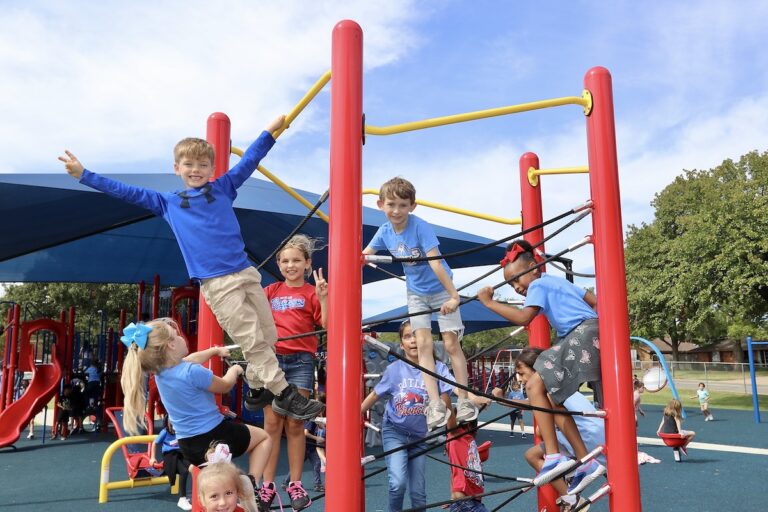 Bond 2019 moves on to last phase
Two phases down, one to go.
The new playgrounds getting installed at all 53 Arlington ISD elementary schools – funded by the 2019 Bond – are divided into three phases. The first two phases, each with 17 schools, are now officially complete.
That means all 34 schools in the first two phases now have two new playgrounds – one for pre-K through first grade and the other for second through sixth grade. Plus, 11 schools in phase three now have their new playgrounds open, too.
The playgrounds were designed with teacher and student input and include shade structures, accessible play equipment and rubber surfacing. While the equipment is standard from campus to campus, each school got to make its own color selections. Gone are wood chips, pea gravel and aging play equipment.
One of the last schools in phase two to get the new playgrounds was Butler Elementary, and the school celebrated this week with a ribbon cutting.
Flanked by the entire second grade class and PTA members, Butler principal Mark Basham cut the ceremonial red ribbon with oversized scissors to cheers and smiles.
Then he raved about the new playgrounds.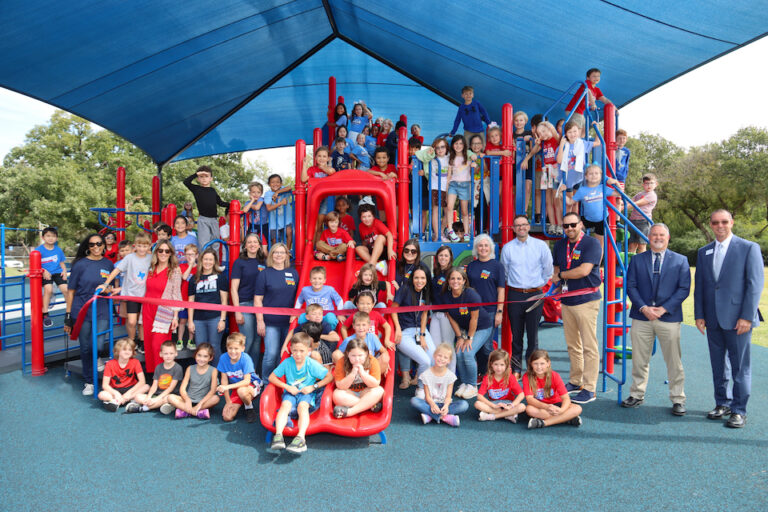 "The accessibility, the opportunities, the amount of swings, the shade. I mean it doesn't get any better than this.
"The space for the kids is spread out and there is no competition or fighting over who gets what," he said. "The kids just all have fun. We hardly have any behavior incidents out here because it's just about having fun."
However, "the merry-go-round had to get some rules," he admitted.
Shane Strawderman watched as the ribbon was cut and the students got back to doing what they do best – swinging, climbing, sliding and spinning. Strawderman is the Arlington ISD's project manager overseeing the installation of all the playgrounds.
"Satisfying," he said as he watched. "All the hard work and everything that went into it with all the contractors and different troubles … all that hard work to bring it up to where it's at right now makes it all worthwhile."
While his work at Butler is done, he's still busy with schools in phase three.
The first 11 of 19 schools in phase three already have their new playgrounds open. They're just waiting for new grass to spring up. Those 11 schools include Berry, Thornton, Short, Swift, Miller, Atherton, Little, Key, Foster, Hale and Adams.
Work is underway at six other schools. At Adams, Johns, Amos and Goodman, the new equipment has been installed. Next, they need to pour the rubber surfacing. At South Davis and Pope, work is just getting started.
Work will also start soon at the final three schools – Speer and Peach later this month, and at McNutt in November.