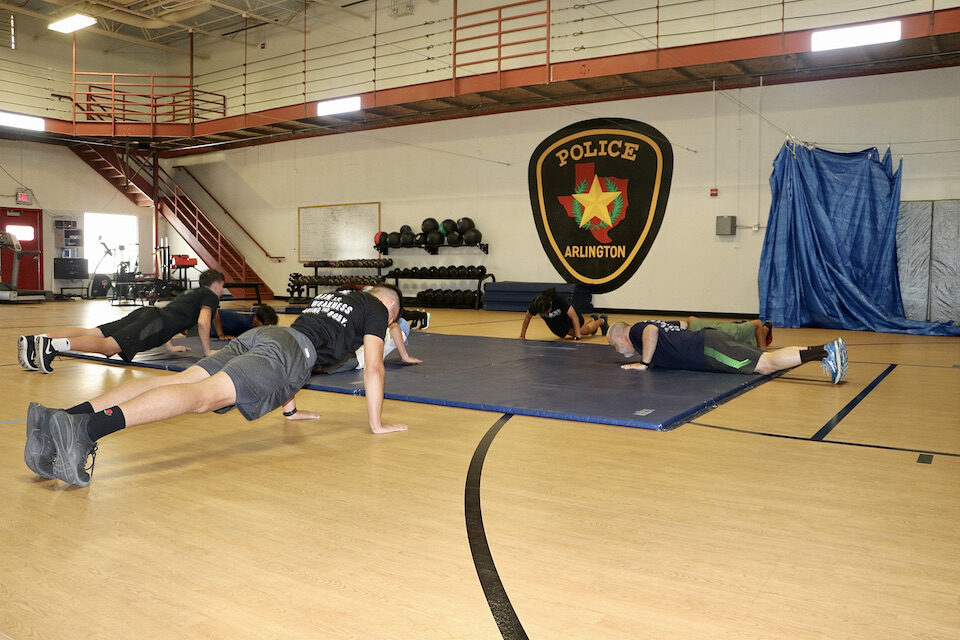 "Thunder!"
AC/DC blared over the speakers as students knocked out pushups and pullups and ran laps on the elevated track.
"Good job guys! Last one!" Arlington Police Officer Fred Kemp shouted over the music as he and a pack of students rounded the track.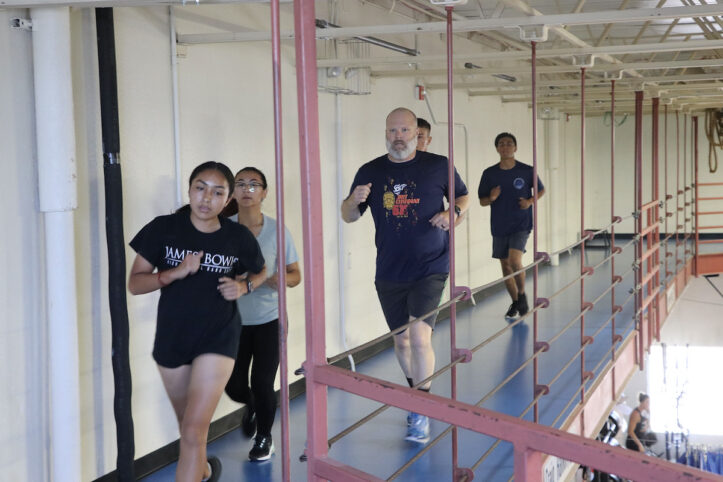 It's the middle of summer, but these Arlington ISD students aren't taking it easy.
"I like pain, I like hard work," said Slade Bridges, a rising senior at Martin High School.
The aspiring Marine is also going to be in Arlington ISD's Police Academy program at the Dan Dipert Career and Technical Center this coming school year.
To get ready, he's been joining other new police academy students, along with graduates of the class, for voluntary workouts this summer. The workouts alternate between the CTC and the Arlington Police Department's training facility gym.
The workouts are led by Kemp, the police academy's instructor. As Kemp sees it, the exercise is not just about getting in shape. It's about fostering a community that supports and empowers the students.
"We like to give students who have graduated a chance to come back and mentor students coming in about college and opportunities after graduation," Kemp said.
He hosts several events throughout the year that mix the current group of police academy students with graduates of the program.
Kemp himself is a big reason why Kimberly Munoz, now a Bowie High School and police academy grad, is still coming to the workouts.
"He's a really good teacher and I still want to continue communicating with him," Munoz said about Kemp. "I love the atmosphere (of the workouts) and still want to continue with this."
It's a similar story for Alya Khantharinh, who graduated from Bowie and the police academy two years ago. Also known as Rambo – all the Police Academy students earn nicknames – Khantharinh attends TCC and is planning a career in criminal justice.
"The workouts give me a challenge and show me where to get better and get me back on track," she said.
Police Academy
The police academy at the CTC is a yearlong program where students earn two elective high school credits and get a hands-on learning experience about careers in law enforcement and criminal justice. Kemp coordinates and instructs the academy along with several APD officers who volunteer to assist with the program. Upon successful completion of the program and after obtaining a bachelor's degree, students are guaranteed an interview with APD.
The academy is what brought Ruben Ortiz – aka Suavé – to Arlington ISD.
"I learned about the academy and decided to switch," Ortiz said.
Oritiz left his charter school and transferred to Arlington High School for his junior and senior years. Now the recent graduate is heading to TCC and then UT Arlington. After that, he plans to become one of Arlington's finest.
Hai Nguyen, a rising senior at Martin and a new member of the police academy, doesn't share Ortiz' dream of being a police officer. He's still figuring out what he wants to do when he graduates from high school. But he does share a similar mindset with all the students.
"I want to make myself better physically and mentally," Nguyen said.
The police academy – and Kemp's summer workouts – is a great start.