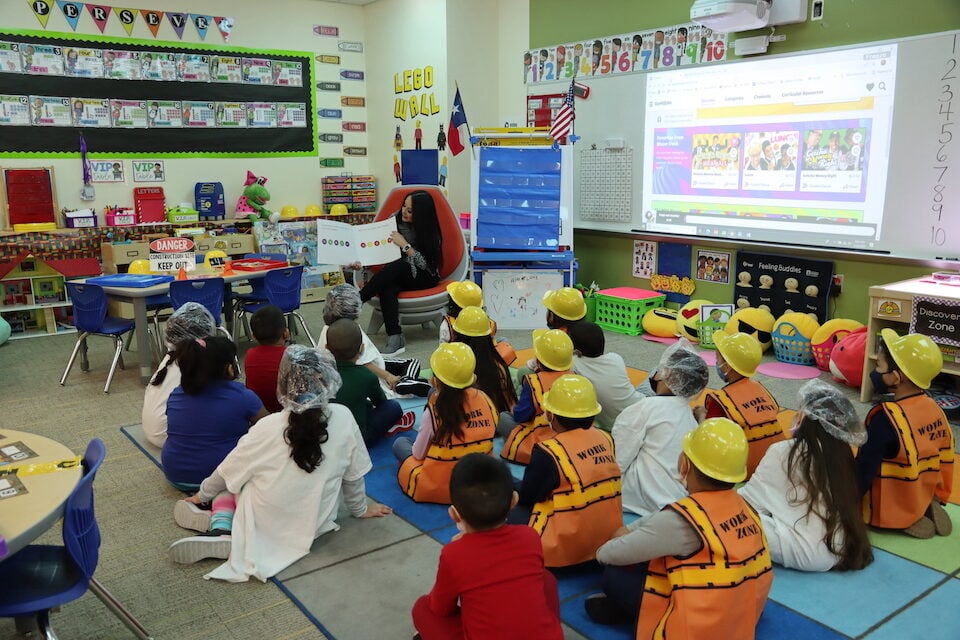 Pre-K teachers are excited about their students
We asked a few pre-K teachers what they're most excited about for the new school year.
Could it be STEM? Or the incredible new curriculum and resources launched last year? Maybe the new outdoor equipment donated by the Texas Rangers for pre-K students? Or something else?
But we should have known. They all basically had the same answer. They're pre-K teachers, after all, and they're all motivated primarily by one thing. They love little kids!
So, it's not really a surprise that they all said they're most excited to meet and teach their new students. But here's a few of them in their own words.
Jeannine Miller, Ellis Elementary pre-K teacher
I am most excited about the new pre-K faces I get to see and all of the new and exciting activities I want to try this year with the kids.
Georgiana Hicks, Moore Elementary ESL pre-K teacher
I love teaching pre-K. It's the best grade to teach in my opinion. I'm always excited to meet my new class of students. It's amazing to help littles learn how to take care of their own things. They get here on the first day and most of them don't know how to hang their backpack on a hook, but soon they are putting their lunch box where it goes, hanging up their backpack, putting their blankets away and cleaning up toys on their own. It's so cool that it just clicks for them and then they are handling things on their own. 
Elizabeth Cortez, Webb pre-K teacher
The Webb pre-K team is most excited about establishing a foundational learning environment where our youngest learners can explore, create and grow as they prepare for kindergarten. We lay this foundation by building relationships with our students and families, practicing social and emotional skills and providing an age-appropriate academic head start. 
Jeanmarie Bryant, South Davis Elementary pre-K teacher
I am excited to have met my new friends for the year and watch them learn and explore. I love to watch the way they process and learn. I get to begin with a new group and teach them how to think and express their ideas with words and with pictures. I love cooperative activities and watching them learn by working with other classmates. I love pre-K!   
Robyn Bigbee, Remynse Elementary pre-K teacher
I am most excited to see how much my little pre-K students can learn this year. It is always amazing to see them grow into independent learners who are ready for kindergarten at the end of the year. My job is very rewarding because I know I am part of the foundation of their future education. I love teaching pre-K in Arlington ISD. I belong here. 
Hannah Huntsman, Bryant Elementary pre-K teacher
As a new teacher to AISD, I am so excited to be a part of the pre-K program and welcome all my new students very soon!
Maricarmen Allen, Adams Elementary pre-K teacher
I'm most excited about seeing my students grow socially and emotionally! This is so crucial for our prekindergarten students!
Kristen Diaz, Swift Elementary pre-K teacher
I am most excited about meeting each of my students, building relationships with them, and watching them learn and grow throughout the year!
Registration is still open
The new year has started, but it's not too late to enroll. If you have a 3-year-old or 4-year-old, register them today for Arlington ISD's pre-K, where every one of our pre-K teachers is not only a certified teacher, but they are all motivated by their love for their students. 
Register online and learn more about Arlington ISD's pre-K here.