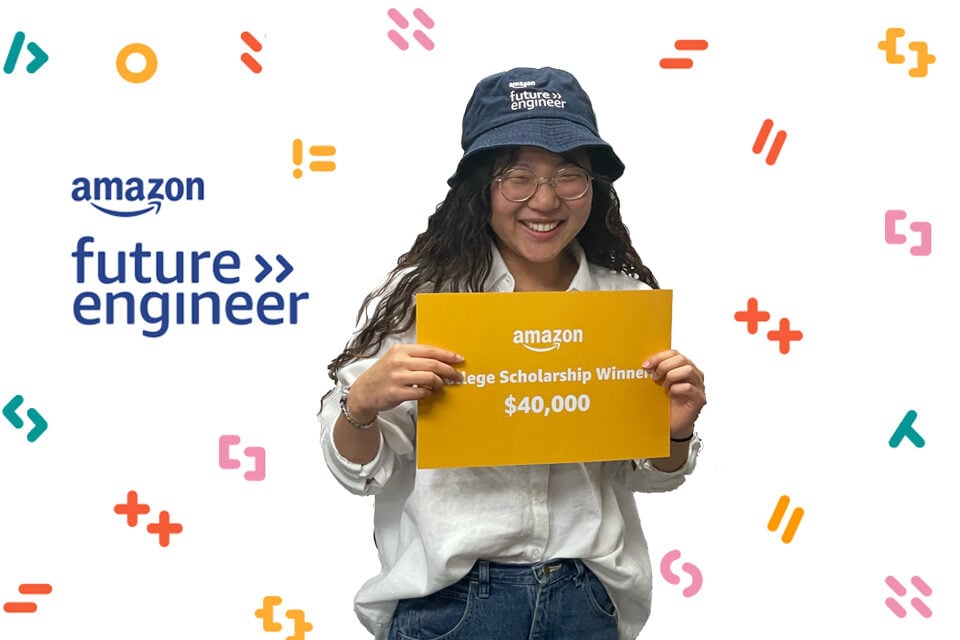 She's organized, caring, and ambitious, and she's destined to overcome any obstacle put in front of her. She's Martin High School senior Ruth Hong.
Amazon Future Engineer College Scholarship
Hong is also a computer science whiz and one of 100 students across the nation to receive the $40,000 Amazon Future Engineer College Scholarship. Not only will she get a nice chunk of change, but Hong will have the opportunity to participate in a 12-week paid internship at an Amazon location in summer 2023.
Martin is on a roll with students receiving the award back-to-back, as Chijioke Mgbahurike won last year after applying on a whim. After Hong saw Mgbahurike win in 2021, she set a calendar reminder 12 months in advance to apply for the scholarship this year. Talk about a planner!
"I'm a dreamer with big aspirations, so I made sure to tailor my high school experience to be able to reach all of my goals," said Hong. "I like to make plans and go after them relentlessly. That's just how I am."
Her teachers and counselors agreed with her sentiment, too.
"She is the most tenacious, determined student I know," said counselor Sara Stringer. "She's a true overcomer and doesn't let anything stand in her way."
"Ruth is always willing to help out and mentor younger students," said STEM Academy coordinator Marianne Varner. "She's aware everything is not just about her, and it's amazing to see someone at her age give so much of themselves to others."
Her dedication to academics and service goes far from unnoticed.
Hong holds the titles of president of the computer science club and vice president of Key Club, while also being an active member of the National Honor Society, Library Youth Ambassadors and the swim team.
What does the future hold?
Guess what Hong plans to study in the fall at Minerva University? That's right – computer science. Minerva isn't the typical college campus though. In fact, the curriculum is tailored to active, global learning. The unique approach to education will allow Hong to travel and study in a different country every semester. Locations like Korea, Germany and Taiwan, should keep it interesting.
Of course, she can't wait to meet the other students in her cohorts at Minerva and Amazon. Most of all, she's looking forward to learning more about technology so she can help disadvantaged communities in the future.
Hong is ready to take all she's learned in Arlington beyond borders to become an outstanding global citizen.
"Instant relief swept over me while I realized all of my hard work paid off," said Hong. "I wouldn't have made it to this point without the STEM Academy. I'm so thankful for the opportunity to be recognized by Amazon and for my support system at Martin. It's truly the perfect end to my senior year."