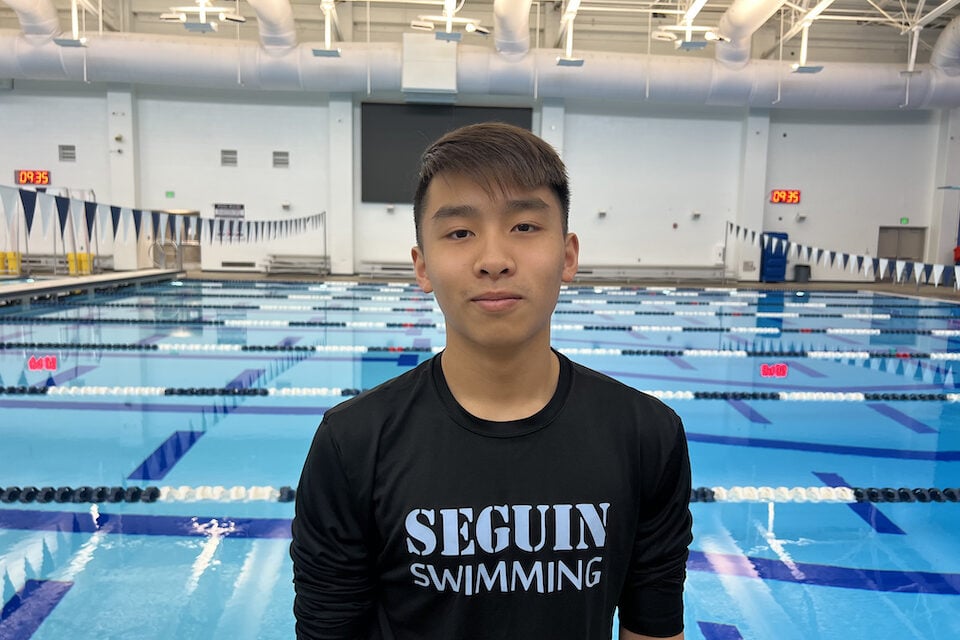 Swimmer is only a sophomore
Seguin High School sophomore Paul Nguyen is making his way to the state swim meet this weekend in Austin. He is the only swimmer in the entire district advancing to the state competition.
Nguyen will be competing in his favorite race, the 50-yard freestyle, for a chance at a state title.
"I'm proud of myself for getting this far as a sophomore," said Nguyen. "Of course, I'm nervous because it's my first time going to state, and I don't know the competition. That's my favorite part of swimming though – the adrenaline you get from competing."
With a morning routine starting at 5 a.m. that includes strenuous weight training and swimming, advancing to the state competition seems like a no-brainer, but Nguyen was still shocked that he qualified for the competition.
His head coach, Tony Tullbane, was not.
"He always handles his business," said Tullbane. "Whether he's in the pool or the weight room, he works hard. He's never been late to a practice this entire year, and his workmanship is like none other.
"He's quiet and steady, and that goes over well at a state meet where there are a lot of emotions. We always knew there was a chance he could go to state – it was just a matter of him putting together the perfect race, and we're excited he did it."
Tullbane's first year of coaching could not have gone better with a swimmer like Nguyen on the team. The leadership, diligence and temperament he displays on the team were the perfect combination for success.
Because Nguyen is only a sophomore, he is still becoming a student of the sport and knows he has much more to learn if he wants to continue being a successful swimmer.
"Swimming has taught me that no matter the obstacle, you have to keep pushing forward," said Nguyen. "If you have a goal in mind, then your mentality to keep moving forward will help you accomplish it."
The district wishes Nguyen the best at the state swim meet and hopes he brings a state title back to Arlington. For updates on the meet, click here.