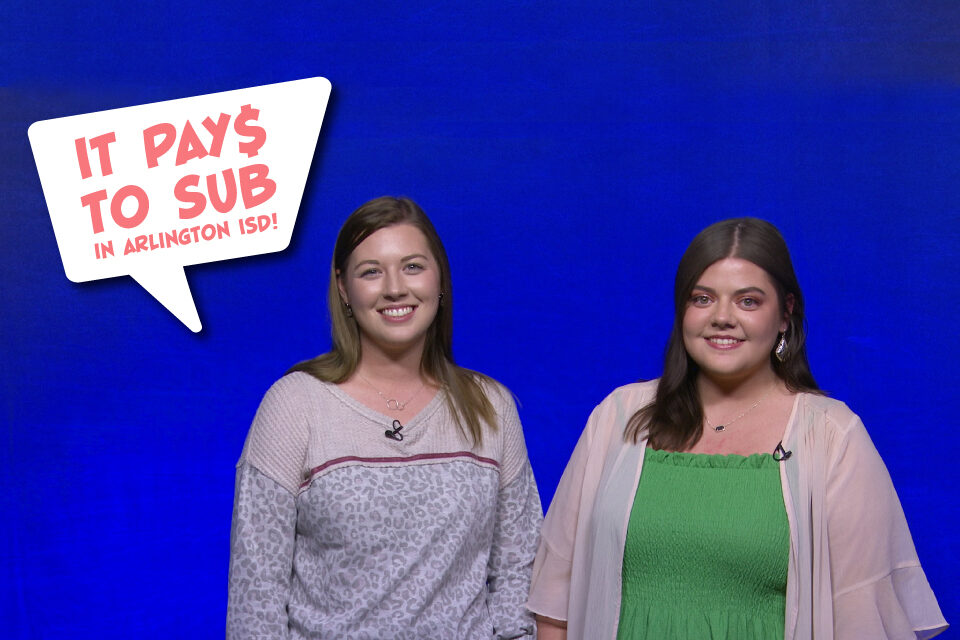 If you're not sure what it takes to be a substitute teacher in the Arlington ISD, you can always ask Duff Elementary fourth-grade teacher Tori Kennedy for some advice.
If that's not good enough, you can head over to Butler Elementary where second-grade teacher Yssa Gilmore would probably offer up some similar tips.
Why similar?
Because both Kennedy and Gilmore got their teaching careers started as substitutes in the Arlington ISD. It makes sense that their careers followed the same path because they are sisters who went down the same teaching route – graduating from the University of Texas at Arlington, subbing in the Arlington ISD, student teaching in the district and then landing full-time teaching jobs in the same district the Martin High School graduates went to school.
That sub sister life is a path others can take, too, as the district is always looking for outstanding substitutes. This week we're honoring our extraordinary substitutes as we celebrate Substitute Appreciation Week.
The Sub Path
The sub path to teaching is something the sisters would recommend.
"I started subbing because I knew ever since I was in first grade that I wanted to be a teacher and I could not wait to get my foot in the door," said Gilmore, who subbed and student taught at Duff and is in her first year as a full-time teacher. "Subbing for me was the perfect experience. I got to experience so many different classrooms, different classroom settings, environments. I got to work with different age groups, different students and it was just a great learning experience for me."
Big sister Kennedy followed a similar path. She subbed at Ashworth Elementary, where her mother Pamela Barnes is a teacher, before student-teaching and subbing at Starrett Elementary. She's now in her seventh year at Duff.
"I thought it was going to be really good experience if I was going to go into this field," Kennedy said. "As a sub you really get to experience what it's like to be on your own in the classroom and deal with any obstacles that may come your way. I felt like it was really good experience to be on my own in the classroom and being able to get that teaching experience I would use later in my career."
Gilmore knew teaching was the path she wanted at a younger age than her sister. She would set up her bedroom as a classroom when she was in elementary school. While Kennedy wasn't so sure at a young age, being a sub helped her cement her future career.
"My sister and I both grew up wanting to be teachers," Kennedy said. "I kind of floundered around deciding what I wanted to do. In the end, I saw my mom in her job at Ashworth Elementary and really liked what she was doing. From my experience subbing and tutoring in her building, that really kind of solidified that I wanted to teach, too."
The sisters subbed at different schools, but the experience they gained from the work was similar. And they didn't have the same responsibilities they do now as teachers because most of the planning was done for them.
They just had to be ready to work with the students, whatever grade level they were teaching at the time.
It's something that helps them today, too.
"Regardless of whether you choose to go into teaching as a profession, it's just awesome to work with kids and see what's going on in the school system," Gilmore said.
Sub in the Arlington ISD
Does the path the sisters took to teaching sound good to you? You can take the first step by applying to be a substitute teacher in the Arlington ISD. Apply here!