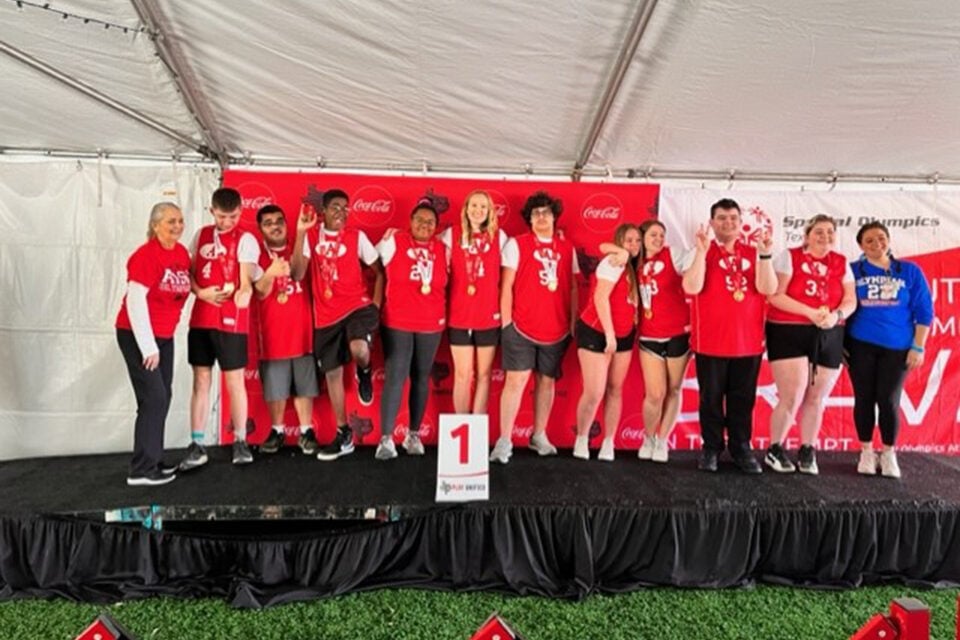 An exceptional group of high school athletes took over Austin last weekend for the Special Olympics State Volleyball Championship. Seven Arlington ISD teams sent 67 students to compete for a state title, and each team placed in the top four out of all the schools that attended.
Congratulations to all the district winners!
Red Warriors: Gold
Colts: Silver
Cougars: Silver
Spikey Warriors: Silver
Vikings: Bronze
White Warriors: Bronze
Vols: 4th Place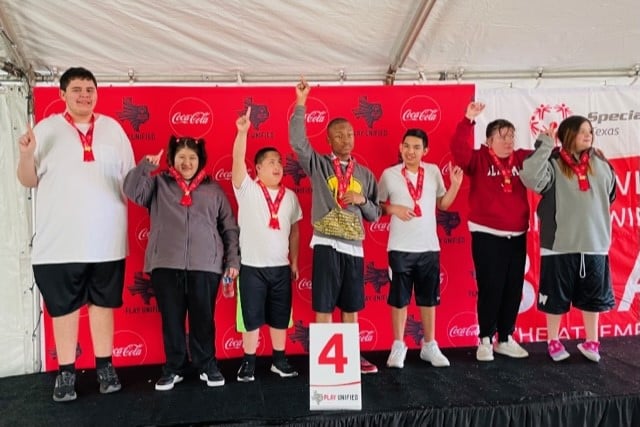 Students and chaperones met at Seguin High School before heading to Austin last week, but they couldn't leave Arlington without a party first. Seguin's drumline, Star Line, and cheerleaders performed at the pep rally with big smiles and music to pump up the party.
"It's an honor to work with the kids, and I can't wait to work on some social skills, do team building and just have fun with them while we're there," said Wendy Harvey, Special Olympics coach at Martin High School. "We have the largest school district in North Texas participating in the competition, and it's because our special education department is willing to fund our program so it doesn't cost for kids. Just like any other athlete in the district has the opportunity to participate in sports, so do our special education kids."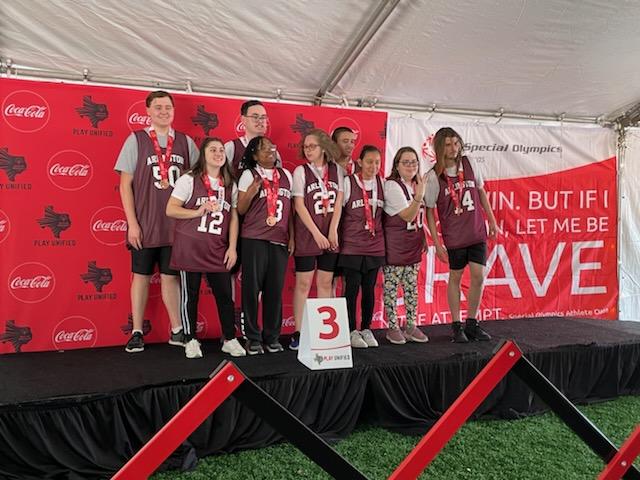 One unique factor about the program is three of the seven teams are unified, which means special and regular education students play on a team together. The regular education students help the game flow and provide peer support and build friendships on the team.
"Unified teams show regular education students how to love on the kids, partner with them and be a voice for them," said Clarissa Huerta, Arlington ISD special education curriculum coordinator.
Opportunities like these give students with special needs the chance to build courage, develop physical fitness and make new friends along the way. It's a win for everybody.
"I realized these kids needed more people to help and just be compassionate with them," said Martin freshman Cooper Dodson. "To see the excitement on their faces when playing is everything to me. This is such a great program, and I know I want to be a part of it until I graduate."
With support like this, the students were bound to come out with wins across the board, and that's exactly what they did. Congratulations to our fearless students!