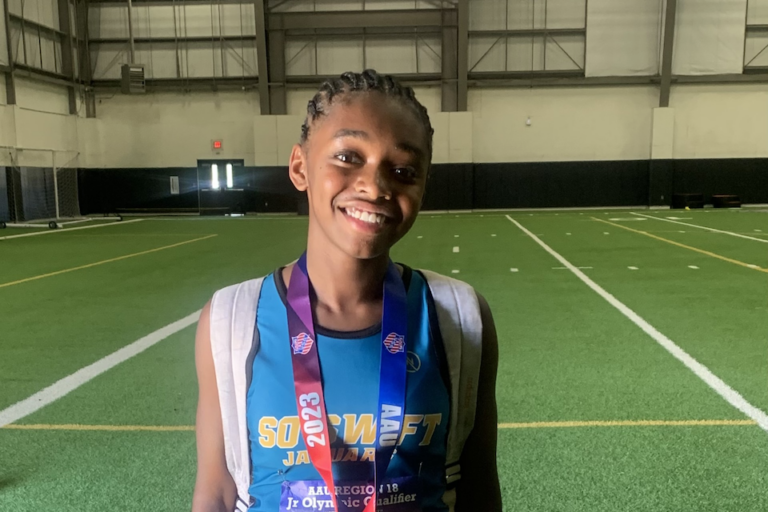 Ariee Richards runs with a smile
If you're in a race with Ariee Richards, you won't see the smile on her face. You'll only see the back of her head.
But you'll know she's probably smiling because that's how she lives her life. With a smile – even when she's running one of track's most difficult races, the 800 meters.
The seventh grader at Ousley Junior High is actually new to track. She just started last spring after her P.E. teacher at Bryant Elementary, Jullia Phillips, pointed out how fast she is.
"It was that day that she asked me to look for a summer track team," said Ariee's mother Charla Richards. "I googled local teams in Arlington and found So Swift Jaguars."
It turned out the coach for So Swift Jaguars is also the long-time track coach at Ousley, where Ariee started in August. Coach Robin Reed-Campbell, Ousley's careers and technology teacher, ran track herself at the University of Texas and now shares her passion for the sport with every kid she can.
"It was all fate," Charla said.
Before she discovered track, Ariee was more into riding horses and barrel racing – the reason some at Ousley call her "Rodeo Girl."
But it turns out the Rodeo Girl doesn't need a horse to be fast. By July of this summer, she was in Iowa competing at the National Junior Olympics.
Her track career didn't take off immediately though. She started out running the 200- and 400-meter races but wasn't making the progress she wanted. She hadn't trained as much as the other girls yet. Plus, she was a 12-year-old competing against 13- and 14-year-olds. It was a little discouraging.
But then a coach made a clerical error that changed everything. Ariee got put in the 800 meters at a track meet by mistake.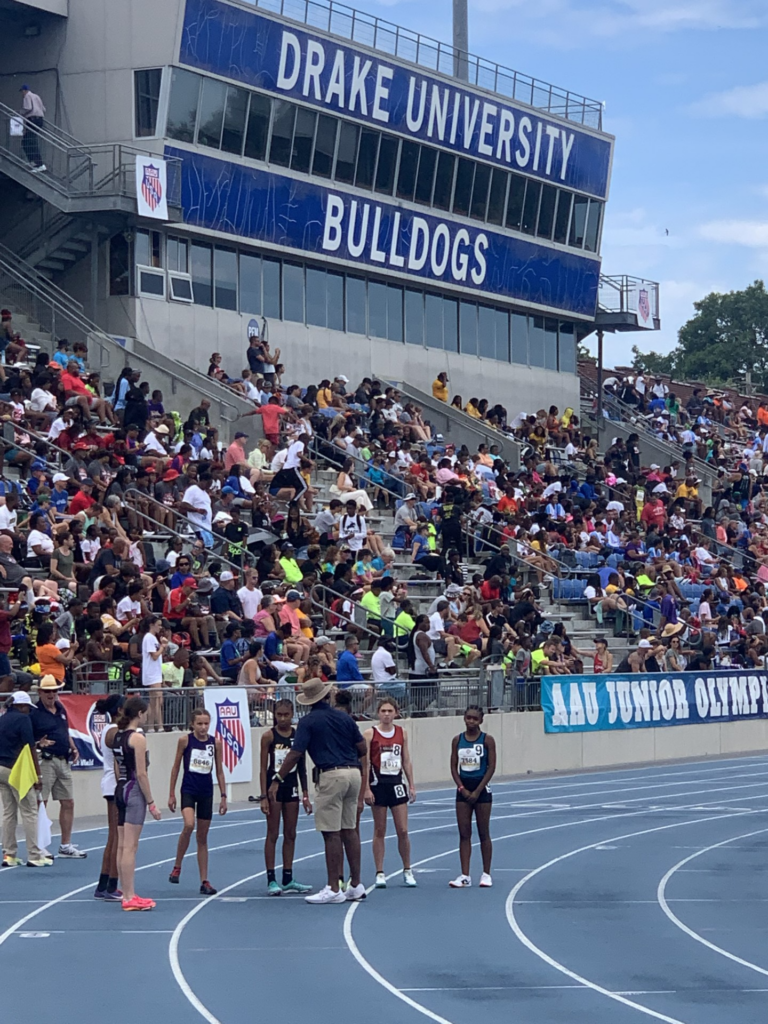 "I'm so proud of her and happy that she didn't let fear stop her from running something she had never run before," Charla said.
Not only did she not let fear stop her, she went all out and earned second place.
"I was put in the 800, so I was like, 'I have to do this,'" Ariee said. "Then when I started running, I said, 'I actually kind of like this.'"
The coaches were amazed by her time, especially since she had never trained for that distance.
"She's an awesome runner," Coach Reed-Campbell said.
But it's not just her talent that makes her special, her coach explained. She listens and can quickly apply any corrections and pointers given to her. Ariee has the talent and the drive.
With that first 800-meter race under her belt, she soon qualified for the Junior Olympics regional meet at Sam Houston University. After a third-place finish in Huntsville, it was on to the national meet in Iowa.
Though she didn't run as fast as she wanted in Des Moines, the national meet was an eye-opening, learning experience. And she can't wait to go back.
"2:14" was the winning time at nationals, Ariee said.
That's her target now. But her goal is to run even faster than that.
"My goals are to win," she said.
So, now she is running cross country at Ousley as she begins her quest to get back to nationals. Then the track season will follow in the spring.
"I have no doubt that we'll make it again to nationals again next year," Charla said. "She's determined."