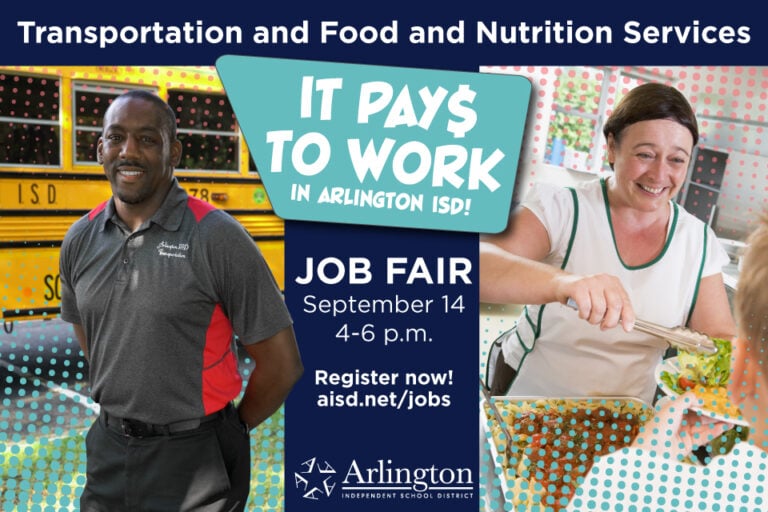 Sign up today for transportation and food services job fair
Don't forget the Arlington ISD is hosting a transportation and food and nutrition services job fair this Thursday, Sept. 14, that will allow you to make an impact on students and take your career to a new level.
Are you a dedicated candidate who wants to be part of a diverse and inclusive team? Join us from 4-6 p.m. at the Dan Dipert Career & Technical Center.
Every position the district is hiring for at the fair pays at least $16 an hour. Available positions include:
Food Services:
Specialist Food Service Software Support: minimum $27.82/hour
Technician: Food and Nutrition: minimum $21.63/hour
Truck Driver: Food Service: Warehouse: minimum $21.63/hour
Food Service Clerk: $18.54/hour
Manager: Food Service: minimum $18/hour
Food Service Lead: minimum $17/hour
Food Service Specialist: minimum $16/hour
Transportation:
Bus Driver: minimum $24.06/hour
Router: minimum $19.62/hour
Driver Non-CDL: $17/hour
Bus Attendant: minimum $16/hour
Representatives from the transportation and food and nutrition services departments will be present, too. After registering here, please visit our jobs page to submit an online application for any positions of interest. In-person interviews will be conducted, so please bring your resume.