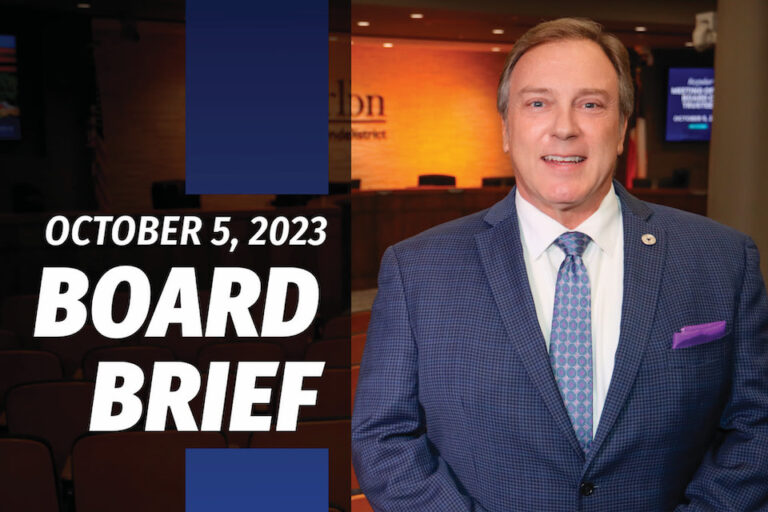 Board honors student of the month and community partner
Arlington ISD's Board of Trustees meeting on October 5, 2023, is in the books, and here are a few of the highlights.
There's no better way to start a board meeting than with some smooth jazz. The award-winning jazz ensemble from Martin High School – Martin Jazz – directed by Kenny Ragland, made the board room feel like a jazz club. They played a samba in honor of Hispanic Heritage Month. Thank you to those musicians.
Then the trustees honored the student of the month, Montazar Mohamad, a senior at Arlington College and Career High School. Montazar is extremely accomplished. He's already earned 59 college credit hours – all while maintaining a perfect 4.0 GPA. And this December, he'll earn his college associate degree five months BEFORE he graduates from high school in May! Then next year, he'll be the first person in his family to go to college. Congrats Montazar!
From the student of the month, the board moved to the community partner of the month. They presented the Community Powered by Possibilities Award of Appreciation to the Kroger Company. Kroger has offered tremendous support for Arlington ISD students through their Backpack Booster Campaign and by providing employment opportunities for our students in the 18+ Program. Thank you, Kroger!
Then it was down to business. Among other financial items, the board approved the annual internal audit plan for fiscal year 2024. This is in keeping with board policies that require the district's chief internal auditor to work with the audit committee to develop the annual audit plan and provide a summary of the work schedule, staffing plan and budget.
Later, the trustees received two presentations from district administrators. The first was from Dr. Natalie Lopez, Arlington ISD's assistant superintendent for research and accountability. She gave an overview on the results from the 2022-23 District Employee Survey. This annual district-wide survey aims to collect actionable insights from staff – particularly teachers – to help with retention. Feedback on retention issues and campus climate was collected between October and May from focus groups, one-on-one interviews and surveys.
The other presentation was an update on pre-K programming from Dr. Christi Buell, Arlington ISD's interim chief academic officer. Arlington ISD has made pre-K a huge priority and launched free universal pre-K with a STEM curriculum last school year. Not only has pre-K enrollment increased as a result, but the district is also significantly increasing kindergarten readiness and improving student outcomes.
Those are just a few of the highlights from tonight. If you would like more details on any of these, or any of the items not covered here, please click this link to watch the entire meeting.