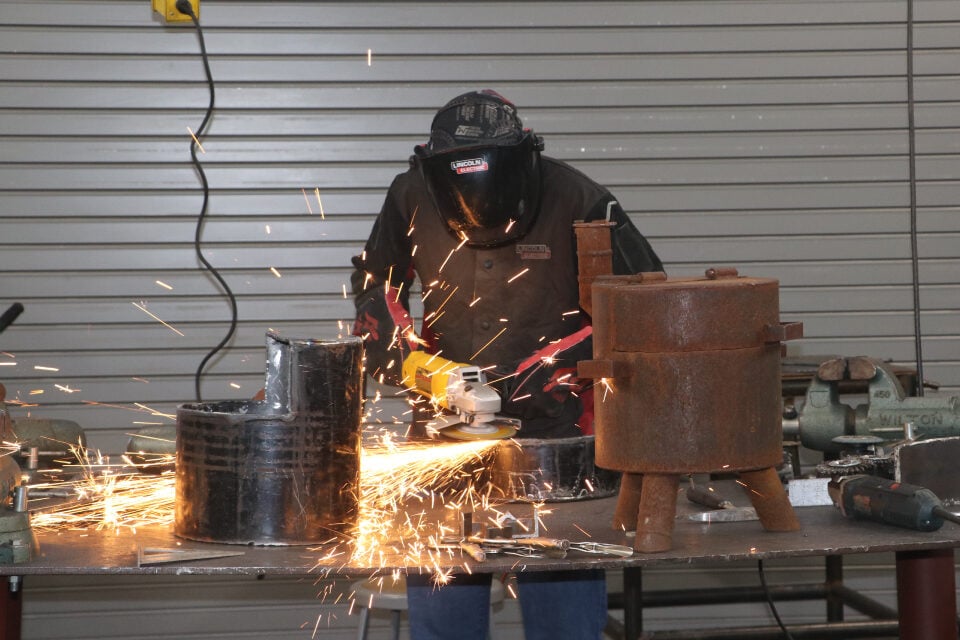 How does a summer school class that starts at 6:30 a.m. and lasts until 11:30 a.m., Monday through Friday, for five straight weeks sound?
"It's a lot of fun," said Martin High School rising-senior Jason Reeves, one of four high schoolers attending the summer welding class at the Arlington ISD Dan Dipert Career and Technical Center (CTC).
Or, as welding instructor Candace Ortega said, "Who doesn't like to burn stuff up and play with melted metal?"
These students certainly do.
"These kids love it here," Ortega said. "They're even going to stay late today" to keep working on their projects.
WELDING CERTIFICATION
Completion of this dual credit layout and fabrication class will give the four students their basic welding certification from Tarrant County College.
In this, the last of five classes to earn the certification, students are focused on welding and fabrication – how to assemble and cut – and how to read blueprints. Their major assignment this month is to build a 100-pound hibachi out of pipe that was donated to the CTC. They must cut angles, make the smokestack, build the flume and put handles on it.
"It's incredibly difficult to cut a pipe square," Ortega said.
Difficult, but fun for Nick Abram, another rising-senior from Martin. Unlike his three classmates, Abram doesn't plan to pursue a welding career. He does want to continue welding in the future though, but more as a hobby.
"I just like to build stuff around the house," he said, taking a break from sending sparks flying all around.
CAREER PREP
But for Reeves and the others in the class, the certification they are about to earn is setting them up for a lucrative career in welding.
Reeve's interest in welding started in junior high when he took a Boy Scouts merit badge welding class – taught by Ortega at the CTC.
"I see it as a way to do something I enjoy," he said.
He loves the creativity involved and that it's hands-on.
"I'm getting to do stuff you can't do every day. I can create things – instead of spending $100 for something metal, you can come here and make it for about $10."
After graduation next year, Reeves is aiming to attend LeTourneau University and eventually become a welder in aeronautics for NASA or a company like Space X.
STATE-OF-THE-ART
Wherever Reeves and his classmates go, they've built a strong welding foundation at the CTC.
"This lab is state-of-the-art," Ortega said about the CTC's welding lab, and it's much better than what most high schools and colleges have.
One of the reasons it's state-of-the-art is Ortega herself. When the CTC, a project of the 2014 Bond, was in design, Ortega was hired as a consultant to help plan the lab. That paved the way for her to eventually become the school's first welding instructor when the campus opened five years ago.
Ortega has helped develop a program that is hugely popular in the district, with waiting lists to get into welding classes. Intro to welding is taught at the high school campuses and the Agricultural Science Center, and then welding 1 and 2 are taught at the CTC for juniors and seniors. Classes are always full at the CTC and run from 6:30 a.m. to 5 p.m. Monday through Friday.
That's good news for the welding industry.
"There's a trade deficit," Ortega said. "There are plenty of jobs. There's a need for hundreds of thousands of welders."
And that's good news for the aspiring welders in the Arlington ISD. The even better news: the district has the courses and state-of-the-art facilities to get them ready for those careers.
That's worth getting up early for.