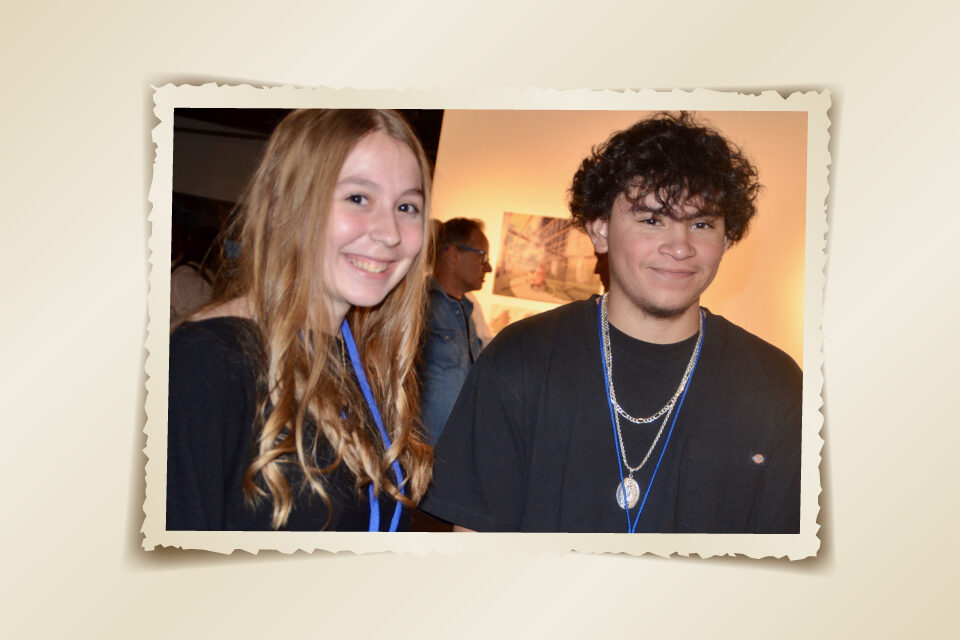 Sam Houston High School senior Eduardo Cigala was on the bottom floor of the Arlington Museum of Art recently watching patrons go from one architectural design to another. His job? Stamping their tickets to show they had attended the Gathering at the Wellspring: Envisioning the Future of Arlington event sponsored by Wellspring on Main – and maybe pointing someone to the nearest restroom.
Eduardo was in his element.
He's an architecture III student taking coursework at the Dan Dipert Career and Technical Center (CTC) and working an internship. He had a front-row view of a handful of innovative design projects created by UTA Architecture graduate students.
"It's really interesting looking at how they came up with these designs," Eduardo said. "You just want to ask them how did they do that? But I can hear them talking just standing right here. So it's pretty good."
Eduardo was joined by a half dozen other Arlington ISD students toying with making architecture their chosen career path. The CTC is part of a more extensive collaboration among the UTA School of Architecture, College of Architecture, Planning and Public Affairs (CAPPA) and Wellspring, the new non-profit organization with the mission of providing opportunities for community engagement.
The designs were part of UTA's Design Studio "P R O S P E C T U S," which centers on understanding ways to create more suitability, equitability and durability for growing cities like Arlington. They were spread out among four sites along West Main Street where patrons and 14 UTA students could engage in casual discussion with event participants.
Wellspring Partnership
Arlington ISD architecture teacher Kari Summers and graphic design teacher Katherine Howard have been meeting with each other and the Wellspring Program committee since this summer to help with the project.
Summers said the students worked in teams to design marketing plans and materials for the event while providing technical assistance at the hosting sites. Arlington ISD students created posters sitting on easels at each location.
"They came to AISD, and Dan Dipert Center in particular, and said we would like some support with student work, interaction and participation to make this event happen," Summers said. "We brainstormed on what things we could support in terms of graphic design kids and architecture students. How can we get together to make this happen?"
Priscilla Promise of Wellspring on Main said the organization hopes to become a place where "a variety of people cross paths and get to know one another to build respect for the dignity of every human being."
She added that Wellspring's goal is to be a gathering spot for small to medium-sized groups and the arts and activities addressing justice, poverty and cross-cultural discord.
"It will be a place where diverse groups in Arlington can come together, talk to each other, listen to one another and become joint problem-solvers," Promise said. "We need space for that. We are determined to stay in downtown Arlington because that is becoming the happening place."
The gallery walk was the first project for Wellspring, and future projects are already being discussed.
Promise, who taught in the Arlington ISD for 25 years at Pope and Larson elementary schools, said they must continue working directly with Arlington ISD.
"We want to work with the Dan Dipert CTC because they have students who want to do graphic arts and architectural work," she said. "It's been a wonderful collaboration. We have loved working with them on this and hope to do more in the future."