Volunteers set up the garden
It took a dedicated team to turn the site of an old playground into a brand-new learning garden at Wimbish World Language Academy this week.
And it will take another dedicated team of educators to teach young learners about the benefits of growing and eating fresh foods from the new garden.
That's why Arlington ISD and Texas Health's North Texas Healthy Communities partnered together with the support of Atmos Energy to make it all happen.
With a campus full of ready-to-learn gardeners, a few raindrops didn't stop more than 20 Atmos volunteers from coming out to set up the garden.
"It's always so fun to be a part of the build day and see our volunteers doing a great job," said Texas Health vice president Matthew Dufrene.
Volunteers transformed the site into a 2,340-square-foot garden with nine raised gardening beds and space for ground perennials as well as Texas native and pollinator plants.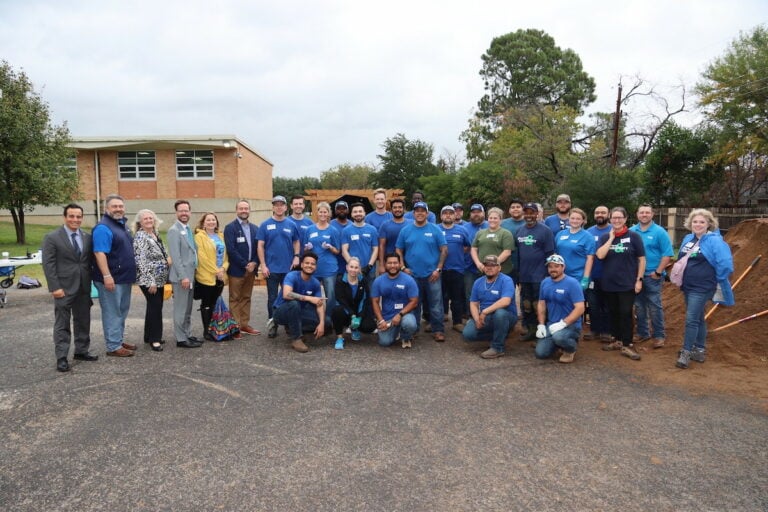 As an academy of students studying French and Spanish cultures, Wimbish was a perfect fit for the very first learning garden in Arlington ISD.
"We're so excited," said Wimbish principal Dr. Chelsea Kostyniak. "This garden will fit right into the cultural aspect of our school. With all the different things that we study, food is an important part of it."   
The school plans on running the garden through its STEM lab where students will be exposed to the different phases of plant growth and all the science behind it.
From learning how to grow different kinds of vegetables to maintaining their very own garden, each student will also gain first-hand experience with how their food is made and where it comes from.
"It takes a community," said Arlington ISD interim superintendent Dr. Steven Wurtz. "The neat thing about this partnership is that it's making it possible for the kids to be able to apply their learning to what is real in life."
Not only will the students learn about the vegetables that they grow, but they'll also eat them, too! A huge part of the experience is for students to understand the nutritional education behind fueling their bright minds and healthy futures.
"We want students to learn about healthier choices through this garden," said Texas Health director Stephanie Jackson. "We want them to acquire these skills to replicate them at home."
The new garden will allow for opportunities like "garden nights" for students, parents and family members to have a place to learn about gardening and its nutritional value together.
"Garden education supports kids with their learning, their behavior and it's inclusive to bring in the community," said Jackson.
It's also an opportunity for the program to give back. The foods grown from the learning garden can be packaged and donated to local food banks or families within the community.
"This was a big commitment to our school," said Kostyniak. "We're really appreciative, and we're excited to have had our community be a part of it."