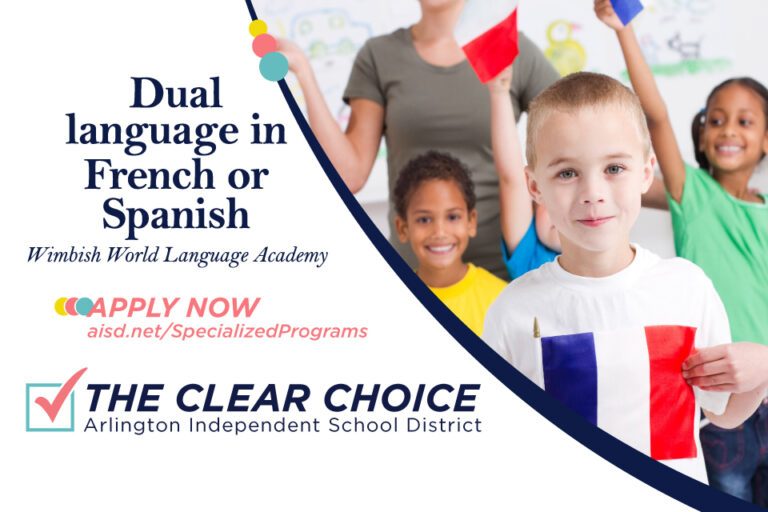 Apply for Wimbish now
It looks like a normal school.
But don't just look. Listen.
"Bonjour!"
"Ola!
"Nǐ hǎo!"
Arlington ISD's Wimbish World Language Academy truly lives up to its name. And it's anything but normal. It feels – and sounds – like the whole world is inside.
And more often than not, it also feels – and sounds – like they're having a party. That's because they celebrate the world's cultures all year long.
You might hear a mariachi band one morning as you arrive to school. The guy on the trumpet – he's a teacher here.
Or you might go inside and walk on the red carpet to highlight French fashion during French Week or see all the student art projects displayed on the walls that highlight a variety of cultures.
Maybe you'll get to sample tamales in the cafeteria, taste test a variety of French cheeses, learn to paint sunflowers like Vincent van Gogh or be a part of the dragon at the Chinese New Year celebration.
If you're a student at Wimbish, you'll do all of that and a whole lot more. Plus, you'll develop fluency in two languages – English and either French or Spanish. And you'll get an introduction to Mandarin. 
Each student at Wimbish gets to pick a language track – either French or Spanish. And then they are immersed daily in that language. Half the day – language arts and social studies – is taught in English, and the other half – math and science – is taught in French or Spanish. Students can enter the dual language track in pre-K, kindergarten or first grade and then continue in it through sixth grade at the school. New students can also be accepted into second through sixth grade, but they must pass a language proficiency test first.
The French option is especially unique to this area. In fact, Wimbish is the only school in North Texas – and one of only three in the entire state – to be granted the "LabelFrancÉducation" seal by the French Ministry of Foreign Affairs for its excellent standards in the French immersion program.
Wimbish's dual language program is truly unique and innovative. And the school's constant cultural celebrations throughout the year make school incredibly fun. And when school is fun, students want to be there and get excited to learn.
But there are a lot more reasons to choose Wimbish for your child. Research shows that dual language students perform higher academically than other students. Plus, dual language benefits include increased cognitive development and better problem-solving skills. It all points to enhanced career opportunities and better futures.
Plus, not only will students become biliterate, bilingual and bicultural, but they will also develop a better understanding of cultures and diversity – all skills that are becoming increasingly more important in an increasingly globalized world.
If you choose Wimbish for your child, they won't go to a normal school. They'll go to an amazing school. Learn more and apply here by Jan. 17, 2024.