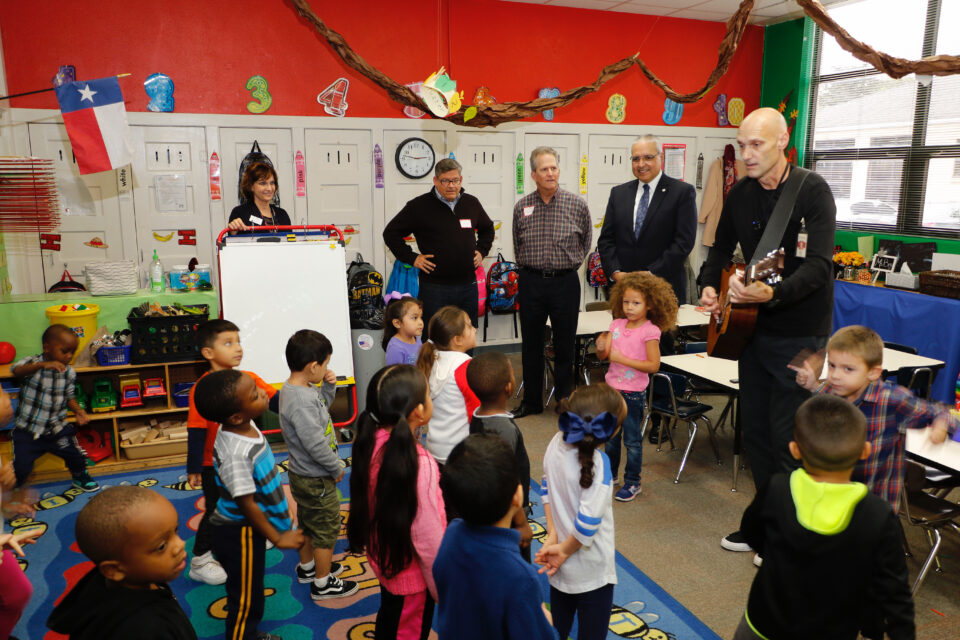 An introduction to Ken Foster
Akron, Ohio, is a city commonly known as the hometown of professional basketball player Lebron James. The Los Angeles Lakers star may have put the city on the map, but other living legends like Arlington ISD early childhood instructional specialist Ken Foster hail from there, too.
Foster had a more unconventional childhood in the suburb than most of his peers. Raised by two deaf parents allowed him to see the world from a unique perspective from an early age. With the help of his grandparents and older sister, Foster was taught to speak English, but American Sign Language was the dominant form of communication in their home.
His upbringing led him to Kent State to pursue a teaching degree. Halfway into his freshman year of college, he transferred to the University of Akron where he began working part-time for a payroll company to gain income. Ultimately, Foster decided to leave college and work for the company full-time.
His work ethic allowed him to move up the corporate ladder as far as he could without having a bachelor's degree, and he eventually asked for a transfer to Nashville, Tenn., so he could work while pursuing his dreams of becoming a contemporary worship singer and songwriter. The self-taught guitar player always loved music and remained involved in church by singing and playing on the worship team. His visions began to align as he was granted a transfer to "Music City," and it was there that he met the love of his life, Amy, at church, and they exchanged vows nearly two years later.
Faith in Uncertainty 
After the couple became pregnant with their first child, they received news early in the second trimester that would change their lives forever. Doctors said their son, Logan, had a condition called spina bifida, a birth defect that occurs when a developing baby's spinal cord fails to develop properly while in the womb.
"When we found out, we just didn't know what to expect," said Foster. "The whole pregnancy was very traumatic for us."
Moments that were filled with sadness and confusion turned to joy and relief as doctors offered the couple a transformative surgery that would lessen their son's complications and allow him to thrive even after a premature birth. The Fosters were the 81st couple to receive the breakthrough surgery which was successfully performed while their son was still in the womb. Twelve months later, the family expanded again as they welcomed another baby boy, Trevor.
"The experience of having our son taught me to have patience and hope and wait expectantly even in unforeseen circumstances," said Foster. "Not knowing what to expect made us trust in God in a new way. You think have your whole life planned out.
"Then all of a sudden, when things happen so unexpectedly, it shakes you to your core."
Change became a constant in their family as they quickly learned how to navigate life with two young children, one with special needs. Another job transfer took the family to Dallas, his wife's hometown. The move helped reignite a fire in Ken that had been dimmed two decades prior.
"Once I was here, I realized how unhappy I was in my job," said Foster. "There was a sense of emptiness and I felt like I could do more, so I quit working at the company after 18 years."
Foster returns to School
Foster decided to return to school in 2006 to pursue his teaching degree. He received an associate degree from Tarrant County College, where he made the Dean's List. The University of Texas at Arlington became his home for the next few years as he first earned a bachelor's degree with magna cum laude honors and then a master's degree.
During his senior year of college, he was placed in an early childhood internship at West Elementary in Arlington ISD. Foster originally thought he would teach older kids and possibly even coach athletics but working with kindergarten students at West motivated him to become an early childhood teacher. After graduating from UTA, he became a pre-K4 teacher at Kooken Educational Center and taught there for nine years. In 2017, he began working as an adjunct professor teaching early childhood-based courses at TCC, including classes on children with special needs; family, school and community; emergent literacy; and learning frameworks.
When the early childhood learning department started in the district, the department needed specialists, and Foster thought it was the perfect opportunity to utilize his skillset and experience.
"Being exposed to my parents and my son with special needs was very instrumental in shaping me for education," said Foster. "Having a son with special needs helps you learn how to give your child the same kind of experiences as everyone else by making accommodations."
Considering those things has not only influenced my outlook on education, but it's allowed me to be able to connect with those in education in a different way."
His current role as an early childhood instructional specialist allows him to create and support curriculum instruction for pre-K teachers and provide resources to set them up for success in the classroom.
While he continues to teach courses part-time at TCC, he encourages men to hop in the female-dominated field of early childhood learning. He believes men provide a unique perspective in the development of a young child, and children need to see a good balance of male and female role models as they grow, especially in the classroom.
Foster's plans for the Future
Ultimately, Foster desires to continue connecting with people and bridging gaps in early childhood education.
"I love sharing learning and building relationships with people," said Foster. "When I can connect with people and be able to share what I know with them and learn from them, I feel most accomplished, and that's what motivates me to keep doing this every day."
Although he spends his days visiting classrooms and teaching people the most effective ways to teach young learners, connecting with his family remains a priority. With a wife who is a flight attendant, a son requiring extra care, and a son halfway through college, the Foster family's schedule can get pretty hectic. To balance it, Foster ensures his family is intentional about the time they get to spend together by simply eating together as a family, playing games and participating in other activities that strengthen their bond while having fun.
Faith. Learning. Relationships. Those are the three most important values that come to Foster's mind when reflecting on his time spent on earth and the principles, he wants to instill in those around him.
Whether he is at an elementary school assisting a teacher or at church leading worship, his heart to serve others in the community is evident. His dedication to living a purpose-driven life each day and his impact on countless pre-K students and teachers are what makes him a living legend.