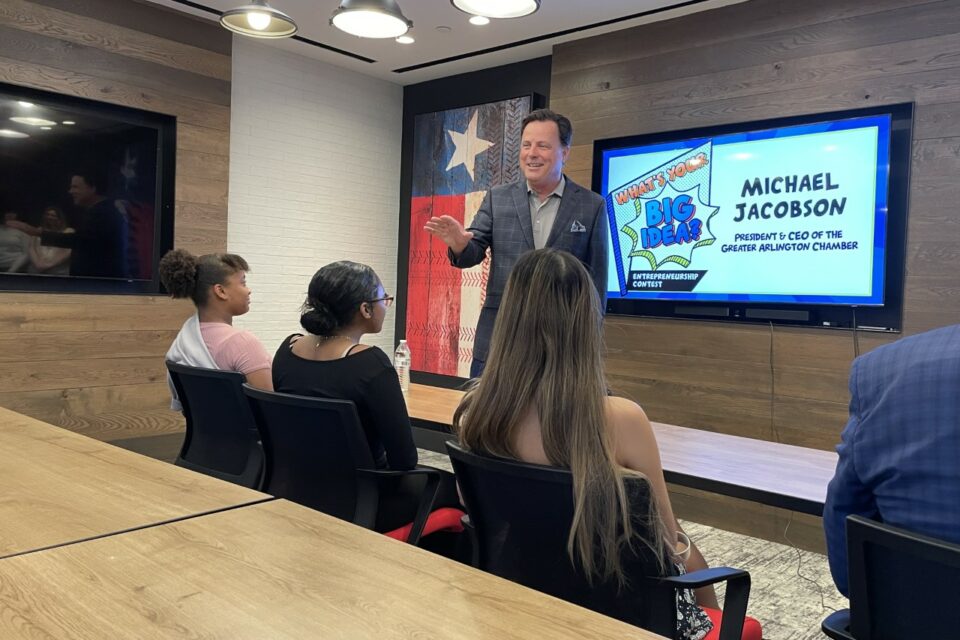 Contests meet with area entrepreneur
Imagine being a teenager who just took an elevator up to a private lounge inside the former stadium of your hometown professional baseball team.
Overlooking the playing field, the space is decked out with fancy wall décor and sleek sofas. The kitchen counter is filled with finger sandwiches and chicken quesadillas. And standing around are the city's mayor, Chamber of Commerce members and other area business leaders – all waiting to meet and celebrate you.
Pretty intimidating, right?
That's exactly what Bowie High School students Vivian To and Julissa Scott thought as they crept into the room on the second floor of Choctaw Stadium, formerly Globe Life Park.
"It was scary," 17-year-old To said.
Last week, To and Scott were invited to a celebration for their success as participants of the 17th annual "What's Your Big Idea?" Entrepreneur Contest. Each year, the Greater Arlington Chamber of Commerce partners with the Arlington ISD for the contest, which asks students to think outside the box and create solutions to everyday problems in Arlington.
Students from third through 12th grade are encouraged to participate. Elementary and junior high school participants are encouraged to submit art and essays depicting their idea for a new business or product. High school students, however, can form teams of three to five people to compete.
Their task? Attempt to solve one of three challenges that the City of Arlington is currently facing and create a three-minute video pitch.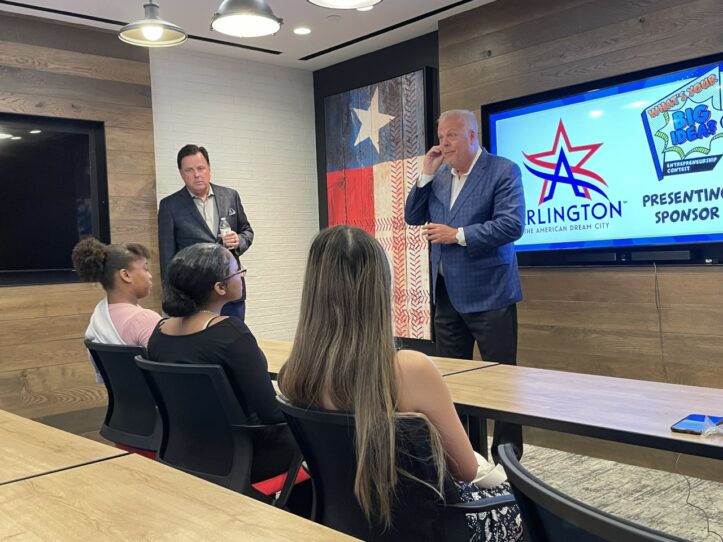 To, Scott and Precious Leday – an Arlington High School senior – were three members of an all-female team called, "The Five Entrepreneurs." Their squad chose to create a viable solution to detect and minimize stormwater runoff, which picks up chemicals and contaminants from roads and landscaping, as well as trash, after heavy rain slams North Texas.
Scott, the research team leader, said planting more trees was one of the solutions that they developed during their project that took a few weeks. "We didn't work too long on it; we made sure that we did it efficiently," she said.
Leday, who first began participating in the contest while in sixth grade, quipped, "I am not going to lie. It was pretty stressful," while reflecting on the contest itself.
Stepping out of comfort zones
While the ladies didn't meet current or former Texas Rangers, they were thrilled to network with some of our area's finest business leaders on that evening.
Among them were Yutanzia Berryhill, who served on the committee for the elementary "Big Idea" contest and is the director of the educational partnership for Tarrant County College's southeast's campus.
Berryhill instantly made a connection with Leday, as the 18-year-old will begin pursuing a degree in business management at TCC this fall. After graduating in a few weeks, To plans to enroll at the University of Texas at Arlington to major in nursing.
But that evening, To and Scott – a junior at Bowie and aspiring real estate agent – were just grateful for Berryhill's inspiring words regarding their anxiety while interacting with the business leaders.
"You'll grow out of it," Berryhill told them, admitting that she is very reserved herself.
"Just make sure you have good eye contact … have that confidence about yourself."
Berryhill encouraged the teens that introducing themselves and asking the business leaders their names, "starts the conversation."
"They seemed to calm down a little bit," Berryhill said, as she noticed the teens chatting with notables such as Jim Ross and Laurie Bianco – mayors of Arlington and Dalworthington Gardens, respectively. The two attended the event to help honor the contest participants.
Making waves
In April, finalists at each grade level of the "Big Idea" contest were invited to an award ceremony at UTA, where first-place winners were announced. At last week's networking event, attendees watched a digital presentation that showcased the videos of work by the "Five Entrepreneurs" and two other high school teams.
Nicknamed, "The Creatives," a group of students accepted a challenge to create a self-guided Arlington walking tour that highlighted up to 10 historic sites located downtown. This involved designing a route for the tour, making sure it was walkable with sidewalks and safe street crossings; each site also had to have a 4-6 sentence description that emphasized its historical importance.
The presentation showed efforts from the third team, "The Certified Geniuses." They created a multi-pronged approach to identify, educate and connect potential lifeguards to aquatic facilities. Many public and private pools are being impacted due to a documented shortage of lifeguards nationwide. In Arlington in 2022, at the peak, the city was only able to fill about half of its approved lifeguard positions. As a result, the city had to modify its pool schedule on a week-by-week basis throughout the summer swim season.
Alicia Collins-Butler, senior director of education, workforce, and community development for the Greater Arlington Chamber of Commerce, who facilitated the presentation said she hopes the City of Arlington accepts the students' innovative ideas.
"These are viable solutions in the here and now," Collins-Butler said. "What we saw in the video for lifeguards, that can be easily implemented immediately."
Inspiring future leaders
Prior to the presentation, the students were treated to a barrage of stirring words from Michael Jacobson, the president, and chief operating officer for the Greater Arlington Chamber of Commerce. The event's host, Jacobson expressed that the teenagers "have more skills and ability" than him and all his peers that were in the room.
"You're gonna change the world," Jacobson said. "Always think big!"
Ross' powerful testimony included how – after having a decorated career as a police officer and U.S. Marine – he decided to go to law school during his 30s. "People thought I was crazy," Ross said.
After eventually establishing his own law firm, Ross has since opened and operated multiple successful restaurants. He emphatically repeated the statement, "Take the path that works for you!" to motivate the youths.
Because of Ross' wealth of experience, Leday and her teammates said meeting him was a "bit nerve-racking." Leday said, "But it was really cool. It's the fact that we can get info and advice from someone who is really up there."
Quickly chiming in, Scott said, "He's such a leader!"