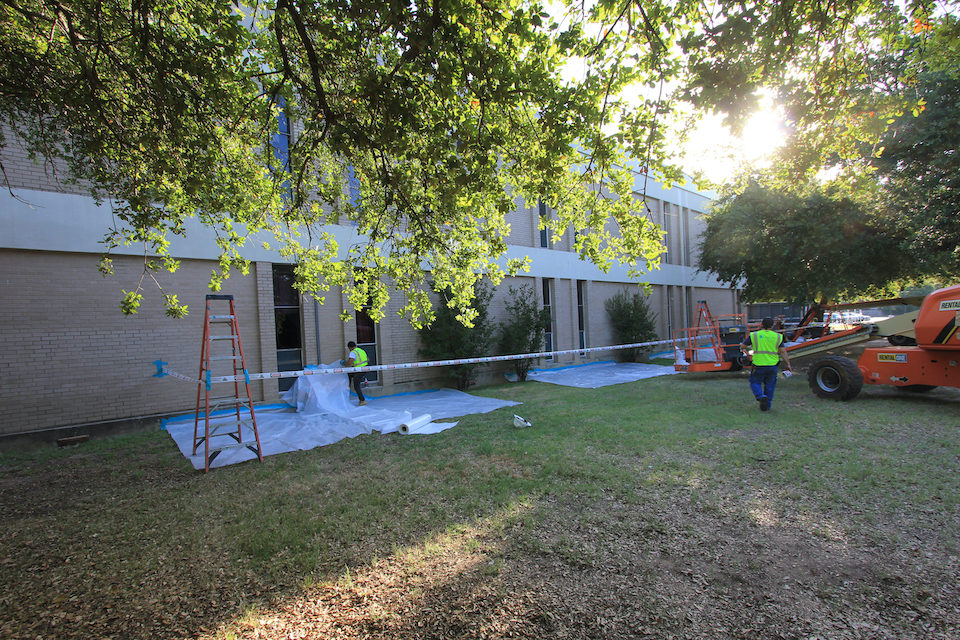 Bond 2014 Funds Replaced Bailey Junior High Windows from 1968
The Arlington ISD's new natatorium isn't the only recent Bond 2014 project making waves. A major project to replace the roof and windows at Bailey Junior High wrapped up at the end of the summer and will have a long-term impact on the school. The new roof and windows didn't just stop some leaks, they are improving the energy efficiency and comfort of the entire building.
"Energy consumption is down at Bailey 11.5 percent after upgrades to the roof and windows," said Danny Helm, Arlington ISD's energy manager. "Installing a roofing system with better insulation and replacing the 56-year-old single-pane windows with energy-efficient dual-pane windows has improved the thermal comfort and reduced our energy costs at Bailey."
The old roof was flat and had no insulation, while the new roof has two layers of 2.2-inch flat insulation with staggered joints. Then, tapered insulation was installed on top of the flat insulation providing an average insulation thickness between 9-11 inches.
The windows at Bailey were just old, and most were original to the school built in 1968. Those old windows were only 1/8-inch-thick, single glazed and set in an aluminum frame without a thermal break. The new windows' aluminum frames include a thermal break, and the glazing is one inch thick. They are dual-paned with argon in the middle. Argon is an inert gas that is denser than air and helps improve the window's thermal efficiency. The glass on the exterior of the window is Solarban 70XL, which also improves the thermal efficiency.
The many 2014 Bond projects at Bailey are now all complete, from a new all-weather track and major lifecycle and deficiency upgrades throughout the building to the new roof and windows. But that just sets the stage for the next, bigger project at Bailey. As part of the 2019 Bond, Bailey will get a classroom and cafeteria addition that will right-size the school and allow for the removal of the portable buildings. Construction is scheduled to begin in 2022.