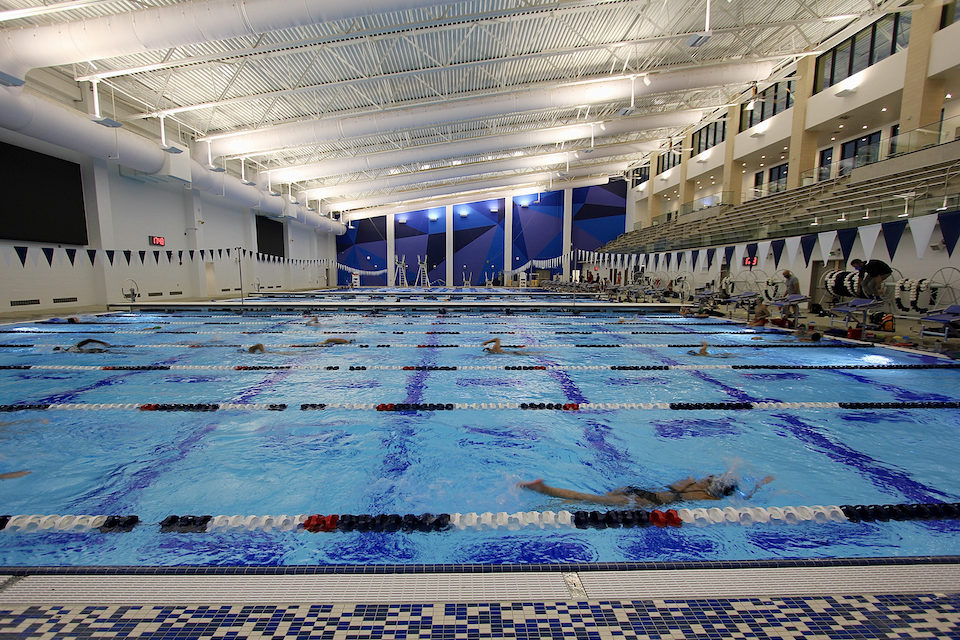 Swim coaches share their excitement as new Natatorium Opens in Arlington
The coaches might be more excited than the student athletes.
The Arlington ISD's first-ever district pool, housed in the new Arlington ISD Athletics Center, finally opened last week for student swimmers – and their coaches. Now, the huge state-of-the-art pool is filled daily with the district's swimmers, as their coaches hover along the sides and bulkheads.
"I'm personally excited for the extra room and time to help my athletes become as fast as they can be," said Jaron Ward, Seguin High School head swim coach. "Helping them grow is now my full-time job, and it rocks!"
See photos from an early morning practice.
For the longest-tenured swim coach in the district, this pool is the culmination of years of hard work and a dream come true.
"I've been coaching swimming for more than 30 years, 21 with Arlington ISD," said Lamar High school head swim coach Brian Dangelmaier. "For all of those years, our whole district staff has yearned and dreamed for our own pool."
And this is a pool worth dreaming about. It is a 50-meter world-class Myrtha pool built in Italy and shipped in pieces to Texas. The pool's unique design minimizes wake and gives all swimmers clean water. It also has moveable bulkheads and a diving area with four boards. The natatorium offers seating for 1,000 spectators and also houses a warm-up pool.
"I've been in nearly all of the 'best' natatoriums around the country over the years," Dangelmaier said. "The AISD Natatorium is the nicest facility I've seen. The design is awesome and the amenities are fabulous. We did a great job building this facility. The district will be able to host some significant events here."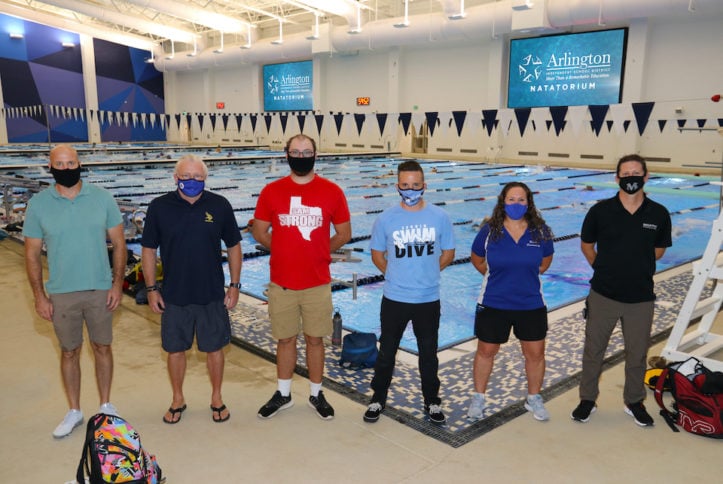 It also offers the district's swim program a tremendous upgrade. Previously, Arlington ISD had to rent pools at Tarrant County College and the University of Texas at Arlington, where time and space were limited and teams had to practice separately.
"Here, we are in control of our schedule and facilities," said Ward. "The extra lane space, combined collaboration of coaches, new equipment – custom ordered to help strengthen our swimmers – all work together to help us meet our unique goals and needs."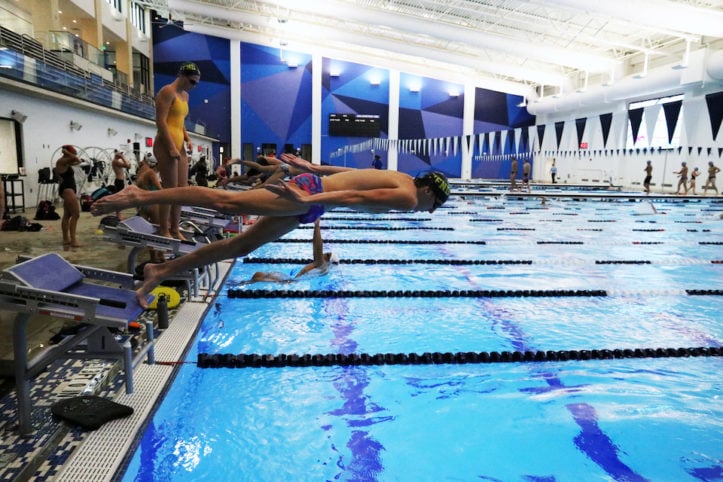 Those goals are big for this facility, including an elementary water safety course, junior high swimming and a district club program that will feed into the high school program. This is just the beginning.
"I am excited about the growth potential this facility affords my program," said Brooke Dolberry, Bowie High School head swimming coach. "We are finally unified as a district, and as a result, we coaches can collaborate, share ideas, combine for workouts and support one another in bettering Arlington ISD swim and dive. The opportunity to finally host our own meets is awesome and opens up great opportunities for our kids to race and improve."
Arlington ISD Athletics Center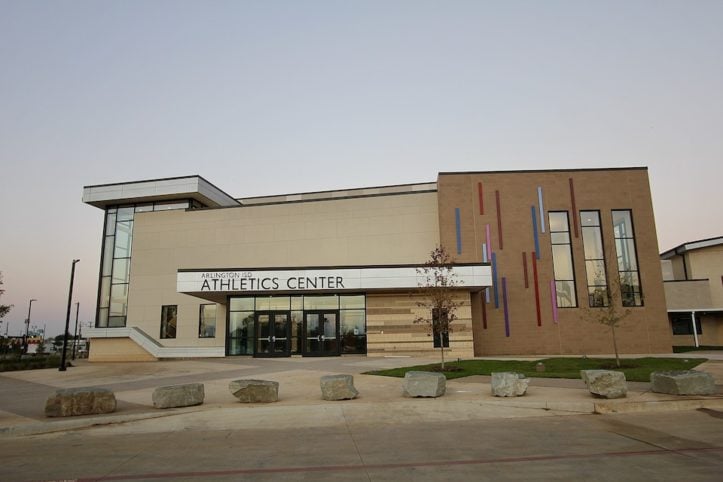 The new Arlington ISD Athletics Center, a 2014 Bond project, includes the natatorium and an arena for basketball, volleyball, wrestling and elementary gymnastics. As part of the Arlington ISD Arts and Athletics Complex, it is located next to the district's future Center for Visual and Performing Arts, scheduled to open soon. The AAC is in Arlington's Entertainment District near AT&T Stadium and Globe Life Park.