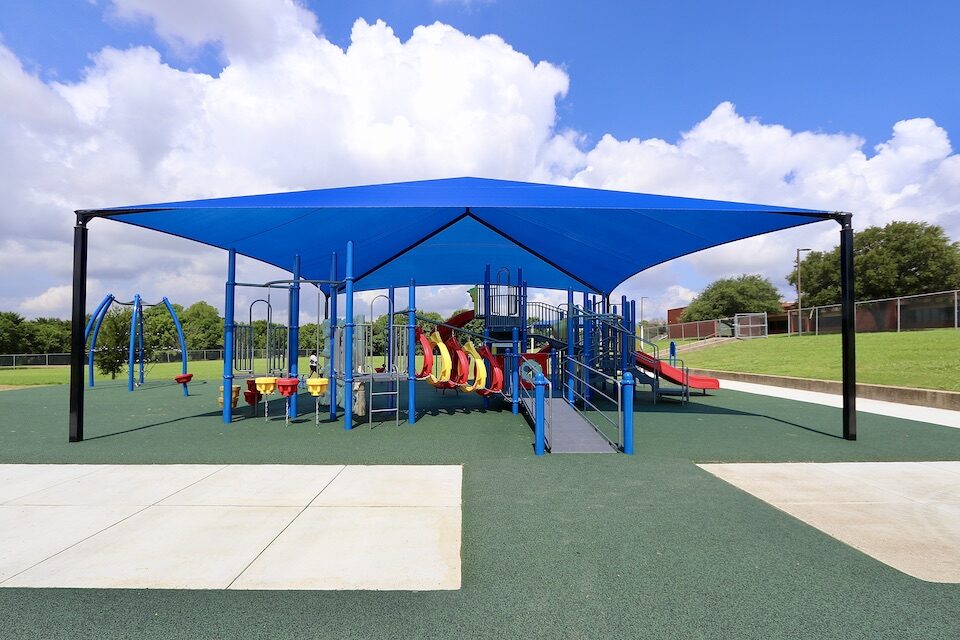 Lots of Arlington ISD elementary students will have new playgrounds waiting for them when they return to school in August! New playgrounds at the 17 schools in phase one are either complete or will wrap up soon.
Thanks to the support of the Arlington community, the 2019 Bond is funding two new playgrounds for all 55 district elementary schools, one for pre-K through first grade, and the other for second through sixth grade. The 55 schools are divided into three construction phases. The playgrounds include shade structures, accessible play equipment and rubber surfaces. While the equipment is standard from campus to campus, schools get to make their own color selections.
At Bebensee Elementary, the new playgrounds opened in April, so students got to enjoy them for a few weeks before school let out for the summer in May.
"The new playground at Bebensee has been a breath of fresh air for our students, staff and the families in our community," Bebensee Principal Charlotte Carter said. "We are all so excited about the variety of state-of-the-art 'learning thru play' themes that challenge our students. There's a music center with miniature drums and other instruments, several climbing walls and a variety of large and small motor skills stations. Plus, it's built with all of our students in mind. We love it!"
Elementary schools with completed playgrounds include Pearcy STEM Academy, Ashworth, Bryant, Bebensee, Williams, Beckham, West, Starrett and Moore.
The new playgrounds at Anderson, Wood, Duff, Crouch, Ellis, Larson and Remynse are nearing completion and should wrap up in July. All have their playground equipment installed and now need the surfacing to be finished. Corey Academy, the final school in phase one, kicked off last week with demolition of the old playground equipment. Equipment will be installed in July and the project will be completed in August.
Phase two of new playground construction will start in August and includes the following schools: Blanton, Burgin, Butler, Crow, Ditto, Dunn, Farrell, Fitzgerald, Hill, Kooken, Morton, Patrick, Rankin, Sherrod and Wimbish.